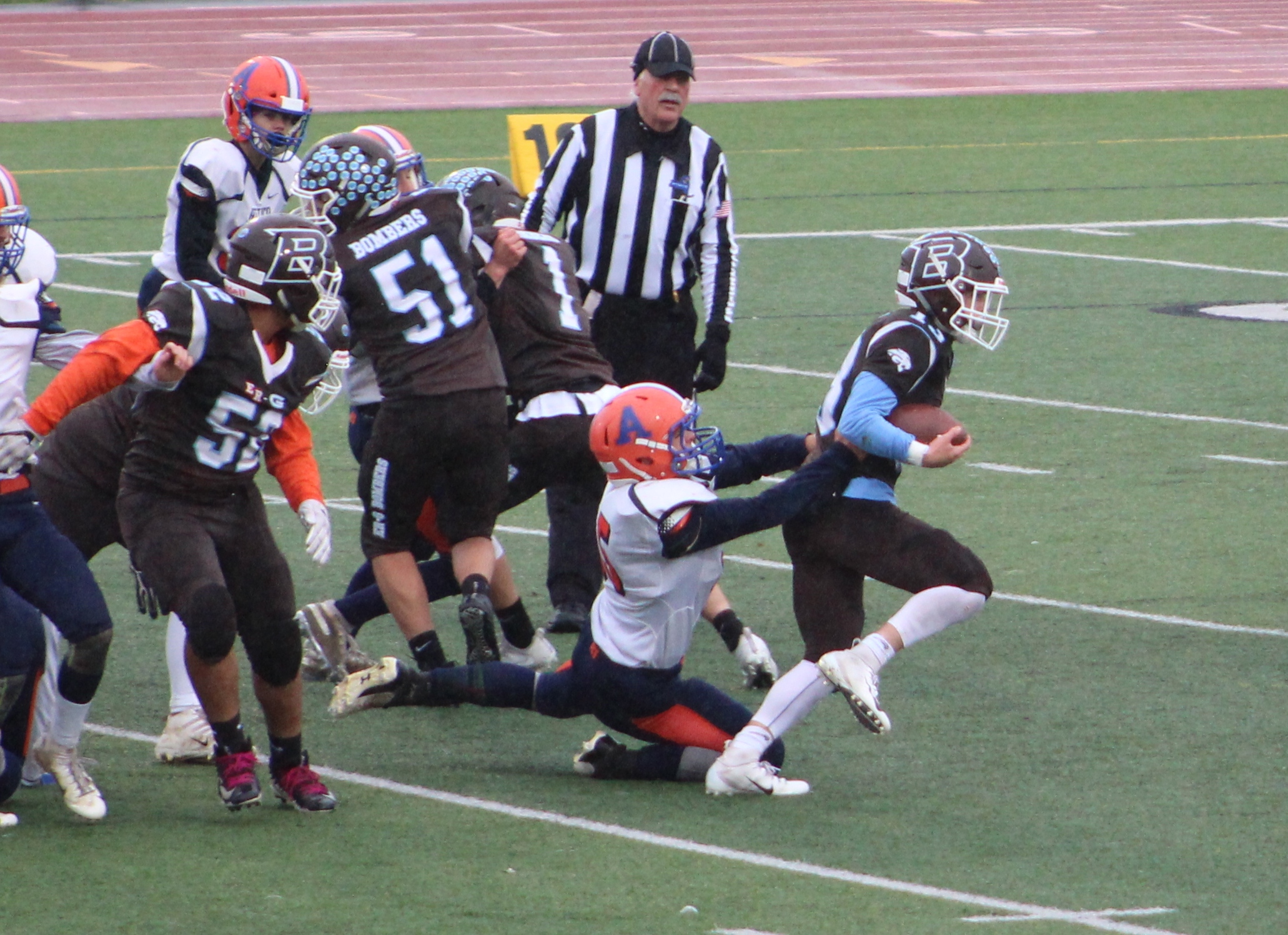 BY PAUL LIOTTI
HONEOYE  FALLS  — Attica is an old-school, throwback football program. It's more comfortable running misdirection runs, inside handoffs and trap plays more reminiscent of a bygone era when Grantland Rice immortalized the Four Horsemen of Rockne's prohibition Fightin' Irish.
But don't be fooled. When their backs are against the wall, the Blue Devils can pass.
And for the second week in a row, fifth-seeded Attica stunned Class C when it upset No. 1 seed East Rochester/Gananda 21-14 Saturday with a touchdown with :17 left. A touchdown that was set up on the previous play when, facing fourth-and-six from the ER/G 39, Edward Strzelec hit Zachary Strezelec  for a 36-yard completion to the three yard line.
"I guess we save the passing for when we need it," Attica coach Caleb Sabatino said. "These kids don't know what quit means. Last week we were down and coughed it up, but they didn't cave."
It was the second week in a row that the Blue Devils won with the strange thing called a forward pass. In last week's quarterfinal game against Wayland-Cohocton, the cousins Strzelec connected with scoring pass with 4.1 seconds left to upset the fourth-seeded Eagles, 31-28.
"It's never over 'til it's over and the clock hits zero," said Edward Strzelec, who completed only four-of-nine passes for 79 yards. "But that's our mentality: play until the whistle blows whether it's in practice or a game. That's what's inside of us. We have the heart for it and we don't give up until that last second is off the clock."
Not bad for a team that had ATTEMPTED just 51 passes heading into its Class C semifinal Saturday afternoon.
"We all talk about WANTING to throw the ball more, but you know, you don't fix what ain't broke," Edward Strzelec said.
Unless the Blue Devils need a pass completion.
Like they did against Way-Co.
Like they did again against ER/G.
On that fateful last series, Attica (7-2/No. 15 NYSSWA) took over at its own 39 yard line with 1:37 left and two time outs. Mason Compton  ripped off an 18 yard run to open the drive and Edward Strzelec completed a pass to Dawson Nelson for nine more. But the Bomber defense rose up and pushed Attica to the brink with a fourth-and-six at the 39-yard line. After a time out, Edward Strzelec found Zachary Strzelec across the middle on a deep pattern and threaded the ball in front of a defender. Zachary Strzelec held on and Attica was in business with :23 left at the three-yard line.
On the very next play, Mason dove over and the game was won.
"These kids don't know what quit means. Last week we were down. This week we were down. But they didn't cave," Sabatino said.
In a game that was tailor-made for the conditions – 37 degrees and in a steady rain – the team that could control the line of scrimmage and hand on to the wet pigskin was going to win.
Neither team held the advantage rushing the ball – ER/G finished with 362 yards while Attica gained 326 – but it was the Bombers inability to hang on to the ball that cost them early. Three times the slick pigskin found its way from a Bomber grip onto the turf, and twice the Blue Devils capitalized with touchdowns.
Attica capitalized on the Bombers' first turnover when Edward Strzelec bolted around right end for 39 yards to stake the Blue Devils to a 6-0 lead with 1:19 left in the first quarter.
But ER/G (7-2/No. 14 NYSSWA) answered and answered quickly. On the next series, ER/G quarterback Corwyn Cleveland powered over from two yards out and when running back Jayden Castrechini ran in the conversion it was 8-6 early in the second. ER/G pushed the lead to 14-6 just before halftime when Castrechini's offensive line opened a gaping hole up the middle and he ran untouched 13 yards for the go-ahead score.
The third quarter was much of the same – both teams pounding out long drives on the ground, but neither could put points on the board. But tragedy struck again for ER/G when a mishandled snap was fumbled away and Attica took over on the Bomber 39 with 1:38 left in the half. The first play saw Edward Strzelec  found Nelson on crossing over the middle for 21 yards and four plays later Jacob Gross  scored from four yards out. Compton's conversion run tied it at 14-all with :29 left in the third.
The teams traded punts and field position, but neither team could gain an advantage. And when Castrechini's punt was downed at the 39 with 1:37 left, the game was looking like it would go to overtime.
But it wasn't to be and Attica, winners of seven-straight games, moves on to face fellow Livingston County foe Letchworth/Warsaw in the Class C final versus No. 3 Letsaw, which upset No. 2 Penn Yan 28-0 in the other semifinal.
Castrechini, who  entered the game with 1,727 yards rushing on the year and needed 273 to top the 2,000-yard mark for the second consecutive year. And by halftime, it looked like he might do just that as he went into intermission with 20 carries for 144 yards.
But Attica's key to success was to limit Castrechini and in the second half it did: The Blue Devils defense pounded Castrechini and held him to just 29 yards on 10 carries in the second half. He finished with 183 yards, on 30 carries.
"The weather wasn't great, but it certainly wasn't the reason why we lost the game," ER/G coach Brian  Touranjoe said. "They did a nice job in the second half and we didn't capitalize on things we had and to. It just comes down to the fact they made plays at the end and we didn't."
Compton finished as the leading rusher for Attica with 109 yards on 14 carries and Nelson finished as the game's leading receiver with three catches for 43 yards.
The Class C final will be played at 5 pm, Saturday, at St. John Fisher College.
Attica 6   0  8  7  21
ERG    0 14  0  0  14
Att      EdwardStrzelec 39 run (Kick failed)
ERG   Corwyn Cleveland 2 Run (Jayden Castrechini run)
ERG   Jayden Castrechini 12 Run (run failed)
Att      Jacob Gross 4 run (Mason Compton run)
Att      Mason Compton 3 Run (Dawson Nelson kick)