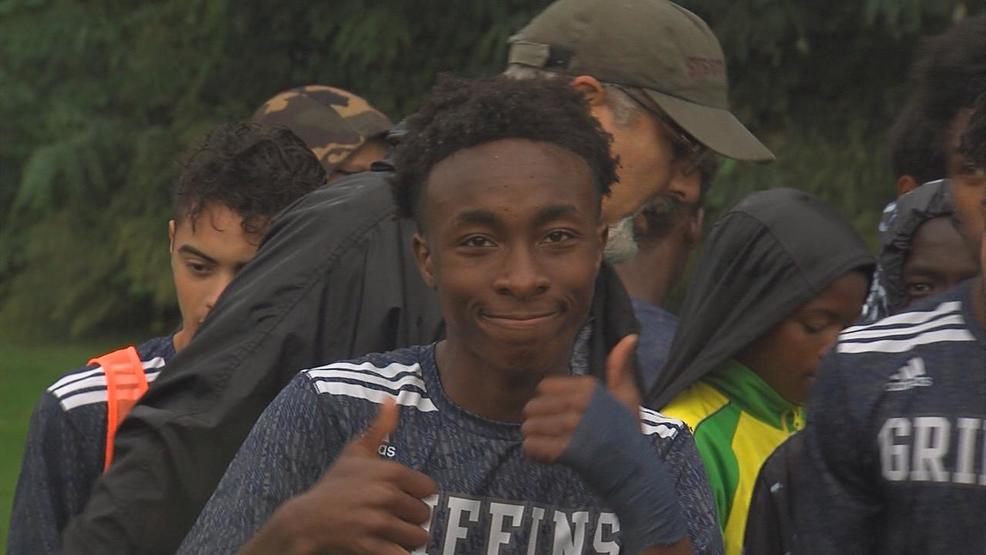 By MATT TRABOLD
TRABS KEEPS TABS
Upsets, Upsets, Upsets
For those who legitimately follow Section V boys soccer overall, this has been an incredibly flabbergasting group of sectional games so far this year for better or for worse. The shocking results began right off the bat as Irondequoit, Rush-Henrietta and Penfield took down Greece Arcadia, Fairport and McQuaid Jesuit, respectively, last Friday. While the higher classifications have been pretty chalky since then, the past couple days here have seen a pair of the slightly smaller classifications take this torch and run with it. This theme was no more apparent than on Wednesday.
If we are to take this harrowing trip down memory lane for favored seeds that night chronologically, it starts with defending state finalist Byron-Bergen/Elba in its match with the Sodus Spartans. Even after the graduation of Kylar Chambry, the Bees were arguably the deeper Class C1 side, with the illustrious Wade Thompson in the center of it all, than the top seed this time through in Williamson. Thompson is customarily so smart, quick with his skill and possessing such superior footwork to the opposition that he can dribble and pass past defenders even when they are collapsing on him with fervor. Many times two days ago though at Webster Schroeder Central High School, a Sodus foot was getting in there with enough time to disrupt his flow. The second-leading scorer this season for Byron-Bergen/Elba in striker Sam Pringle was not able to get a rhythm going with separation off of physical play due to the battalion of sizable defenders Sodus boasts. The two goals the Spartans scored in the first half definitely showed the theme of the game from the Byron-Bergen/Elba perspective. On the first score, it initially looked like Will Lamar took too hard of a touch running across the mouth of goal, but he was actually using it as a maneuver around the goalkeeper in order to tuck the shot away inside the far post from a tough angle a moment later. Then, with just eight seconds left before the halftime whistle, sophomore defender Donovan Fillmore expertly hustled up to a free kick and somehow sent it through a crowd on a play that seemingly had the sight of the goalkeeper blocked by one of his own teammates.
8 ticks remaining in halftime and Donovan Fillmore gives Sodus a 2-0 lead. Class C1 semifinals. pic.twitter.com/E5d6kaRJmG

— Paul Gotham (@PickinSplinters) October 24, 2018
Roughly ten minutes away at Brighton Central High School, Dylan Ange and Class B1 highest seed Greece Odyssey were squaring off with Livonia in a semifinal game that was a rematch of the sectional title game in the classification a year ago. Greece Odyssey was trying to exact revenge in this one for the result of said sectional title game. The No. 4 seed trailed by a score of 1-0 at halftime after Ange went nearly coast-to-coast for a herculean scoring strike in the first frame. The Bulldogs had more shots on net in the second half though. Greece Odyssey starting goalie Kyle Pezzulo did a stout job at fielding a wide majority of those Livonia chances. After a lunging stop by Pezzulo with around six minutes left in regulation, the Bulldogs capitalized on the ensuing corner kick as Thomas Hayes tied it up through having the ball ricochet off his body in a crowd. The right place sometimes links up with the right time. Before falling in overtime, Scott Mikulski's team had a couple of seemingly easy chances behind the Livonia defense in the final handful of minutes of regulation not be converted, including one ball that hit hard off the left post only to laser securely right into the chest and gloves of a rather unsuspecting Jonathan Woolston before a rebound chance could be created.
Then, it was back to Class C1 competition. Undefeated Williamson relinquished a goal in the first three minutes as the two sons of East Rochester head coach Mike Domm linked up. Russell Domm sent a corner kick into the box, and Chuck Domm rose out of the trees to head it down and in with players all around him. Then, the Bombers went into a successful defensive shell for the most part for the final 77 minutes of the contest. Incredibly talented Rochester Futbol Club player Justin Eaton, and his thirty goals as a senior coming in, was getting shadowed by two East Rochester defenders essentially the entire game, with a third keeping a very close eye on him and a fourth every once in a while helping to collapse once the ball came Eaton's way.
3' Chuck Domm to Russ Domm and @ERBombers take an early 1-0 lead. pic.twitter.com/aaZD8SamKI

— Paul Gotham (@PickinSplinters) October 24, 2018
As for ballgames with thorough upset potential going forward across sectional play in this sport regardless of classification, you should look at the two Class B classifications. Bath-Haverling is undefeated with no ties and atop the state rankings, but 16-0-2 Letchworth/Warsaw has at its disposal a roster featuring Rochester Futbol Club stalwarts Ethan Grover and Adam Grover on top of Cedric Aschwanden and his 24 goals. Jake Gallina and Nick Sapienza with their storied long careers for current Class B1 No. 2 seed Palmyra-Macedon might be able to do some damage in state play if they reach that point, but Ray Maxwell knows how to coach squads to sectional crowns. Livonia came into this season off of six sectional titles in a row. Heady coach's son Ewan Maxwell has had a legitimate and productive role on his father's team since he was young. As a freshman this year, Shane Melead has shown that he is a promising scoring threat for this program going forward for years to come. Sophomore wingback Jack Donnelly, with his huge sectional mohawk, effectively moves a mile a minute on his flank.
SLAP YOUR PEEPERS ON THIS TROIKA
Spencerport vs. Brighton at Hilton High School—Fri., Oct. 26, 5:15 PM
Yes, Spencerport was, and still is, the No. 2 seed. Yes, Greece Athena was the No. 7 seed. With that being said, a case can be made that the Rangers beating the Trojans in the game on Tuesday between the two sides in the 2018 Section V Class A boys soccer sectional bracket was an upset victory at least on paper. Greece Athena came into that one with a more high-profile roster in terms of prior individual player accolades, perhaps more seasoning due to arguably a more difficult regular season schedule this year, more players that have played higher-level club ball over the summers and a pair of current Division I commitments – not even mentioning a few non-seniors getting Division I looks. All of these factors make that Spencerport win even more impressive on top of supplying these Rangers with an added level of momentum heading into this semifinal tussle. Justin Hockenberger and Max LaRosa currently sit at twenty combined goals this year, but the two most notable guys on this team might just come from the defensive third. Starting goalkeeper Jadon Schlierf and backliner Ajan Rajamohan were both on the Rochester Futbol Club team that won the 2017 United States Club Soccer National Cup XVI in Westfield, Indiana.
The Barons might be the lower seed in this postseason matchup, but you should not be ridiculed if you say that they are still the favorite to win at LeBeau Field here. Brighton could have the strongest batch of victories out of any squad in the section so far this season. Adam Hiller's group has a variety of distinguished scoring threats with Connor McQuillan and company, but you cannot overlook the reliability of the team's defensive four. The calmness, productive confidence and precise footwork in the face of the opposition trying to reign down impending offensive doom of junior fullback Lyosha Georas and senior wingback Rikki Nord has really been on display in this sectional run for the Barons. You also cannot forget the incredibly unique roster piece of having a starting goalkeeper that can thunder in a free kick from 54 yards out like Christian Burkhart did on Tuesday against Pittsford Sutherland. Plus, he had netted three goals prior to that one beforehand in his senior campaign.
How many goalkeepers can scream in a free kick from 54 yards out? After what Christian Burkhart @cburkk of @BCSDSports @BaronsHoopGroup did tonight, there is at least one. Got his Rogério Ceni on. ● @SectionVsports @globalpremsocc @SportsCenter #SCTop10 pic.twitter.com/UPNzZ4XWxO

— Matt Trabold (@TrabsMatt) October 24, 2018
Sodus vs. East Rochester at Avon Central High School—Sat., Oct. 27, 5:00 PM
Early on in Section V boys soccer sectional play this go-around, Class AA was the classification flaunting the most astonishing upsets with Rush-Henrietta beating Fairport and Penfield beating McQuaid Jesuit, but that title has switched over to Class C1 this week. On Wednesday, No. 4 seed East Rochester blanked previously undefeated top seed Williamson on top of Sodus rolling a defending state finalist in No. 2 seed Byron-Bergen/Elba, 5-0. The Spartans and the Bombers split the regular season series this campaign with each side shutting its opponent out in its win. It should come to no surprise that Chuck Domm scored both goals back on September 10 when East Rochester grabbed a triumph over Sodus, 2-0. The two sons of head coach Mike Domm on the team, Chuck and Russell Domm, have combined for 24 goals and thirteen assists through this point of the year. It might sound like a cliché, but Chuck Domm more than makes up for not being the biggest attacking player around physically by working harder and wanting it more than the frequently bigger defenders in his vicinity on the pitch. Michael Raschiatore is one of the very most polished, talented and physically imposing starting goalkeepers the section has these days. Michael does not offer opposing offensive attacks much in the way of rebound opportunities. If a ball makes contact with his body, there is a great chance he is wrapping that puppy up for a full save. Freshman defensive midfielder Ian Szemcsak already possesses the wherewithal to run down and shield out offensive-minded opposing players when it seems like the East Rochester defensive fortitude temporarily breaks down.
45' Michael Raschiatore denies Justin Eaton's volley. @ERBombers still leads 1-0 pic.twitter.com/MPhDZas9OL

— Paul Gotham (@PickinSplinters) October 25, 2018
While East Rochester shocked a favored sectional opponent through quality two days ago, Sodus pulled off that feat through both quality and quantity as the Spartans hung five scores on a mighty Wade Thompson-led Byron-Bergen/Elba group. Up front, Will Lamar customarily does absolutely whatever he needs to do, in the confines of the rules of the game, to end a possession with a goal of his in the back of the net. That is how you get to a twenty-goal season with at least one more ballgame left to go. Big Daniel Mares anchors an effectively big back group for the Spartans. His size allows him to win most of the shoulder-to-shoulder plays he gets involved in. Sodus has benefitted in this C1 sectional competition from a regular season slate that pitted them in battles against a solid Class A squad in Wilson Magnet and Class AA semifinalist Edison Tech, which resulted in a shutout win and a tie, respectively.
Hilton vs. Rush-Henrietta at Spencerport Central High School—Tues., Oct. 30, 7:30 PM
Rush-Henrietta has been a little more convincing than the Cadets in getting to this final point of the 2018 Section V Class AA boys soccer sectional bracket after upsetting Fairport in postseason play for the second consecutive year, getting its hands on its third shutout win of this sectional run last night in a semifinal bout with Penfield and Hilton needing to come from behind yesterday to beat Edison Tech. Taking all of that into account, Hilton is undeniably the favorite to pull out this particular one. Even with their shaky end to the regular season, the Cadets have held high the moniker of being the team to beat in this classification here at every point of this campaign. Senior captain Tom Callery plays mostly on defense for Mike Ellicott and his staff, but he has really been getting offensive over the past couple games through free kicks. Both of the tallies that Hilton scored last weekend as the Cadets began sectional play with a win over Webster Thomas came off of what Callery concocted via set piece. The first goal ended up on the head of Justin Arilotta after he went airborne and horizontal, and the second goal came right off the free kick by Callery as he spun it low and out of the eyesight of the goalie. Another Cadet pounding the rock on another echelon presently is senior wingback Colden Philps. He is proficient in the rather lost art of keeping one's body over the ball while shooting. A big question going into Tuesday night is whether or not Joshua Ranke or Hussian Ali will play after both sustained injuries in the second half against the Inventors.
29' Tom Callery has found his sweet spot. @HiltonCadets 2-0 pic.twitter.com/lAiRxuPl5o

— Paul Gotham (@PickinSplinters) October 20, 2018
Say what you want about the present depth of the Royal Comets, but the attacking group of Rush-Henrietta has been firing on all cylinders for a pretty long time now this season behind Curtis Rowe, Jason Pike, Hunter Kassel, Cory Meintel and World of Inquiry transfer Jean Kennedy. With the Griffins, Kennedy was a supplementary spark that mostly came off of the bench and could certainly plug in a goal here and there. With the exception of the third goal given up by Edison Tech yesterday against Hilton, a smaller goalkeeper in sophomore Sumani Hassani had a good deal of success versus the Cadets with his trademark jolts to dominate the space in his box. Rush-Henrietta starting goalie Ethan Scheuer will provide a different test for Hilton in the mouth of goal due to being a physically bigger guy than Hassani, and many others in this area, with long limbs to utilize for his dazzling array of stops. It can be more forgiving with shots closer to the net.