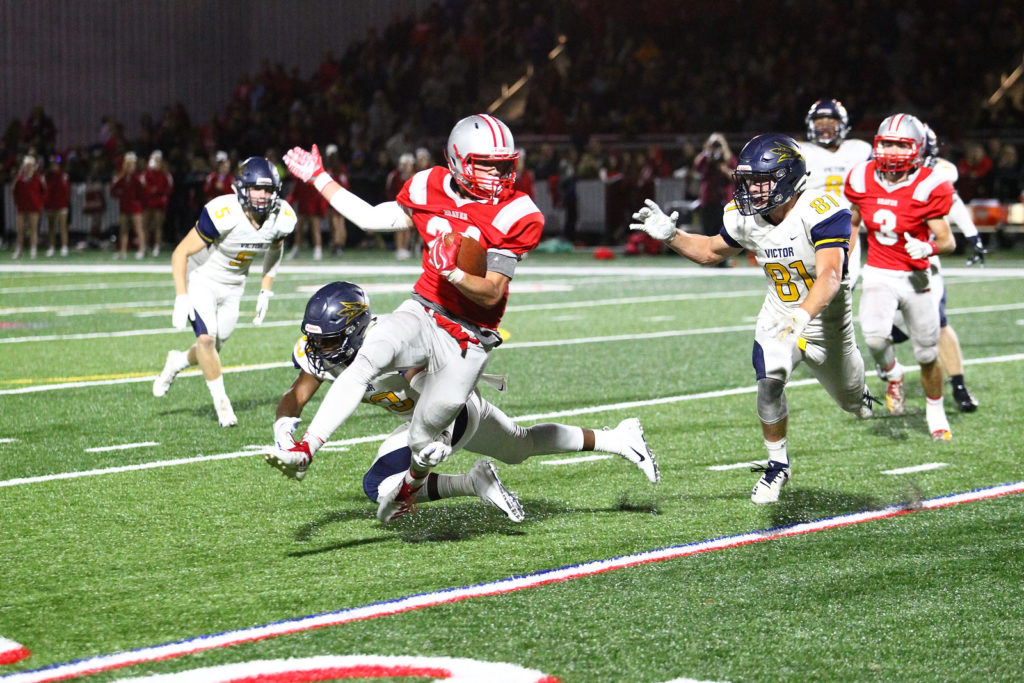 Semifinal Matchups
No. 1 CANANDAIGUA vs. No. 4 VICTOR, 5 PM, Friday, SUNY Brockport
No. 2 IRONDEQUOIT vs. No. 3 EAST, 8 PM, Friday, SUNY Brockport
Finals
7 PM, Friday, November 2, SUNY Brockport
No. 1 seed CANANDAIGUA BRAVES (MONROE COUNTY III)
Record/NYSSWA Rank: 8-0/No. 12
Quarterfinal Result: def. Webster Schroeder 24-21
Last Week: The Braves survived a scare from the Warriors who pulled to within 24-21 in the fourth quarter. Quarterback Jack Johnston completed 23-of-31 passes for 269 yards and a touchdown and RB Seth Vigneri rushed for 167 yards on 21 carries and scored a touchdown as well. 
Notable:  Tied for the Monroe County Division III title along with Irondequoit.

VIEW MORE KRISTIN WILLIAMS PHOTOS HERE. 
No 2. seed IRONDEQUOIT EAGLES (MONROE COUNTY III)
Record/NYSSWA Rank: 8-0/No. 4
Quarterfinal Result: def. Wilson 35-27
Last Week: Liam Jones sacked the Wilson quarterback inside the five-yard line on the last play of the game to preserve the win. Dual-threat Quarterback Freddy June, Jr. rushed for four touchdowns and finished with 110 yards on 29 carries. Dynamic running back Jaden Turner finished with 19 carries for 142 yards and a touchdown.
Notable: One of two Monroe County Division II teams to make it to the Class A semifinals (Canandaigua)
Key Players: June Jr and Turner. However Turner was hurt in the quarterfinals and it could affect him in semifinals. The Irondequoit Eagles' defense is salty, led by Nick Serce and Jones on the inside and explosive defensive end Cameron Martin on the edge.
Key Matchups: Will June be able to get the passing game in gear and can the front line pressure East quarterback Anthony Gilbert to keep his speedy receivers at bay?
What to Watch For: Irondequoit is on a mission after losing to Wilson in the Class A finals last year, but to advance it will need a healthy Turner. If not, the running duties will be spread around to JaRon Frith and Ryan DeRosa.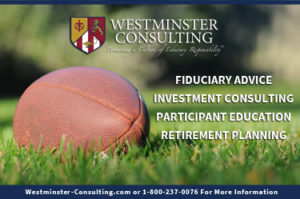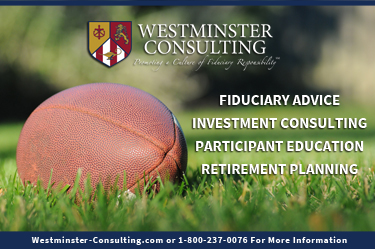 No. 3 seed EAST EAGLES (RCAC)
Record/NYSSWA Rank: 7-1/ No. 27
Quarterfinal Result: def. Greece Arcadia 14-7
Last Week: Running back Freddie Brock scored the game-winning touchdown with 25 seconds left as East rallied from behind to beat Greece Arcadia. He finished the game with 14 carries for 125 rushing yards and two touchdowns. Quarterback Anthony Gilbert went 10-for-19 for 136 yards and a touchdown.
Notable: Finished second in the RCAC (McQuaid)
Key Players: Freddie Brock (58 carries for 654 rushing yards and seven rushing touchdowns; eight catches for 153 receiving yards and a receiving touchdown), Anthony Gilbert (53-for-92 for 1019 passing yards and 15 touchdowns; six carries for 15 yards) and Seven McGee (32 carries for 390 rushing yards and 3 rushing touchdowns; 16 catches for 336 receiving yards and six receiving touchdowns).
Through The Eyes Of The Coach: "This group of guys likes playing football. They love the opportunity the have, and they just want to go out there and keep playing. It's like a different group. They're not really paying attention to the idea that East hasn't won a sectional game since 2010. They're just enjoying the moment."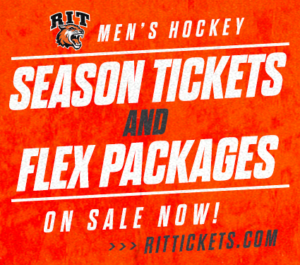 No. 4 seed VICTOR BLUE DEVILS (MONROE COUNTY II)
Record/NYSSWA Rank: 6-2/ No. 23
Quarterfinal Result: def. Eastridge 44-14
Key Players: Joey Joey Pezzimenti (143 carries for 846 rushing yards and nine touchdowns) and Rushawn Baker (72 carries for 561 rushing yards and 11 touchdowns)
What To Watch For: It's been feast or famine for the Blue Devils — in four games they averaged 46.5 points; but have also been shut out in two games
Through The Eyes Of The Coach: "We're excited to get the opportunity to play Canandaigua again.  They dominated us in the regular season game so we've got some work to do. They are very talented and well coached so we'll need to play our best football to be in the game," says coach Geoff Mandile