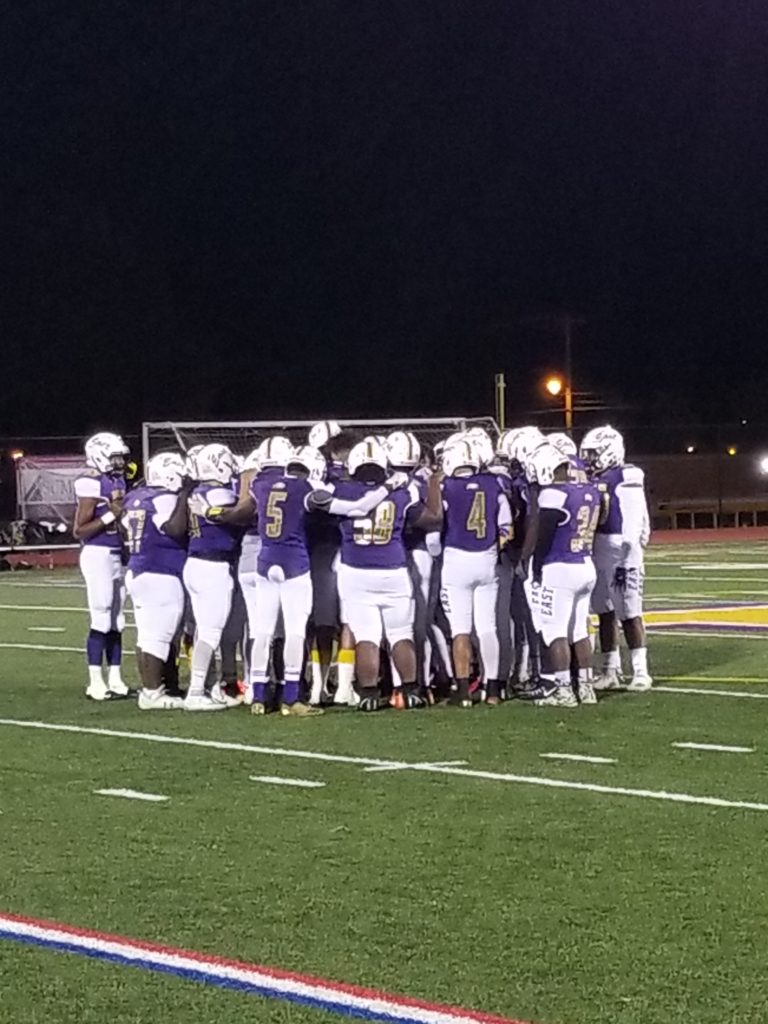 By JOHN LIKANJE
ROCHESTER, N.Y. — East junior running back Freddie Brock scored the game-winning touchdown with 25 seconds left as the Eagles rallied to defeat the Greece Arcadia Titans in the Section V Class A quarterfinals.
On third and goal, Brock capped a 12-play drive when he hauled in a pass from sophomore quarterback Anthony Gilbert.
East started the drive with 1:46 remaining in the game.
@GoEastEagles Freddie Brock TD to give Eagles the lead with 25 seconds left. 2-pt conversion good. Eagles lead 14-7 over @ArcadiaFootball @PickinSplinters @SectionVFB pic.twitter.com/QU1EjDnreN

— John Mitchell Likanje Junior (@jml5798) October 20, 2018
The Eagles had an opportunity to take the lead on their previous drive that started on their 5-yard line. Threatening to score in the red zone after a 14-play drive, it seemed as though East converted on the third down to take the lead but the referees signaled out of bounds on the catch.
Brock finished the game with 125 rushing yards on 14 carries and 20 receiving yards along with two touchdowns. His other touchdown came on a 51-yard run in the beginning of the fourth quarter at the end of a 5-play drive that began at the end of the third quarter.
Gilbert went 10-for-19 for 136 yards and a touchdown. East rallied from a 7-0 deficit to score 14 unanswered points, all in the fourth quarter.
Greece Arcadia scored on their first possession of the game after junior wide receiver Elijah Barnard recovered his teammate's fumble at the 2-yard line and tumbled into the end zone to cap off a 10-play drive that started on their 11-yard line.
From there, the Titans' defense made that score stand as they held East to punts on all three of their drives in the first half. In the third quarter, the defense made key stops, including an interception by K'myn Crumity with 6:40 remaining near the red zone to keep the Eagles off the board.
@ArcadiaFootball #5 Elijah Barnard picks up the fumble for the TD. PAT good. 7-0 Titans. @PickinSplinters @SectionVFB pic.twitter.com/FMzKIe8fAs

— John Mitchell Likanje Junior (@jml5798) October 19, 2018
Crumity finished the game with 135 rushing yards on 32 carries. Quarterback Brian Shonitsky went 2-for-6 for 18 yards and carried the ball six times for 40 yards. Alex Testa led the Arcadia defense with seven tackles and a sack. Shakim Harris and Anthony Stevenson each had five tackles. Crumity chipped in three tackles while Jaquan Davis had two tackles and two sacks.
East will play Irondequoit in the Class A semifinals next Friday at SUNY Brockport.