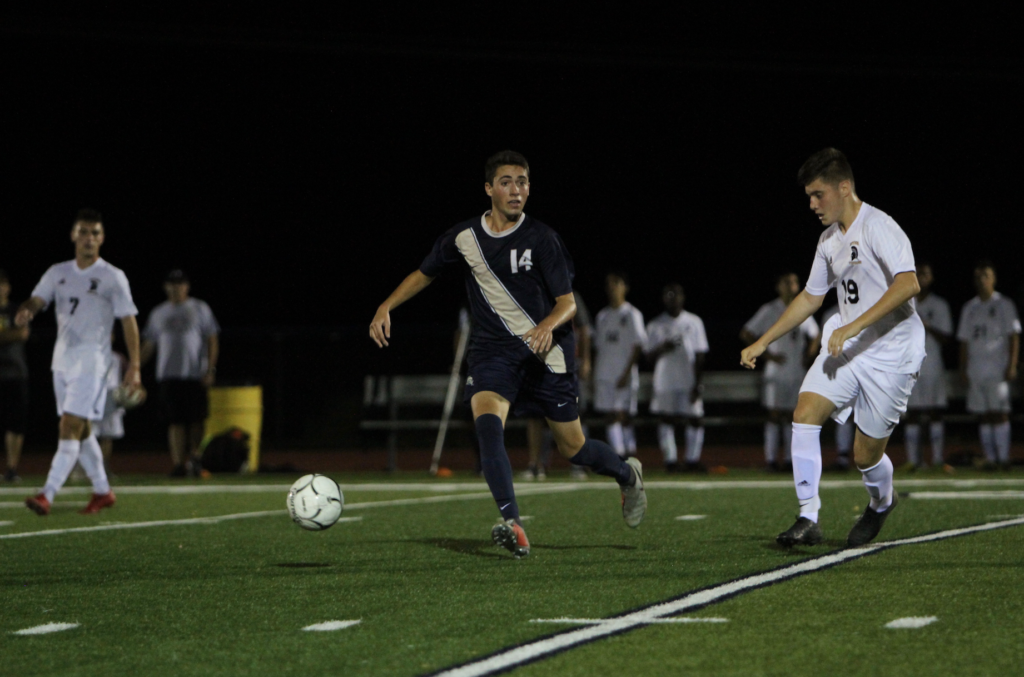 TRABS KEEPS TABS
Here Comes Pittsford
The joint Pittsford football team has made plenty of headlines lately due to its winning streak of four ballgames going into the final week of this regular season. When teams in that sport around here only play seven games in a given regular season, reigning supreme in a quartet of contests in a row accounts for a lot. On the pitch, Pittsford is also putting together a strong case to be considered the town housing multiple Section V boys soccer teams with the most momentum going into sectional play.
As far as the town of Irondequoit goes, Irondequoit High School ended its four-win regular season in pretty impressive fashion last night by preventing Hilton from getting its thirteenth win of the season through a tie, 1-1. Eastridge also pulled out a surprising draw yesterday by tying Pittsford Sutherland by that same score, but the currently slightly under .500 Lancers are still certainly not what they were the few years prior when Matt Stefaniw was at the scoring helm. TJ Tytler and the magnificently named Fernando Furioso have combined for 31 goals so far this year, but Bishop Kearney was more of a force to be reckoned with a couple years ago before Woochul Cho and Deu Awuok graduated to play at Canisius College, in addition to Ryan Daymon moving on to continue his soccer career at Fairleigh Dickinson.
Here's evidence of me calling header goal of @whdncjf of @BishopKearneyHS to @Irvish5 (camera lens a smidge wet). pic.twitter.com/JK3rSJzzEC

— Matt Trabold (@TrabsMatt) October 29, 2015
Jackson Vogt-led Penfield just finished up its regular season with a 5-9 record, but the town has received a big bump this year from Charles G. Finney. The program that resides in eyesight just down the hill from Penfield High School has only recorded one loss this time around with a single game left on its schedule before postseason play. The Falcons presently have three players with at least fifteen goals slotted home this go-around, including Ian Lau Atencio, who is fourth in scoring in Section V at the moment with 28 goals, and basketball marksman Keegan Ocorr. Colin Merkey is quite the senior leader, but scholastic soccer in the town of Webster is not that arguably below the combined caliber it boasted when 2013 MLS Supplemental Draft selection Mike Reidy played for Webster Thomas.
Then, there is the town of Greece. A case can be made that Greece has still had the best combined campaign overall this season despite some key losses over the past week or so. What arguably gives Pittsford the slight edge though momentum going into sectional play-wise is results in very recent contests that pitted the two towns against each other. On Tuesday, Pittsford Mendon squeaked by Greece Arcadia off a pair of goals by Matt Bamford in a six-minute span in the final eighteen minutes of regulation – the thirteenth and fourteenth goals of his senior campaign. The same night, Pittsford Sutherland was victorious at home against Greece Athena in a five-goal instant classic that was decided with around four minutes left in regulation. The score that won it came off sophomore Dylan Kladstrup finding a little space and launching a shot from thirty yards out that expertly dipped down out of the sky at the perfect time over the outstretched arms of the goalie and in. Sophomores actually scored four of the five goals in the affair. Both Pittsford Sutherland and Pittsford Mendon have gone three ballgames in a row without a loss.
.@athena_soccer vs. @SHSsoccersquad tonight was unsurprisingly a clasico. Golazos galore. Yakup Simsek and Dylan Rice playing the two-man game to perfection. @PCSDAthletics So. star Dylan Kladstrup with the big dipper from 30 yards out. pic.twitter.com/Bujjcmf0ah

— Matt Trabold (@TrabsMatt) October 10, 2018
Pittsford Mendon and Pittsford Sutherland are undoubtedly two of the schools most synonymous with the sport of soccer in the Rochester area. In Section V boys soccer history, the Vikings are second only to Red Creek when it comes to most sectional championships with 21 titles. The Knights are not that far behind at fourteenth in Section V boys soccer history when it comes to most sectional championships with nine titles. Back in 2013, Pittsford Mendon won a state title due to the merits of the likes of Nick Keneally, Matt Renzi, Dane VanBenthuysen, eventual University at Buffalo player Ryan Aspenleiter, goalkeeper Stewart Frank, Will Trabold and John Vangellow.
The current Knights have a number of players they can lean on for scoring come sectional time, including an incredibly skilled leading scorer that never quits in Will Bowen and Carsen Ramsager. Kladstrup plays on a prestigious Global Premier Soccer New York Regional team during the summer months alongside Dylan Rice (Greece Athena), Camden Englert (Greece Arcadia), Wade Thompson (Byron-Bergen/Elba), Michael Tracey (Greece Athena), Matthew Gentile (Wayne Central), Mat Ochs (Brighton), Andrew Balch (Greece Olympia), Michael Inglese (Hilton) and Jadon Schlierf (Spencerport). Coupled with that, he has logged a couple of very productive underclassman varsity seasons in a row. Spanish sophomore former Club Deportivo Valdetorres player Niklas Riewe is hard to stop coming in from the wing when he has a head of steam. Filippo Di Stefano can definitely provide a speedy bench spark in the attacking third. As for the current Vikings, it is difficult to find too many better stopper-striker duos in Section V at the moment than Connor Krapf and Matt Bamford.
SLAP YOUR PEEPERS ON THIS TWOFER
Edison Tech at East High—Fri., Oct. 12, 4:30 PM
If Edison Tech is going to continue this pleasant surprise of a season into postseason competition, the Inventors could use a humbling experience to strengthen at least their mental talent going into sectional play. That is just what they received on Tuesday afternoon against the School of the Arts/Northeast and Northwest College Preparatory High School combination team. AJ Maio's group got figuratively kicked in the mouth by Lucky Khounsombat, Eliphazi Irrshura, Saheed Miller and company before coming back to grab the win, 3-2. An outing like that may have powered the Inventors into an important victory over strong Wilson Magnet yesterday. With Malik Musa and Mabrook Saleh, and their 27 combined goals at this point, being shorter attacking pieces, Ridwan Mohamed is a vital weapon for Edison Tech due to his longer strides and aerial abilities. If times get tough in a game, Maio and his staff customarily make the smart decision of moving senior captain Rey Arizmendi to the back line.
When you see a record featuring fourteen losses, like the one the Eagles currently hold, some might expect that the associated team has no talented players. That is unequivocally untrue with this East High club. Captain Abdulaziz Osman has just about every dribbling move in the book at his employ. He really only loses possession when the lack of depth for the Eagles causes the opposing team to really clamp in on him after he beats the first two or three defenders. Ahmed Ibrahim is one of the very top visual marvels in the Section V boys soccer world right now due to the wowing footwork he can unleash despite being such a big body.
Hilton at Greece Arcadia—Fri., Oct. 12, 4:30 PM
The final day of this Section V boys soccer regular season brings together a pair of absolute powerhouses doing battle in this one. On Tuesday, the Cadets suffered just their first loss of the year due to an unorthodox pinball possession of a goal by Fairport in the second half. Hilton then surprisingly tied sub-.500 Irondequoit last night. Keep an eye on if those two reality checks give a sizable boost to Mike Ellicott's battalion in postseason competition. Justin Arilotta is certainly the top option for the Cadets with his strong will, aptitude at squeezing into tight spaces, the ability to use his timing skill to beat bigger opponents in the air and the foot talent to execute productive maneuvers like a successful Maradona in a crowded box. His twin brother in Joey Gombatto has received a little more love due to his success between the pipes, but Jack Gombatto expertly paces a back line that graduated a lot of experience and acumen following last season. Captain and senior midfielder Noah Malta might be a successful backcourt player on the basketball court at Hilton, but he actually has great soccer size, and has no problem proficiently throwing it around. Scoring threat Hussian Ali has taken great strides since the early part of this season at tightening the hinges on his on-field product. Sophomore Brett Wilkins, and his big head of hair, is a shorter but powerful attacker that you always expect to be the first one to a loose ball. In addition to what he can do with his feet, Joshua Ranke could just be the most productive on-field talker in Section V this go-around when it comes to how he competes against opposing players.
Received this gem. That's Justin Arilotta of @HiltonSoccer pic.twitter.com/nKxtK2U5cB

— Paul Gotham (@PickinSplinters) September 9, 2018
The top option for Greece Arcadia is also obvious. It is Tyler Lewandowski through and through. Tyler is so calm and successful working in a tight phone booth, is never afraid to try the sometimes lost art of just ripping a shot on net to see what happens and currently sits at 22 goals on the year despite frequently being double-teamed and triple-teamed. His freshman younger brother Aidan Lewandowski has flaunted plenty of scoring talent despite still having some growing physically ahead of him.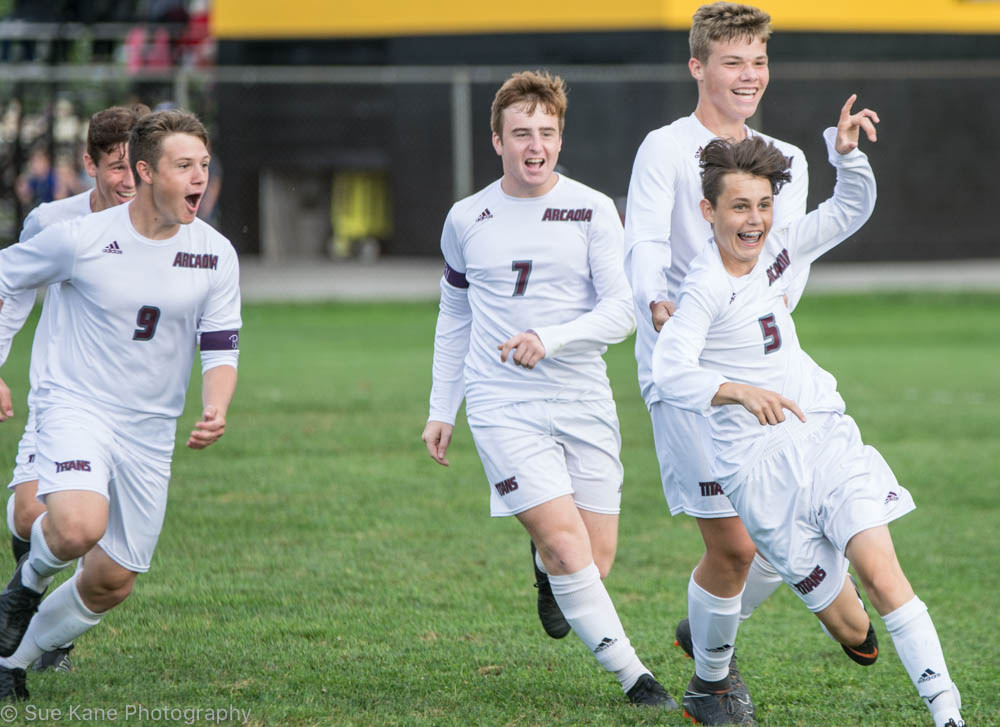 Those two brothers combined for all five goals the Titans scored versus Honeoye Falls-Lima yesterday. Not far behind Tyler for the moniker of the best player these days on this stacked side is central defender Carter Englert. Despite being one of the productively largest bodies in Section V boys soccer this season, Carter moves around like a gazelle when he needs to with fantastic footwork for a fullback or otherwise. He uses his large frame with the perfect combination of grace and power when the necessity is there. Carter also has a very talented younger brother in volley-adept Camden Englert. Cooper LaValley has plenty of ability in the open field, but the aspect of his game that really shines is what he does on free kicks and corner kicks. Another impressive defender for Matt Vergamini and his staff is senior Ryan Karker. He also knows just how to use his size. Come sectional play here soon, do not be surprised if he puts in a bicycle kick off a corner. Karker knows what he is doing when he ranges up.
Another @SectionVsports game 13WHAM-TV Sports cameras were at this weekend was @GreeceArcadia hosting @ERidgeLancers in BSOC. ● @TylerLew14 pic.twitter.com/bCgpfBYmrw

— Matt Trabold (@TrabsMatt) September 17, 2018
SECTION V IN DIVISION I UPDATE
Lukas Fernandes—Jr., Temple (Churchville-Chili)
Last Wednesday, Fernandes kept his scoring onslaught for the Owls alive and well with a turnaround goal and a pair of assists, one coming off of a corner kick, in a victory against New Jersey Institute of Technology. That four-point outing earned the recent Rochester Lancer a spot on the American Athletic Conference Weekly Honor Roll on Monday. In Temple's most recent outing, Lukas might have had a penalty kick of his saved in the ninth minute of overtime, but he did still record a point in that one against Memphis by assisting teammate Jalen Campbell for the team's lone goal in that eventual draw. He is currently tied for fourth in the American Athletic Conference in points total.
HE'S ON FIRE!

Lukas Fernandes buries a BEAUTY to upper right 90 off an assist from Justin Hahn for his fourth goal of the season! pic.twitter.com/wme7Pqi3R0

— Temple Men's Soccer (@Temple_MSoc) October 3, 2018