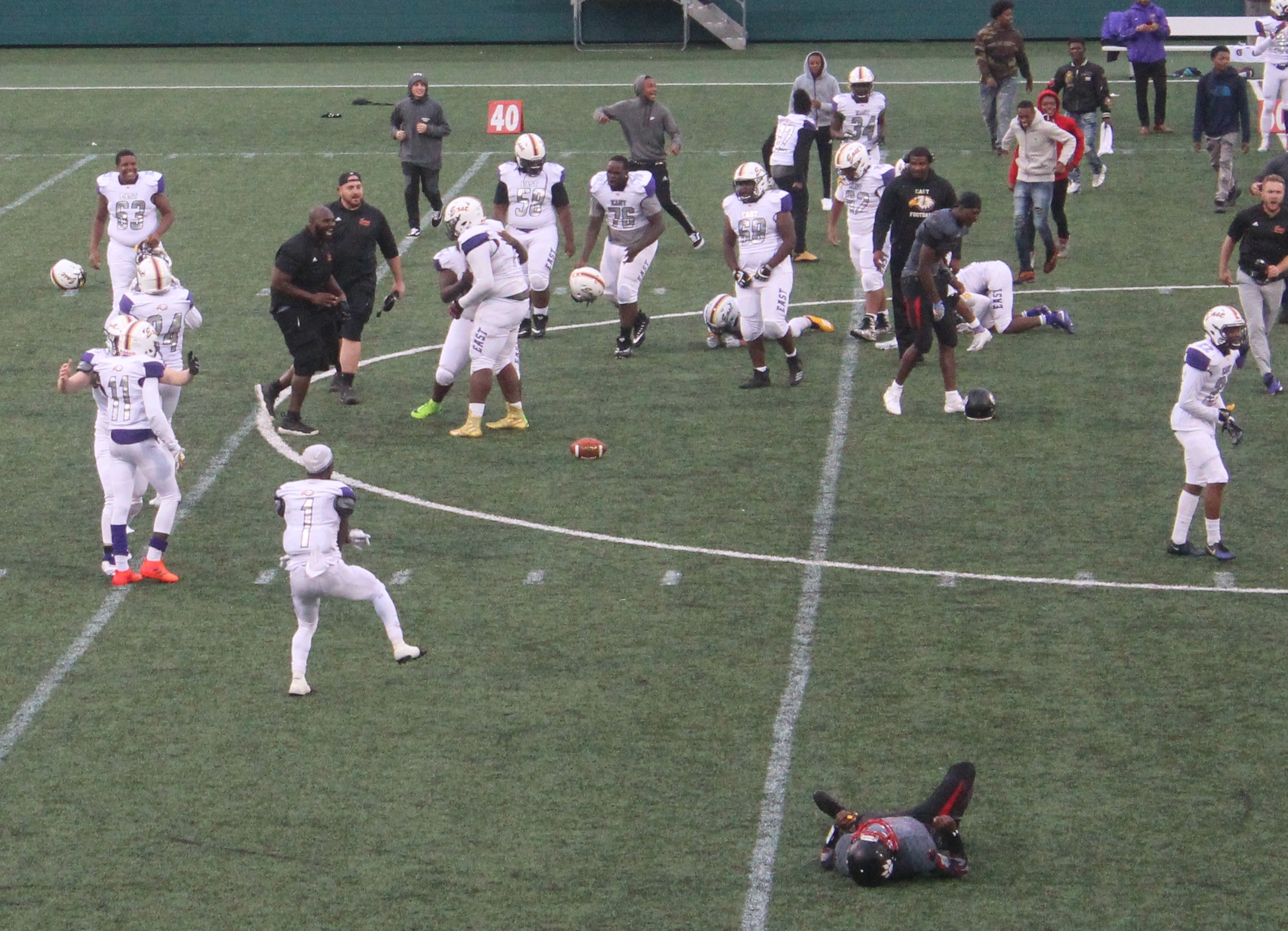 Undefeated East (6-0) and UPrep (5-1) impressed the voters enough over the past week to debut in the latest New York State Sports Writers Association poll released earlier today.
The Eagles won 1 ½ games this past week — finishing off Wilson 13-12 in their suspended game on Tuesday, then shutting down Leadership 32-6 over the weekend – and rose from Honorable Mention to No. 23 in Class A. The Griffins (5-1) also defeated Wilson this past week, and moved into the No. 28 spot in Class B.
Section V representatives in the Class AA poll remained the same as last week, with Aquinas (5-1) moving up one spot to No. 7 after defeating McQuaid (5-1), which dropped the Knights one spot to No. 13. Hilton rose 2 spots to No. 24.
Irondequoit still sets the bar for Class A in the Section, maintaining its No. 5 slot for the third consecutive week. Canandaigua jumped 5 spots with its 12-0 shutout of then No. 9 Victor, and comes in at No. 15. The loss by Victor dropped the Blue Devils 17 spots to No. 26.
Batavia's 54-point win over Wellsville sent the Blue Devils (6-0) to #6, and Livonia (5-1) rose 3 notches to No. 15 in Class B as the other 2 Section V teams in the Classification. Wayne's loss to Penn Yan dropped the Eagles out of the poll from No. 10 to Honorable Mention.
Attica (4-2) and Letchworth/Warsaw (5-1) returned to the Class C poll at Nos. 18 and 22, respectively. East Rochester/Gananda (5-1) made it 5 consecutive weeks in the poll, this week at #15 the same spot the Bombers held last week. Penn Yan (5-1) comes in at No. 19 for the fourth consecutive week.
Alexander (6-0) continues to hold down the No. 2 spot in the Class D poll, the same position they have held since the initial poll was released five weeks ago.
Twenty-nine of the section's 68 teams were recognized in some fashion in this week's poll.
To see the complete list of AA and A rankings, CLICK HERE.
To see the complete list of B, C, and D rankings, CLICK HERE.
Here is the complete list of Section V team rankings by class, along with Honorable Mentions.
| | | | | | | |
| --- | --- | --- | --- | --- | --- | --- |
| Team | CL | Wk2 | Wk3 | Wk4 | Wk5 | Wk6 |
| Aquinas | AA | 5 | 5 | 4 | 8 | 7 |
| McQuaid | AA | 20 | 18 | 13 | 12 | 13 |
| Hilton | AA | HM | HM | HM | 26 | 24 |
| Fairport | AA | HM | HM | HM | HM | HM |
| Pittsford | AA |  — |  — |  — | HM | HM |
| Irondequoit | A | 7 | 7 | 5 | 5 | 5 |
| Canandaigua | A | HM | 26 | 23 | 20 | 15 |
| East | A | HM | HM | HM | HM | 23 |
| Victor | A | 3 | 3 | 9 | 9 | 26 |
| Eastridge | A |  — | HM | HM | HM | HM |
| Greece Arcadia | A | HM | HM | HM | HM | HM |
| Wilson | A | 18 | 18 | 16 | 26 | HM |
| Brockport | A |  — |  — | HM |  — |  — |
| Greece Athena | A | HM | HM | HM |  — |  — |
| Webster Schroeder | A | HM |  — |  — |  — |  — |
| Webster Thomas | A | HM | HM | HM |  — |  — |
| Batavia | B | 10 | 9 | 9 | 8 | 6 |
| Livonia | B | 19 | 18 | 18 | 18 | 15 |
| UPrep | B |  — | HM | HM | HM | 28 |
| Honeoye Falls-Lima | B |  — |  — |  — | HM | HM |
| Wayne | B | 14 | 12 | 12 | 10 | HM |
| Geneva | B |  — | HM | HM |  — |  — |
| Hornell | B |  — |  — |  — | HM |  — |
| East Rochester | C | 19 | 17 | 17 | 15 | 15 |
| Attica | C |  — | 13 | 16 | HM | 18 |
| Penn Yan | C | 15 | 19 | 19 | 19 | 19 |
| Letchworth/Warsaw | C | 20 | HM | HM | HM | 22 |
| Mynderse | C |  — |  — |  — | HM | HM |
| Wayland-Cohocton | C | HM | HM | HM | HM | HM |
| Dansville | C |  — |  — |  — | HM |  — |
| LeRoy | C | HM |  — | HM |  — |  — |
| Wellsville | C | HM |  — |  — |  — |  — |
| Alexander | D | 2 | 2 | 2 | 2 | 2 |
| Dundee | D |  — |  — |  — | HM | HM |
| Geneseo | D | 8 | HM |  — | HM | HM |
| Notre Dame Batavia | D |  — | HM | 7 | HM | HM |
| Perry/Mt Morris | D |  — |  — | HM | HM | HM |
| Red Jacket | D |  — | 8 | 5 | HM | HM |
| Clyde-Savannah | D | 4 | 10 | HM |  — |  — |