BRIGHTON – There's a famous quote from the movie "Rudy" where the grizzled old groundskeeper tells Rudy Ruettiger "You're 5 foot nothin', 100 and nothin' " when Rudy was concerned about competing with the big boys at Notre Dame.
McQuaid senior captain Mark Passero – all 5-6, 150 pounds of him – had his Rudy moment Friday night, having the biggest impact on a field of giants to lead the Knights to a magical come-from-behind 42-37 victory over perennial powerhouse Canisius.
Passero proved that it's not the size of the dog in the fight, but the fight in the dog, by accounting for 274 yards of offense – 156 rushing on 14 carries and 118 yards on 7 receptions – and scoring 3 touchdowns to lead the Knights' rally and put the rest of Class AA on notice.
"They are a top team in the state with great players and tremendous coaches," McQuaid coach Bobby Bates said after the game. "It needed to be a statement game for our guys, and we delivered it. Our kids are resilient and keep bouncing back, never quitting"
After falling behind 17-0 in the first quarter and 24-7 later in the second, McQuaid clawed back and eventually took the lead scoring three consecutive touchdowns, the last coming on a nifty pitch and catch by senior Hunter Walsh to Passero that finished 62 yards later in the endzone. On the play, Hunter hit Passero on a short flare pass. After catching the ball, Passero broke one tackle 10 yards downfield and then cut back at the 20 making the last defender miss. After that it was clear sailing and the Knights were up 28-24 with 10:43 left in the third.
"Mark has a great heart and a great motor," McQuaid coach Bobby Bates said. "He never quits on anything."
But the lead was short-lived as the Crusaders struck quickly two series later on a 4 yard run to retake the lead at 31-28 with 3:58 left in the third.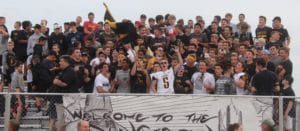 But the partisan crowd sensed McQuaid wasn't done.
Midway through the fourth quarter, over a span of less than 5 minutes, McQuaid exerted their dominance. After grinding out a sustained drive that started at their 20 and seemed to have stalled on the Canisius 19, Walsh rolled out and the pocket collapsed all around him. He ducked under one would be sack master, looked up and found Passero all alone near the sideline. A simple flip to his right landed softly in Passero's hands who turned and sprinted untouched into the end zone.
"That was similar to a play in our sectional game last year. Everything fell apart on that play and Hunter found me as a last check down," Passero said.
"No matter what happens on a play and it breaks down, I know I can always look in the flat on the side Mark is and he will be waiting for the pass," Walsh said. "It happened again tonight. He was where I thought he would be."
With the extra point McQuaid was up 35-31 with 6:51 left, and it was time for special teams and defense to shine.
It started with the special teams which bottled up return man Joe Jamison. Jamison, who had been gashing the Knights the entire game and accounted for 331 all-purpose yards, was gobbled up by a host of tacklers as he crossed the 18. After suffering a penalty on the play, Canisius started their own 9. The defense buckled their chin-straps, dug in, and stopped the Crusaders cold on three plays for a negative 2 yards on the series. It was the Crusaders' only three-and-out of the night.
McQuaid took over at its own 45 and all it took was one play for McQuaid to essentially put the game out of reach.
Passero took a hand off and dove over the right side of the line and after he emerged from disappearing in the line, there was nothing but green turf in front of him. Fifty-five yards later, it was 42-31 with 5:15 left.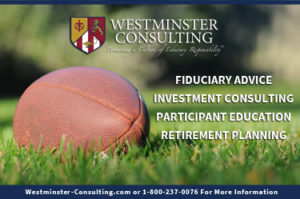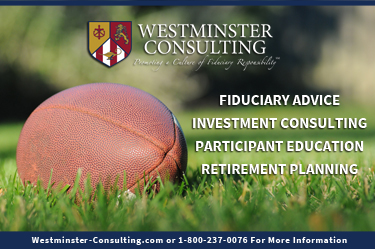 "Our O-Line opened up some great plays for us all night," Passero said. "On that play I saw the open field and put on the jets and ran as fast as I could."
Canisius drove down the field to score on a 3-play drive, but on the two point conversion Andrew Passero broke up the play and that was the last time the Crusaders saw the ball. A sustained drive – which included a 43-yard scamper by on 3rd-and-9 – extinguished the clock.
"We wanted to figure out what was going to work for us in the second half and as the second half progressed things were working better for us," Bates said. "We can call all the plays we want, but in the end the guys are the ones that executed for us."
If one word could sum up the game for the Knights, it would be resilient. And that resiliency no better exemplified than by Walsh.
A three-year starter at QB, Walsh opened the game by throwing three interceptions in the first half – one on McQuaid's first play from scrimmage. All three were picked off by Jamison who returned the second one 80 yards for a touchdown to put Canisius up 14-0. He threw another interception in the third quarter.
But Walsh rebounded from each miscue to keep the McQuaid ship on course. By game's end, he racked up Tom Brady-like numbers – 27 completions in 36 attempts for 325 yards and 2 touchdowns. He even ran for a third touchdown.
"Hunter showed some great resilience tonight," Bates commented. "He got some bad bounces early on and he just did a great job of fighting back. He wasn't rattled or down on himself and got ready for the next series. That pass to Mark (for the 19 yard touchdown) was one of his best plays of his high school career."
"It was tough honestly; I got down on myself. But my team kept picking me up time after time," Walsh said. "I have to give them all the credit on that one. Our O-Line drove this offense tonight. They did an unbelievable job. There's no better feeling than knowing you have a great team around you to lift you up."
While Walsh and Passero led and offensive charge that accounted for 523 yards of total offense, the defense was anchored by junior Casey Howlett. In his second start of his career, he intercepted Canisius QB Christian Veilleux twice and also picked up a fumble and rambled 72 yards for a score just before halftime to cut the Crusader lead to 24-21. On the play, the defense jarred the ball free from running back Joel Nicholas and as it bounced on the sideline, Howlett picked it up, broke at least three tackles and muscled his way down the sideline to the end zone.
"This game was one of the biggest games I have ever played," Howlett said. "I was hoping that the ball would bounce right and it did. When I got my hands on it I was not going to be tackled. On my first interception I got tackled as I broke free and on my fumble I was not going to let that guy stop me again."
Canisius was the first of many 'big games' McQuaid will play this year. Next week it travels to Buffalo to take on a tough St. Joe's squad, before finishing the season against Wilson, Aquinas, and East in back-to-back-to-back games. Come sectional time, McQuaid will be battle-tested and scarred.
"Tonight was a great win for us," Bates said. "We have a lot of things we need to work on, but we showed grit and resilience tonight which will help us as we go through the season."
MCQUAID 42
CANISIUS 37        
Can         17           7             7             6             37
McQ       0             21           7             14           42
Scoring
Can         Tristian Vandenberg 14 pass from Christian Veilleux (Tristian Vandenberg Kick )
Can         Joe Jamison 80 interception return (Tristian Vandenberg kick)
Can         Tristian Vandenberg 30 FG
McQ       Hunter Walsh 1 run (Jared Campbell kick)
Can         Joel Nicholas 57 run (Tristian Vandenberg kick )
McQ       Hunter Walsh 10 run (Jared Campbell kick)
McQ       Casey Howlett 72 fumble return (Jared Campbell kick)
McQ       Mark Passero 62 pass from Hunter Walsh (Jared Campbell kick)
Can         Joel Nicholas 4 run (Tristian Vandenberg kick )
McQ       Mark Passero 19 pass from Hunter Walsh (Jared Campbell kick)
McQ       Mark Passero 55 run (Jared Campbell kick)
Can         Tristian Vandenberg 8 pass from Christian Veilleux (pass failed)
Rushing
Can         Joel Nicholas 9-98, Joe Jamison 4-28, Christian Veilleux 4-17
McQ       Mark Passero 14-156, Andrew Passero 9-31, Hunter Walsh 8-8, Mike Vongphachanh 1-3
Passing
Can         Christian Veilleux 26-41-290-2-2
McQ       Hunter Walsh 27-36-325-1-4
Receiving
Can         Jaurney Boyland 7-114, Joe Jamison 4-55, Tristian Vandenberg 5-43, Jason Martin 4-39, Jack Westermeie 4-31, Max Murray 1-5, Joel Nicholas 1-3
McQ       Mark Passero 7-118, Connor Zamiara 6-106, Ben Beauchamp 7-64, Ryan O'Mara 2-11, Eric Schertler 2-8, Andrew Passero 1-7, Hunter Walsh 1-7, Casey Howlett 1-4