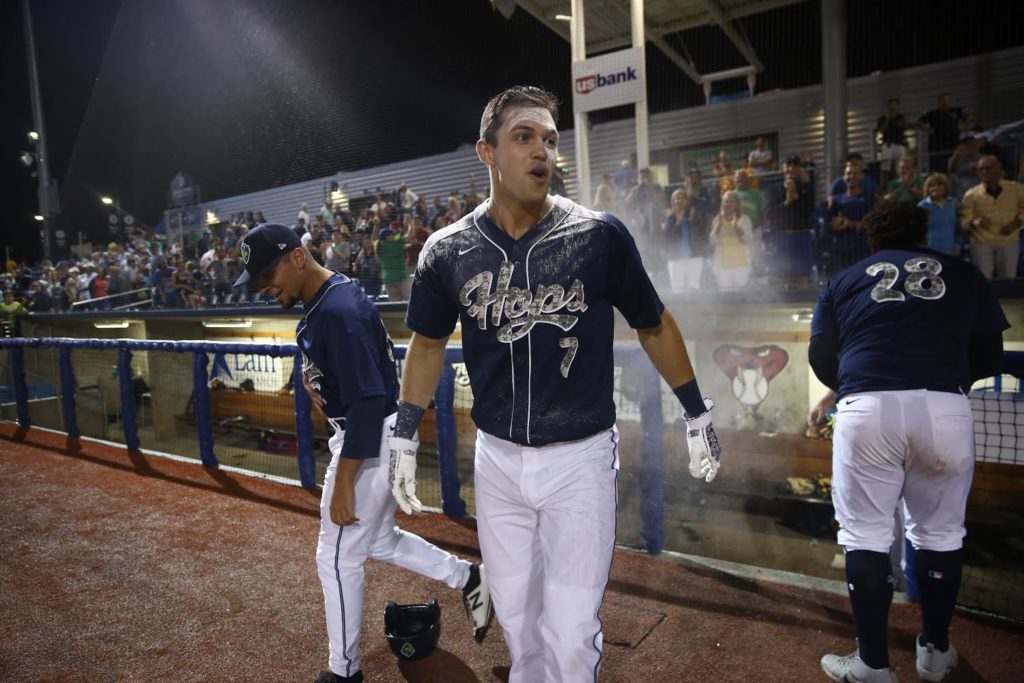 By BILLY HEYEN
On June 15, Arizona Diamondbacks' prospect Will Gorman stepped into the left-handed batters' box for his second at-bat with the Hillsboro Hops. Facing a left-handed pitcher, he saw a fastball coming toward his head.
"It was coming right at my face," Gorman said. "It was tough to really tell distance when it's coming right at you. It hit me in the lip fairly directly. It didn't bounce straight back to the pitcher, but it bounced off to like a 90 degree angle."
Gorman fell to the ground, took his helmet off and put his hand to his lip. When he looked at his hand, he saw "a lot of blood" and felt a tooth missing. It was "a little gory," Gorman said.
An immediate trip to the emergency room revealed a fracture along the upper toothline in Gorman's facial bone, along with a missing tooth and another tooth that had been shifted out of place. He was stitched up, had the tooth moved back into place and then it became "a waiting game," he said.
"Probably the worst part was my lip swelled up to be, it was huge," Gorman said. "It was probably like four times the size of a normal lip. There was the wound that was still just healing, it was a bad cut so it was healing kind of slow. I had to keep that clean and everything."
Almost a month after the hit by pitch, Gorman returned to game action. First, he spent three games in the Arizona League, still nearby the Diamondbacks' trainers that had been working on him. Then, he played five games in the Pioneer League before getting back to Hillsboro, short-season A ball in the Northwest league. The former RIT standout has had a remarkable last few days, hitting a walk-off homer Wednesday and tripling twice Thursday. He's hit .409 in his 22 Hops at bats. He's just glad to be back on the field.
Gorman wears a C-flap on his helmet now, something that's become more common amongst major leaguers after Giancarlo Stanton was hit by a pitch in his face in 2014. And while nerves might have been natural for Gorman the first time he stepped back in the box, he said it was almost all smooth sailing.
His first live at-bats came against right handers, and he said that was totally fine. The guy that hit him was a lefty, and that angle can sometimes be a bit trickier, lefty pitcher against lefty batter. But the first pitch Gorman saw from a lefthander after the injury, he felt something, albeit briefly.
"The first time I faced a lefty, the first pitch I saw, I noticed that I was a little bit shy," Gorman said. "I shied away when I saw the pitch was coming. I was like, wait, get back in there. That was pretty much it. There wasn't any real nerves."
That all set up for his hero's return on August 1. He had practiced in Hillsboro leading up to that first game in June, but it was a road game that took a month out of Gorman's season. His personal Hops' home opener didn't come until Wednesday night. Hillsboro entered the ninth with a two-run lead, but Vancouver hit a three-run homer with two outs to take a lead to the bottom half.
In the bottom of the ninth, a wild pitch scored the game-tying run. Then, a double and an intentional walk followed to set up Gorman, who worked the count to 1-2. That's when he got a slider that stayed up in the zone and turned on it toward the right field wall.
Gorman knew he hit it hard, but thought it was too low to make it over the fence. But it cleared the wall. Gorman rounded the bases with the home crowd on its feet. He was doused with liquid from a Powerade cooler as he leaped onto home plate. It was good to be back.
"Just coming back and being able to just perform, just compete, that's really all I want to do," Gorman said. "So it was satisfying."
In his first ever game as a Hop in Everett, Will Gorman was hit in the face by a fastball and spent the night in the emergency room. So in his first ever game as a Hop in Hillsboro HE HIT A WALK-OFF FREAKING HOME RUN!!!#ALLHOPPEDUP pic.twitter.com/kYawaMhwfQ

— Hillsboro Hops (@HillsboroHops) August 2, 2018