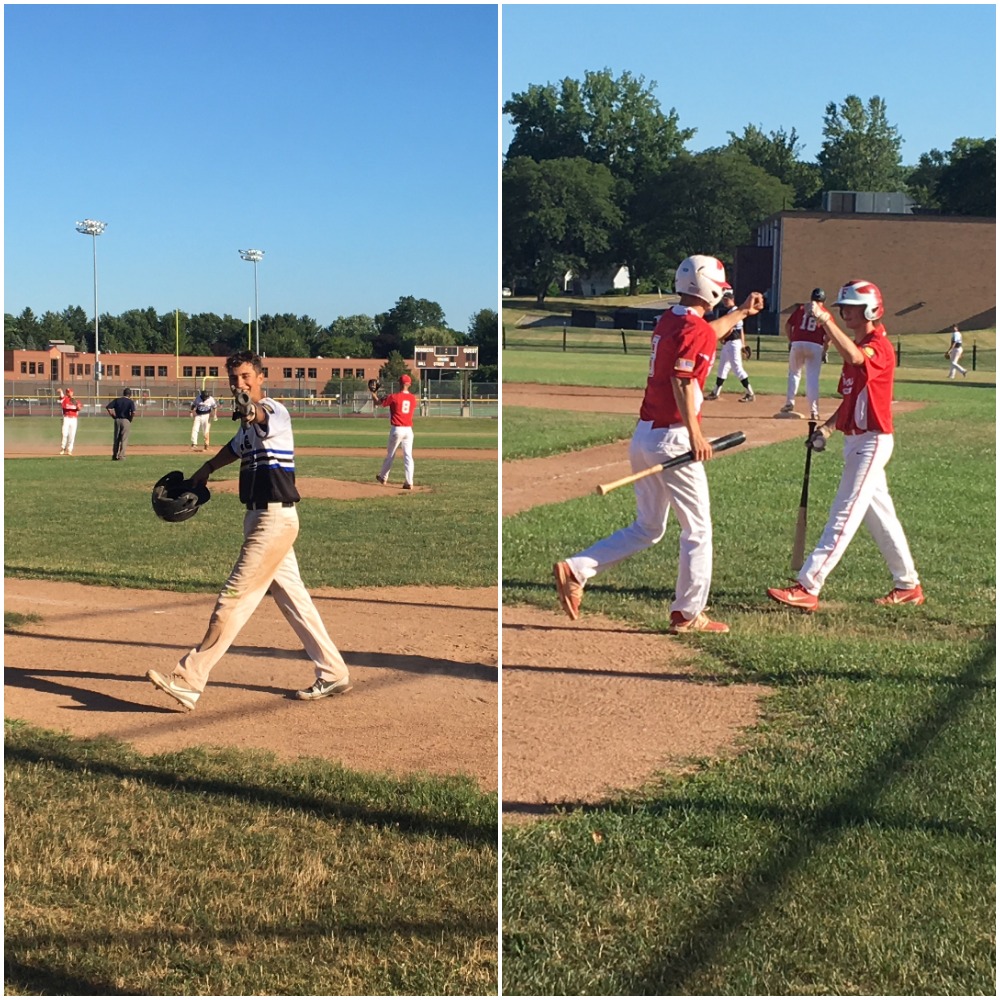 By BILLY HEYEN
EAST ROCHESTER, N.Y. — After Brett Heininger threw strike three, Brooks Shepard head coach Chris Sullivan, Greece Post head coach Dan Ford and District 7 commissioner George Debay all looked at each other. That third strike had created the nightmare scenario.
Brooks Shepard, Greece Post and James Cooke entered the night competing for the final two district playoff spots. James Cooke won hosting Irondequoit to get to 45 seeding points. Brooks Shepard and Greece Post split a seven-inning game and the resumption of a suspended game to get to 45 points, too.
"What we didn't want to happen definitely happened," Ford said.
There were a lot of confused faces among the players and fans as they wondered whether they were in or out of the postseason. Debay would have liked to have a playoff to determine all tiebreaking, but with three teams tied, head-to-head would determine the three seed. James Cooke held that advantage, so they were in.
That meant the battle for the fourth and final playoff spot would come down to these same two teams, Greece Post and Brooks Shepard. Greece Post won, 3-2, behind Neale McMullen's right arm and James Sciortino's bat in the evening's regularly scheduled game at East Rochester High School. Brooks Shepard won, 5-4, in what ends up in the books as a ten-inning game but on Monday was just one inning to finish a previously suspended game. They'll meet up again on Wednesday at Greece Arcadia at 6 p.m. While Monday could've been win-or-go-home if results had broken differently, it turns out Wednesday will be the true do-or-die game for these teams.
"Funny thing is, I suggested we do that in the first place without even having to play these games tonight," Sullivan said. "But no worries. Two great baseball games right there."
Wednesday's game wouldn't have been possible without some crafty escapes from McMullen in Monday's seven-inning contest. He teamed up with his battery-mate, Ryan Ballard, for a strike-'em'out, throw-'em-out double play in the fourth. After a leadoff walk in the fifth, he induced a tailor-made double-play ball, shortstop to second to first.
In retrospect, the biggest escape came in the first. Brooks Shepard had already scored a run on a Jackson Sullivan single down the first-base line. Another hit and an error later and the bases were loaded. But McMullen bore down and got a grounder to Victor Torres at short, who flipped to Thomas Finnerty at second to end the inning.
"He's a bulldog," Ford said. "They hit him a little bit but when it came down to it, he got the pitch he needed."
Greece Post scored all its runs in the third. McMullen led it off with a perfect drag bunt to the third-base side for a hit. Michael Mule walked. Then Mike Ruta tucked one inside the third-base bag for a run-scoring double. Torres followed with a sac fly.
That's when James Sciortino, three hitter and All Greater Rochester selection, stepped in. Earlier in the season, he crushed a ball to left-center at Grace and Truth and just missed a homer. If it had been the high school season, his bat would have been metal instead of wood and the ball would've been well gone, he said. Monday, the wood bat may have let him down again. But Brooks Shepard was just lucky the left-field fence at East Rochester is tall.
Sciortino got all of it, over the left fielder's head. It smacked above the dividing, horizontal line on the fence. If the fence had only been built up to that line, it would've been a homer. Instead, he had to settle for an RBI double that gave Greece Post what turned out to be a crucial third run.
The answer came from @greecepostball. Three runs, the exclamation point a double off the wall from @jamesciortino. Missed a homer by a foot. @PickinSplinters pic.twitter.com/mReoDDpC3q

— Billy Heyen (@Wheyen3) July 9, 2018
Brooks Shepard couldn't scratch back until the seventh, but when Jake Schuler broke his bat to bloop a single into center with one out in bottom seven, there was life. A walk followed, and then a throwing error to load the bases. McMullen struck out the next batter looking, on three pitches. His last action would be walking in the second run, though.
Thomas Finnerty was brought in to relieve McMullen. Greece Post had used a lot of pitchers over the weekend. Finnerty primarily plays second base, and he had surgery in January to remove "loose bodies" in his throwing elbow. His father said he struggles to watch him throw because he just doesn't know if Finnerty's arm will come through.
The nerves got worse when Finnerty fell behind in the count 2-0. But he worked his way back and got a groundout to earn the save.
And @TFinnerty5 gets a groundout. @greecepostball wins 3-2. Brooks needs to win the resumption of a 4-4 game that's starting in the 10th to be even with James Cooke for a play-in. GP guarantees a playoff spot with either a suspension and tie or a win here. @PickinSplinters pic.twitter.com/Dr1FaDkg6y

— Billy Heyen (@Wheyen3) July 9, 2018
Brooks Shepard could have moped at coming so close but losing. But in the resumption of the suspended game, they were the visitors and didn't waste any time bouncing back.
"I've never questioned their heart," Sullivan said. "We grind all the time. These kids have got the guts."
Finnerty stayed on after a short break for Greece Post. A bloop single was erased by a bizzare, 6-4-3-6 double play that involved an overthrow and ensuing recovery by the Greece Post defense. But with two outs, Finnerty hit a batter, then allowed a single. Torres came in and walked one guy, then Finnerty came back and walked in a run. He broke off a nasty curveball to escape, though.
"He got the big out to keep it at one to give us a chance," Ford said.
Finnerty walked in a run after coming back in before striking a guy out. 5-4 Brooks heading bottom ten, Sciortino looks to be coming up. @PickinSplinters pic.twitter.com/CoMTFPQtR3

— Billy Heyen (@Wheyen3) July 10, 2018
Greece Post was able to use Sciortino as a pinch-hitter to start the bottom half, because he'd been on the lineup card when the game had originated but hadn't been present, so he hadn't been in the lineup. He walked, stole second, and advanced to third on a wild pitch. But Heininger worked a groundout, flyout and strikeout around Sciortino's advancements to win the game for Brooks Shepard.
Afterwards, Ford joked that the extra, play-in game will make up for the games Greece Post didn't get to play due to forfeits. Whlie he wasn't thrilled, he was happy that his team would live to see another day, and he says everyone is back from vacation and ready to go. Sullivan is just ready to give one more go at it.
"That's what it's all about," Sullivan said of Wednesday's elimination game. "These kids competing and having a good time. We'll go out to Greece on Wednesday and roll the dice and see what happens and hopefully come away with a win."