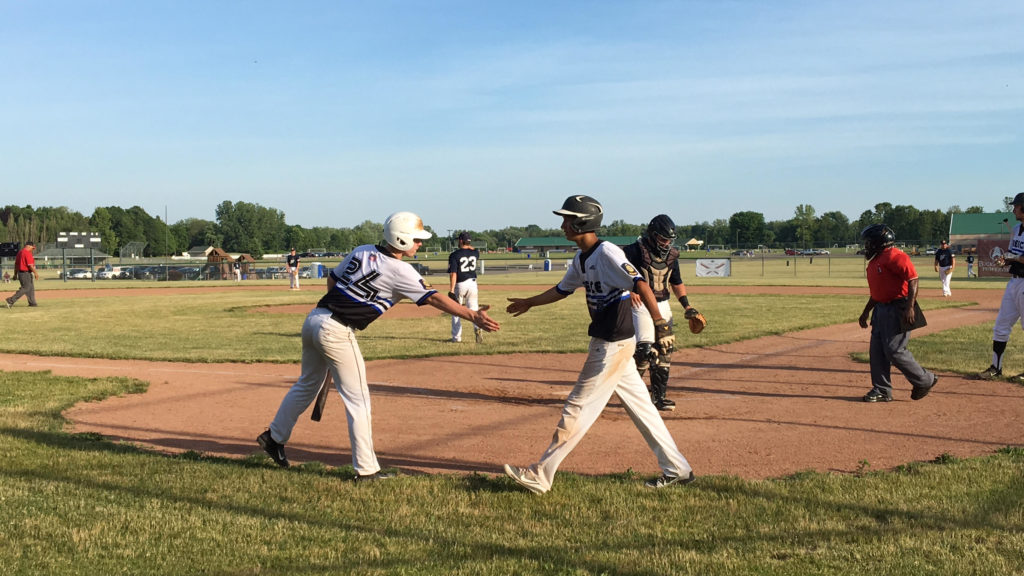 By BILLY HEYEN
HILTON, N.Y. — After Neale McMullen's last start one week ago, Greece Post head coach Dan Ford lamented that his starter shows up 20 minutes before game time because it leads to a rough first two innings.
On Friday at Grace and Truth Sports Complex, with the game due to start at 6 p.m. and McMullen scheduled to be on the bump, he arrived at 5:40. Unlike a week ago, though, he had his good stuff right from the get-go.
"When I was throwing right when I got here, I felt it good in my hands, got a good groove," McMullen said. "So I was comfortable coming out."
The Greece Arcadia grad kept it going all the way through, finishing a complete-game winner in Greece Post's 6-2 win over James Cooke Post. McMullen allowed seven hits and struck out six to get his second win in a week. James Sciortino reached base in all four of his plate appearances, including an RBI double, to lead Greece Post's offense. And the home team rallied behind McMullen's good pitching performance on a night that hovered around 90 degrees from the outset.
"Both teams were a little flat with the heat," Ford said. "So it was nice to have some good pitching."
Upon arrival at Grace and Truth, McMullen didn't waste any time. He grabbed his glove and started playing catch behind the home dugout. His warmup spanned about 15 minutes, right until five minutes remained until he threw the first pitch. On a hot night, it became apparent right away that he had gotten warm easily.
After a first batter lineout, McMullen worked the count to 0-2 on Jarrod Signorelli. After pounding the zone to force a few foul balls, McMullen went to the slider and struck him out swinging. James Cooke's two best bats, Louie Shaffer and Zachary Carpin, singled up the middle, but McMullen induced a flyout to Mike Ruta in center to get out of the first. Shaffer finished 3-for-3 on the night and was standing in the on-deck circle when the final out was made.
McMullen works around hits to the 3/4 hitters to pitch a scoreless first. Struck out a guy for the second out. @PickinSplinters @greecepostball pic.twitter.com/WD1L8NrXDm

— Billy Heyen (@Wheyen3) June 29, 2018
In the second, McMullen did it all himself. A chopper down the first-base line was corralled by McMullen and thrown on to James Huber at first. Then, twice in a row, he painted the outside corner for strikeouts looking.
"He's just a gamer," Ford said of McMullen. "He's always been a gamer. Just in his career at Arcadia and last year did the same type of thing. He just pounds the zone and throws a ton of strikes."
Greece Post scored its first run in the bottom of the third. Ruta ripped a ball past James Cooke starter TJ Long's face for a single, moved to second on a hit by pitch, and then stole third and came home on an overthrow to manufacture a run.
The home side tallied four more in the fourth. Jamison Lynd was hit by a pitch, then Thomas Finnerty bunted for a single. Jake Wamser poked one through the drawn-in infield, and Michael Mule followed with a run-scoring grounder. Ruta kept the small-ball going with an RBI infield single of his own.
Two batters later, Sciortino stepped in and was looking for a fastball, down and in, he said postgame. He got it and creamed the ball to left-center field. Monroe County American Legion baseball features wood bats, which have less pop than the metal used during the local high school season. Sciortino's ball just missed being out, and he had to settle for a run-scoring double.
"It's over with metal," Sciortino said. "Pretty far over."
James Sciortino crushes a run-scoring double. Mike Ruta makes a cameo at the end. @PickinSplinters @AthenaBaseball pic.twitter.com/9VSo4Qv4kP

— Billy Heyen (@Wheyen3) June 29, 2018
That was all the support McMullen needed. He worked a 1-2-3 top of the fifth to stifle any James Cooke thoughts of eating right back into the deficit. He did allow two runs in the sixth, with a single that fell between the shortstop, left fielder and center fielder as they all looked at one another being the harshest blow to McMullen's statline.
Greece Post added another run in the bottom of the sixth on the back of three walks. McMullen wasted no time finishing the game off with a one-two-three seventh, ending the game on a strikeout.
McMullen finishes the complete game. @greecepostball wins 6-2 over James Cooke. @PickinSplinters @vshsbaseball pic.twitter.com/6WTE3bUhZt

— Billy Heyen (@Wheyen3) June 29, 2018
The win brings Greece Post to second-place in the District 7 league standings. The top-four teams make the playoffs at the end of the regular season in a few weeks time, and Greece Post's position looks pretty secure.
James Cooke could make a late run at it because they have more games remaining than any other team, since they couldn't start play until Victor was bounced in the state semifinals. But with Greece Post's win over James Cooke on Friday evening, Sciortino, McMullen and Ford all like the position they're in.
And even with his late arrival, McMullen made sure he was able to throw the game's first and final pitches.
"I'm getting ready for playoffs," McMullen said. "So trying to have a good name on my back and go out there and get Ks, get wins."