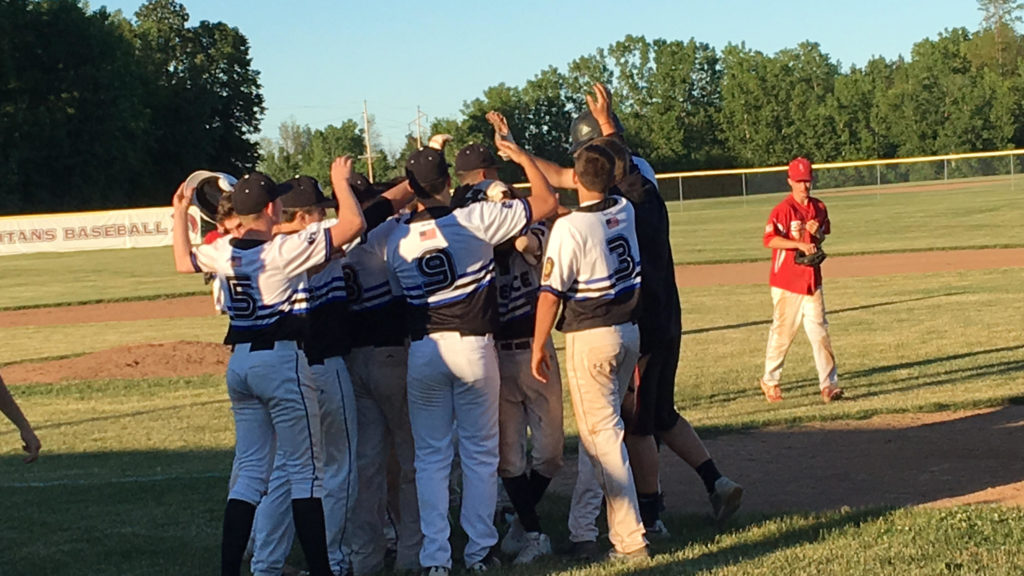 By BILLY HEYEN
GREECE, N.Y. — Greece Post's Victor Torres had been going the other way all night Monday. He'd flown out twice to right field. He'd fouled balls out of play to the right side. Torres had nothing to show for his opposite field approach through six innings. But in the bottom of the seventh of a tie game, that changed.
Torres got a pitch out over the plate and didn't miss it, lining it between the outfielders and deep to right-center field. He was thinking three all the way, he said after the game, and he made it.
"Vic's the go-to on this team," Greece Post coach Jordy Smola said. "He's the leader. When he goes, we go type of thing. When he hit that gap, I was definitely thinking two. But I forgot how fast Victor is, and he was pretty much standing at third."
One out triple for @xDementeForLife . They walk Sciortino. Huber up. @PickinSplinters @greecepostball pic.twitter.com/kRxVGdFxSh

— Billy Heyen (@Wheyen3) June 25, 2018
After an intentional walk to James Sciortino, the first pitch to James Huber was wild. Torres sprinted home. Greece Post had a walk-off win.
Brooks Shepard had scored three runs in the second to jump on the home team first. But a four-run fourth, a grinded-out outing from Ray Mineo and the big triple from Torres were enough to flip the script and give Greece Post another comeback win, 6-5, at Greece Arcadia on Monday night.
"This team doesn't ever stop," Smola said. "I think they enjoy being down late in games, because we've done it a couple times now. They'll be quiet all game and then 7th inning comes around and if we're down or we're tied, everyone's up, everyone's having fun. They throw bags on their heads. They're a bunch of weirdos. But it's a really good time."
Mineo started rough because he couldn't find his fastball command early on, he said after the game. He wasn't getting calls near the bottom of the strike zone, so he was forced to leave pitches over the plate. Brooks Shepard took advantage in the top of the second.
A bunt single was followed by a Jackson Sullivan double over the right fielder. A sac fly scored the first run. Then after another single and a walk, Noah Gerlach lined a ball into centerfield that Mike Ruta slid for but couldn't quite corral. The visitors were up 3-0.
Greece Post got one run back in the bottom of the second to make it 3-1. Mineo bounced back with a shutdown inning of his own, a 1-2-3 third and then only one runner allowed in the fourth. His settling allowed for a Greece Post comeback.
"I tried to use more parts of the zone and let my defense make plays and it ended up working out for me," Mineo said.
The comeback came in the fourth. Torres led off with an infield single on a chopper. Sciortino ripped a ball through the left side to put two on. Huber walked. That set up Jack Berbert for his second hit of the day, another line drive into center. This one bounced over the centerfielder to score two runs and leave Berbert standing on second with a double.
Jack Berbert gets a friendly bounce in Center to bring in two runs. McMullen bloops one in for another. It's 4-3 @greecepostball. @PickinSplinters pic.twitter.com/RwiBYDRVYU

— Billy Heyen (@Wheyen3) June 25, 2018
Neale McMullen followed with a bloop hit on the very next pitch to score Huber. Then Ruta tacked on one more a few batters later with a single past the shortstop's backhand side, putting Greece Post up 5-3.
Brooks Shepard wouldn't go down easily, though, and loaded the bases with one out in the fifth. At that point, Mineo said, he just wanted to avoid a multi-run inning. A fielders' choice, pickoff and popout later, and he did just that, allowing a single run.
Mineo gets a popout to escape. The bases were loaded with no outs. He only allowed one run. 5-4 GP over BS. @PickinSplinters @greecepostball pic.twitter.com/38DAqx5T2R

— Billy Heyen (@Wheyen3) June 25, 2018
The visitors were able to tie the game in the seventh after Jake Schuler tripled with one out and scored on a wild pitch. Connor Hong, who had come in to relieve Mineo in the sixth, got the final two outs to set up more late game heroics for Greece Post.
It wasn't quite the seven-run seventh that Greece Post mounted against Irondequoit Post. All that was needed was a run. A strikeout started the frame for new Brooks Shepard arm Matthew Adams. But then Torres laced his triple. The visitors chose to put Sciortino, the All-Greater Rochester bat from Greece Athena, on first. And then Adams yanked one wide.
Greece Post's head coach, Dan Ford, was out of town on Monday. That meant head-coaching duties fell to Smola. He'd never head-coached a game in his life prior to Monday. That meant when Torres sprinted home, it was Smola's first win in one try at the helm of a team. He just hoped Ford could relax on vacation now.
"It was nice to get one when he wasn't here," Smola said. "Hopefully he can enjoy his vacation a little more."
I missed the walk-off wild pitch but @greecepostball wins 6-5. @PickinSplinters @xDementeForLife scores after the triple. pic.twitter.com/7hmSccE89J

— Billy Heyen (@Wheyen3) June 25, 2018