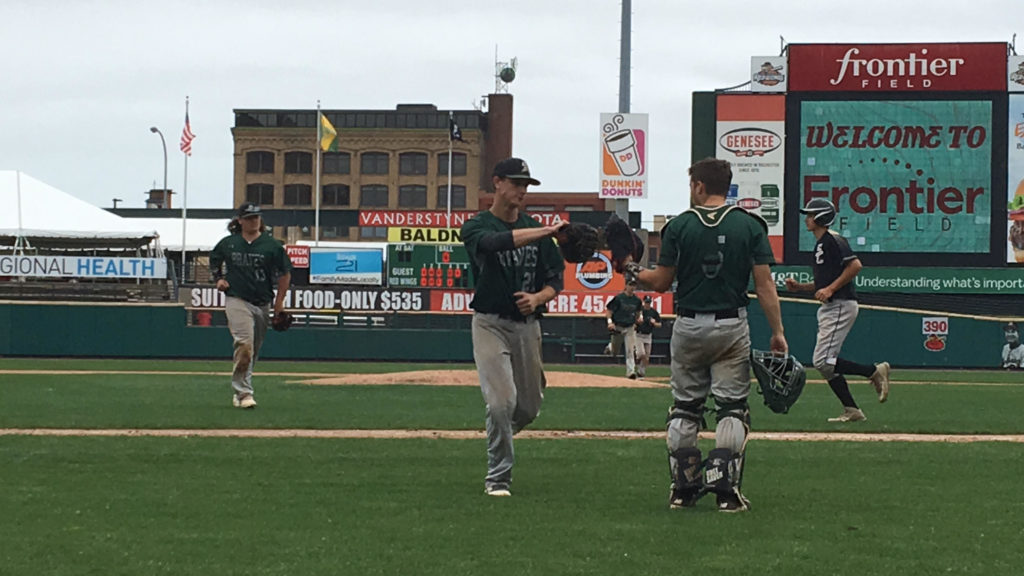 By BILLY HEYEN
ROCHESTER, N.Y. — The baseball fluttered toward home plate. Avon's Maxx Countryman had thrown nearly 100 pitches on Saturday, with both his fastball and curveball creating plenty of trouble for his opponent. This time, with the Braves a strike away from a third-straight state final four, he threw a knuckleball.
"In a big spot, I might whip that out," Countryman said after the game.
It fluttered right into Pete Taylor's glove as it missed the bat for Countryman's ninth strikeout of the afternoon. Braves players threw gloves into the air. They rushed toward their star on the mound. Taylor leapt into Countryman's arms. An Avon team that has lost once all season extended its campaign for one more week.
I think Maxx Countryman just threw an eephus to go to the state final four. Avon 3, Silver Creek/Forestville 0. Countryman threw a complete game and had the game-winning RBI. @PickinSplinters @PBRNewYork pic.twitter.com/kwtOcLY8j4

— Billy Heyen (@Wheyen3) June 2, 2018
Behind Countryman's complete game, three-hit shutout, Avon of Section V knocked off Silver Creek/Forestville of Section VI, 3-0, in the Class C Far West Regional at Frontier Field. For good measure, Countryman knocked in the go-ahead run in the fifth inning as well. Avon, which has not cashed in on state final four appearances in each of the last two seasons, will get another chance to be state champions next weekend in Binghamton.
"I'm really proud of these guys," Avon head coach Rob Fries said. "Every year has been a little bit different group, so I'm just really proud of them.
It was anyone's guess who would win the game through the first four innings. Countryman gave up two hits in the first but allowed just one in the next three innings. The Knights struggled to string anything together. It didn't surprise Fries that his ace was dominating, because he's "come to expect that from him." But Countryman's opposite number was dominating even more for the first four innings, albeit in a different style.
Silver Creek/Forestville's Zach Rybak used a slow curveball and varied speeds on his other offerings to keep the Braves off balance. He didn't allow a Braves hit until the fourth inning. But the lefty's luck ran out in the fifth.
Here's an example of the slow curve Rybak is working with for Silver Creek/Forestville. @PickinSplinters @PBRNewYork pic.twitter.com/6uXc2XC1QZ

— Billy Heyen (@Wheyen3) June 2, 2018
The breakthrough for Avon came on a strikeout. Rybak broke off a good curveball that Nate Wojslaw couldn't touch. But the ball went past the Knights' catcher, off the home plate umpire and rolling down the first-base line. Rybak ran it down but his toss to first was late and the Braves had a lead-off baserunner.
A sacrifice bunt moved Wojslaw up to second. A groundout to third base managed to push Wojslaw to third. Then, Countryman stepped in to try and help his own cause. He delivered.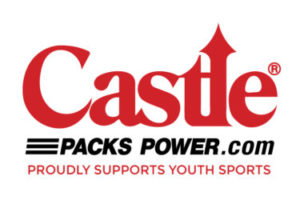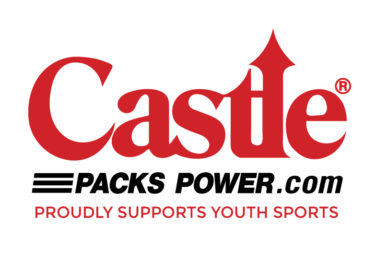 "He always comes up with a big hit," Fries said of Countryman. "He carried us the other night. We're kind of used to it."
Countryman fell behind 0-2, then took a pitch up. He fouled off two pitches to stay alive. Then he grounded the ball to the shortstop. It was a slow-roller, and he'd have to beat it out to score the run. The throw was a step late. Avon led 1-0.
Avon takes the lead on a Maxx Countryman RBI infield single to help his own cause. 1-0 Braves, bottom five. @PickinSplinters @PBRNewYork pic.twitter.com/rxcbWpPXVt

— Billy Heyen (@Wheyen3) June 2, 2018
The hitter following Countryman, Aaron Ghent, said that it's important to get Countryman "insurance" when he's dealing like he was to keep him stress-free. Ghent helped that cause, as he and Peyton Parmeter both lined doubles to the right side. Ghent's drove in Countryman after he had stolen second. Parmeter swapped places with Ghent. Avon had the three runs it, and Countryman, needed.
"That was the last thing I needed," Countryman said. "It just, everything felt good after that point. I knew I had a couple up there. I could settle in."


With the opportunity for a shutdown inning in front of him, Countryman grabbed it by the horns and set down the Knights 1-2-3 in the sixth. Three outs remained, and he got those quickly, too. A popout to second was followed by a strikeout on his curveball. All that was left was his knuckleball for strike three, out three and a third-straight final four berth.
Avon jumped up and down on the mound. Then the Braves jumped up and down some more when they received their Far West Regional plaque. Afterwards, though, Ghent and Countryman knew that they had unfinished business.
Countryman took a hard-luck loss in last year's state semifinal in extra innings. The Braves couldn't get it done in 2016, either. Could third time be the charm?
"We just have to humble ourselves," Ghent said, "and just be ready for adversity."