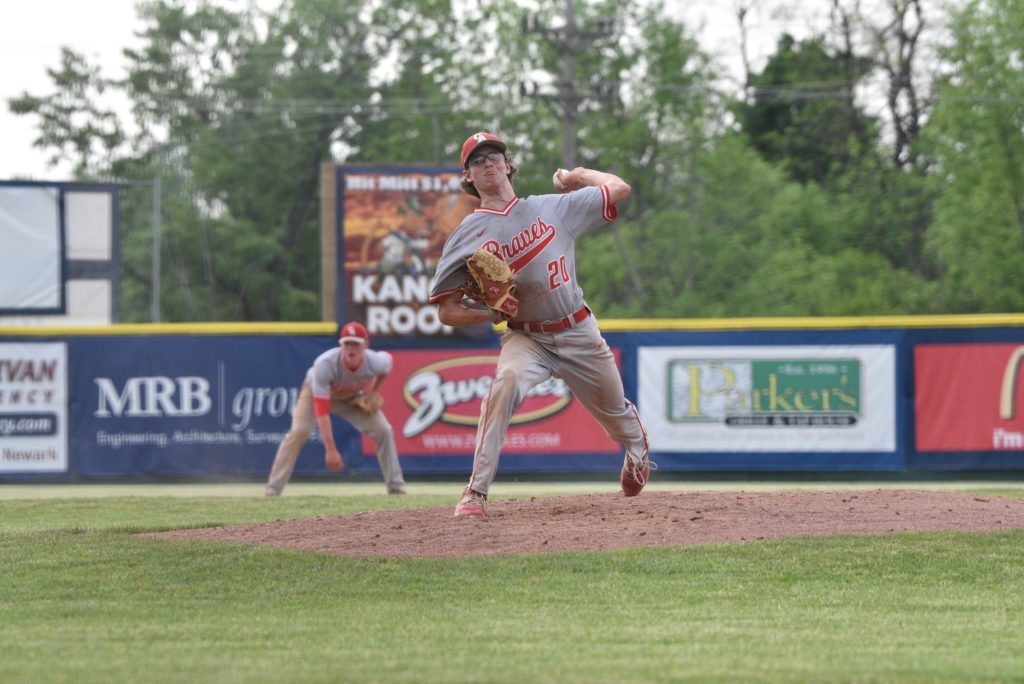 By BILLY HEYEN
NEWARK, N.Y. – Michael Sculli pulled a rocket into the right-center gap. It drove in Canandaigua's fourth and final run. Sculli was thinking triple all the way.
It didn't matter to Sculli that he'd already thrown six one-hit innings and himself outhit Brockport, 3-1. It didn't matter to Sculli that the run he'd just driven in gave his team a four-run lead. It didn't matter to Sculli that his team was three outs away from a sectional title, three outs it'd be depending on him to get on the mound.
Sculli wasn't stopping at second.
"That's just how he plays," Canandaigua head coach Dale Werth said. "He plays 100 miles an hour and he plays the way you want kids to play. Can't really take that out of him."
My tweet of Sculli's triple never sent. Here it is. @PickinSplinters @cabravebaseball pic.twitter.com/Lk3TATymTP

— Billy Heyen (@Wheyen3) May 26, 2018
He made it to third, headfirst, an exclamation point if there ever was one to a game that was all about Sculli. And when he went out and got the final three outs minutes later, Canandaigua had won its third-straight sectional title, winning Section V's Class A1, 4-0, over Brockport on Saturday. Sculli had led the charge, going 3-for-4 with the triple and pitching a complete-game shutout with six strikeouts. The top-seeded Braves will play Wayne next week in the Class A crossover game for the right to play in the state quarterfinal at the Far West Regional.
"Obviously it feels great to win a sectional title," Braves shortstop Cooper Crunick said. "But we've got to get back to work and I feel like we're not done yet, I feel like we've got a lot of games to go."
Here's @cabravebaseball celebrating with the block. @PickinSplinters pic.twitter.com/fg6lM7Ez4p

— Billy Heyen (@Wheyen3) May 26, 2018
The Braves' southpaw, Sculli, knew he was locked in before he even arrived at Colburn Park. On the bus to the game, he put his headphones in, looked out the window and listened to The Rolling Stones. When "Beast of Burden" came on, which he called a "classic," he knew he was ready. Right from the first pitch, Sculli showed it.
He got a swinging strike on the fastball he threw to open the game. He retired the first 10 batters he faced before walking one. Brockport's only hit came with two outs in the fifth. Sculli's curveball was tight. His fastball hit its spots and had some pop in the catcher's glove. His defense had his back, too.
The second out of the fifth came on a ball pulled deep into the 5.5 hole, between the third baseman and shortstop. But Canandaigua's shortstop, Crunick, ranged over, backhanded the ball and fired across the diamond. The first-base umpire emphatically punched the batter out.
"Michael, when he's on the mound, he does more than give us the chance to win," Crunick said. "And it's our job to defend and just give us a chance to win the game."
In the sixth, Dylan Mackenzie added to the defensive showing by charging a groundball hit weakly toward the second baseman. He gloved and whipped it sidearm to first in time for another out. Sculli would do some defending of his own in the seventh, but first he had to hit.
Sculli batted four times on the day. The first, he struck out on a power slider from Brockport starter Quinlan Ignaszak. The second, everything started to go right for him, as with a runner in motion he checked his swing and lined the ball through the area vacated by the shortstop because of the steal.
His third time up, the lefthanded hitter Sculli went opposite field again and hit it too deep in the hole for Brockport's Cole Penders to make a Crunick-esque play. His fourth, he hit his triple.
"I had to take that third," Sculli said.
All that was left was three outs until the Braves could celebrate. Sculli took matters into his own hands. The first batter hit a grounder back to him, which he gloved. Before he threw to first, he used his throwing hand to adjust his glasses. Then he tossed it to first, one out.
The next batter popped out to first, but the Blue Devils put two men on via a walk and an error to keep hopes alive. Then, another grounder back to Sculli. This one he knocked down. He picked up, sans-glasses adjustment, and tossed to first.
"Just throw an accurate throw," Sculli said he thought. "I wasn't trying to make an error."
He didn't. Game over. Sectional title to Canandaigua.
His teammates knew just where they should head to mob. They mobbed the lefty who threw a one-hitter. They mobbed the lefty who went 3-for-4. They mobbed the lefty who had just won them the sectional title. They mobbed Michael Sculli.
Michael Sculli throws a one-hitter to win @cabravebaseball the Section V Class A1 baseball title, 4-0, over Brockport. He also goes 3-for-4 with a triple. @PickinSplinters pic.twitter.com/F0bC7Fa6RH

— Billy Heyen (@Wheyen3) May 26, 2018