By BILLY HEYEN
WEBSTER, N.Y. — The tying run was on third with no outs. Webster Thomas, which had for much of the game been silenced by Churchville-Chili's Ethan Putney, had sparked a rally. The Titans had a runner 90 feet away from avoiding an upset to end their season.
But then, as Putney had all game, he closed the door. A popout to the shortstop notched the first out. A groundout to a drawn-in third baseman kept the runner on third, as well. Then, a 1-2 curveball in the dirt induced a swing and a miss. The catcher's throw to first secured the third out. Putney hopped toward the visitor's dugout, clapping his throwing hand against his glove.
"I've been here before," Putney said. "I did it with them last time. Give up a couple hits, hey, get the next batter, trust in my field, trust in my catcher, trust in everybody."
Putney's complete game performance was just the outing 11-seed Churchville needed to pull off an upset of six-seed Webster Thomas, 4-3, at Basket Road Field on Monday evening, in the Class AA first round. He finished with seven strikeouts and allowed just five hits. His dominance, combined with four runs in the first two innings, gave the Saints the chance to play another day. Tuesday, Churchville will travel to take on the three-seed Penfield, which beat the Saints 11-5 earlier this season. But for a night, Churchville was filled with believers.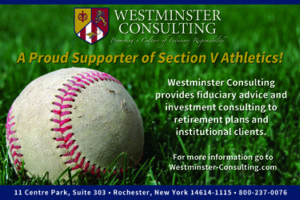 "I just told them, you never know," Churchville head coach Guy Puglia said. "Shock the world. Penfield's a good team. You get good pitching and good defense, anything can happen."
Webster Thomas got itself into holes early all season, Titans' head coach Kevin Neenan said. Usually in the regular season, they climbed out of them. Monday, in a win-or-go-home game, what Neenan called their "dramatics" ran out after getting into yet another early deficit.
Churchville scored the game's first run after Jacob Carroll reached second on an error, advanced to third on a tag-up and scored on a wild pitch. The damage could have been greater without a 9-2-6 double play to end the first by Webster Thomas.
Huge play for @WTitansBaseball. Steven Minardo fields this ball in right field and guns out a runner at the plate for the inning's second out. Then down to second for the double play to escape. Churchville leads 1-0 after that 9-2-6 double play ends top one. @PickinSplinters pic.twitter.com/VkM4cPAucl

— Billy Heyen (@Wheyen3) May 21, 2018
In the second, the Saints tacked on three more, even with just one hit in the frame. There was an error, a walk, a hit by pitch, another walk. Then, Churchville's leadoff hitter Carroll delivered what turned out to be the decisive blow, a single right up the middle that brought home two runs and would be the last scoring the Saints would do on the evening.
"Lot of people doubting us," Carroll said. "Webster's a great team like we said, and come in here, lower seed than we'd like to be, and come in here and play our game."
Jacob Carroll doubles Churchville's lead with a single up the gut. Two runs score and Saints lead Thomas 4-0 in the second. @PickinSplinters pic.twitter.com/3O8nGAdpim

— Billy Heyen (@Wheyen3) May 21, 2018
Putney made sure that the 4-0 lead held up. In the bottom of the second, he worked a one-two-three inning. He stranded two runners in the third. Early on, it was his curveball causing Webster Thomas trouble, Neenan said. Then, just when the Titans seemed to sit back enough to handle the curveball, Putney went to the high heat to blow them away.
The bottom of the fourth was another one-two-three frame for Putney. In the fifth, though, he yielded two runs. Webster Thomas, which Neenan said afterwards was feeling like a team of "a little destiny" with all of its comeback wins and having entered winning eight of nine, had life again.
Putney responded by striking out the first two batters of the sixth inning, both on curveballs, one looking, one swinging. He worked around a single to record the third out. Then, the drama of the seventh.
Putney strikes out two, gives up a single and then gets a line out. We head to the seventh with Churchville up 4-2 on Webster Thomas. Putney, cleanup hitter, leads off the seventh for the Saints. pic.twitter.com/Zbc6h149dC

— Billy Heyen (@Wheyen3) May 22, 2018
Derek Ogi led off with a single into centerfield for Webster Thomas. Then pinch-hitter Matthew Stuewe made the Titans' best contact of the night as he roped an opposite field triple to left center to score Ogi. That's when Putney slammed the door shut.
"He's a bulldog," Neenan said. "He wants the ball when it really matters."
As Churchville-Chili huddled up along the first-base line postgame, there was a short discussion of the game that the Saints had just won, along with words about Tuesday's opponent, Penfield. It concluded on a lighter note, though, as the team would be heading to Wendy's to celebrate, with all orders on Puglia.
Putney, after pitching a complete game to keep Churchville's season alive another day, laughed when asked what he'd be getting.
"Just a 4 for $4," Putney said. A burger. Chicken nuggets. Fries. And a drink.
He'd earned it.