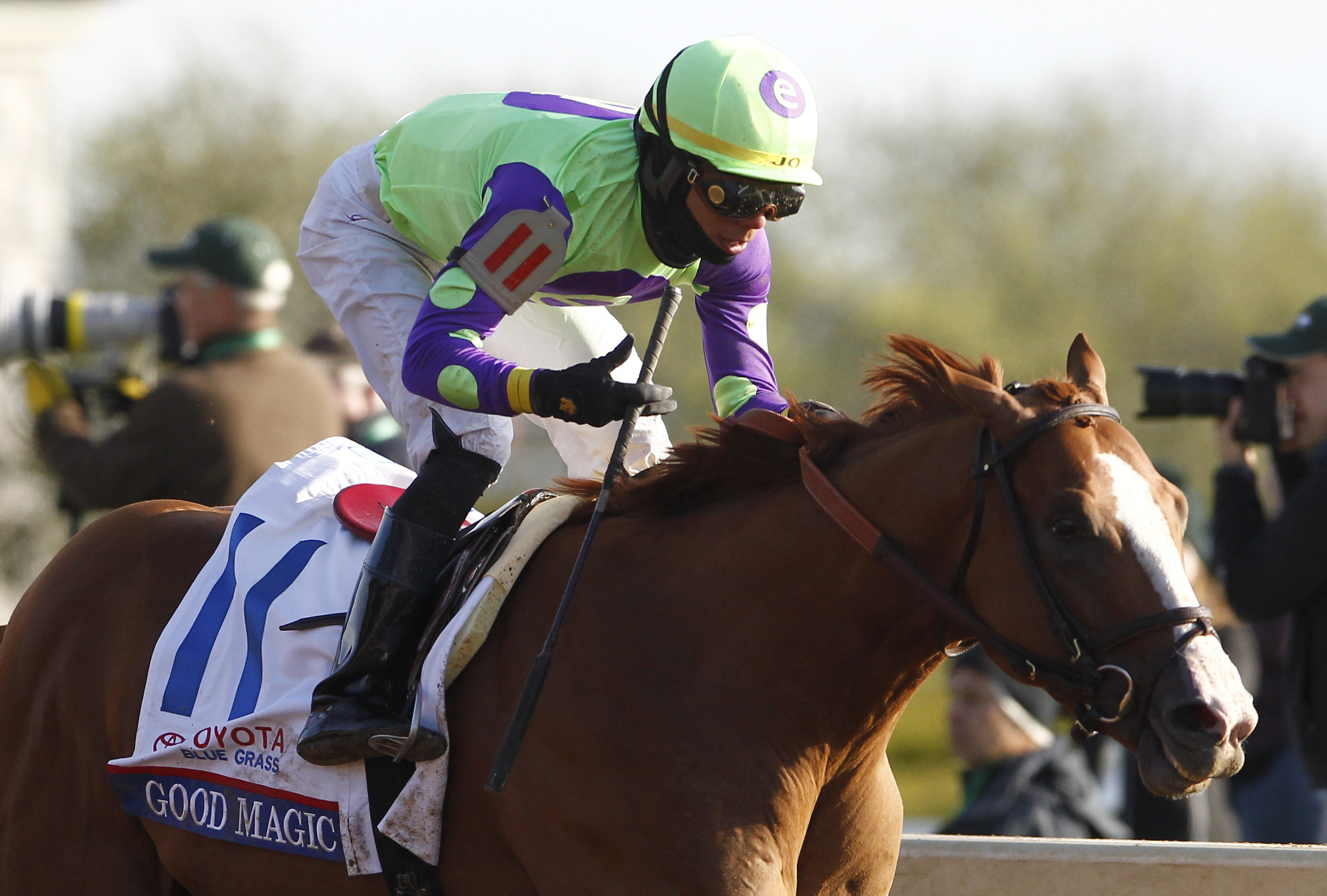 By KEVIN OKLOBZIJA
Analytics have taken over sports, changing the way coaches coach, the way managers manage and the way personnel executives construct a roster.
Number crunching has proven that over a 162-game baseball schedule, it's OK to swing hard and strive for extreme launch angle. Swinging for the home run is just fine; strikeouts really aren't all that detrimental. The same type of statistical analysis has proven punting can be really stupid in a lot of situations on the football field when, in another era, a punt was assumed to be the only option.
So if it works for the Yankees, Patriots and Penguins, it just may work in horse racing. It's a big maybe, but I'm willing to at least let numbers partially guide my approach to playing this year's Kentucky Derby.
First off, my choice is No. 6 Good Magic, although the Chad Brown trainee won't be the only one I use in pick 3s and pick 4s. There's a pool of six horses I really like: No. 5 Audible, No. 6 Good Magic, No. 7 Justify, No. 9 Hofburg, No. 11 Bolt d'Oro, No. 14 Mendelssohn. Justify may be a superstar in the making, and we all know Bob Baffert has done that more than a few times.
I think No. 4 Flameaway, No. 10 My Boy Jack and No. 16 Magnum Moon are value plays underneath in exotics.
My wagering strategy: To play the 6 in exactas with 5-7-9-10-11-14 and 16.
(Todd Haight and Kevin Oklobzija will be on WHTK-AM 1280 from 9-10 a.m. Saturday to analyze the Derby with another A Day At The Races Rewind show.)
Now it's time to analyze.
» I've let numbers tell me not to play No. 18 Vino Rosso. Yes, it's the same trainer-jockey combination that found the winner's circle last year with Always Dreaming, Todd Pletcher and John Velzaquez.
Why don't I like him? Vino Rosso won the Wood Memorial, and I'm not getting burned by a Wood winner again. I thought Irish War Cry had to be a part of the Kentucky Derby trifecta last year and I could not have been more wrong.
So no Wood winner for me, and history is on my side. Since 2000, the only Wood winner to hit the board in the Kentucky Derby was Congaree — in 2001! Yes, 2003 Wood runner-up Funny Cide did win at Churchill Downs, but not one winner even on the board in 16 years? I'll go with the numbers.
» The past seven Derby winners came into the first Saturday in May off a victory in their final prep race. This year that group includes Audible (Florida Derby), Good Magic (Blue Grass), Justify (Santa Anita Derby), My Boy Jack (Lexington), Mendelssohn (UAE Derby in Dubai), Magnum Moon (Arkansas Derby), Vino Rosso (who cares) and No. 19 Noble Indy (Louisiana Derby).
The last horse to win the Derby who didn't win his final prep: Super Saver, who ran second in the Arkansas Derby.
If winning the final prep is necessary, then the 1, 2, 3, 4, 8, 9, 11, 12, 13, 15, 17 and 20 can't win this edition of the Kentucky Derby.
I'll pay attention to the trend, but I won't let it be an absolute when it comes to Hofburg and Bolt d'Oro.
» Hofburg gets another demerit, however, because his only win was in a maiden special weight at Gulfstream. He followed that with his strong run down the stretch to finish second behind Audible in the Florida Derby. But the last horse to win the Kentucky Derby without a graded stakes score on his resume: Giacomo in 2005, and he only paid $102.60.
Also in that no-graded-wins group on Saturday: No. 8 Lone Sailor and No. 20 Combatant.
» Since 1956, just one horse (Animal Kingdom in 2011) has won the Kentucky Derby that was off six weeks or longer. That eliminates Lone Sailor (not that he was ever a thought), No. 13 Bravazo (not that anyone considered him, either) and No. 19 Noble Indy (who is 3-for-4 lifetime and racked up a 95 Beyer in winning the La. Derby).
» Of the previous 143 runnings of the Kentucky Derby, 14 have been won by a horse that made only two starts as a 3-year-old. A century and a half of history suggest that's a negative stat. Recent history says its a very positive number.
That's because eight of the past 11 winners only ran twice as a 3-year-old: Street Sense in '07, Big Brown in '08, Mine That Bird in '09, Super Saver in '10, Animal Kingdom in '11, Ill Have Another in '12, American Pharoah in 15 and Nyquist in '16.
That says fresh is better than over-experience.
Throw out the illogical horses (Promises Fulfilled and Solimini) and the trend says Audible, Good Magic, Hofburg, Bolt d'Oro and Mendelssohn are very much in play.
» So why have I settled on Good Magic? I like his running style. He can sit just off the lead, or stalk a bit farther back, and it appears that there certainly should be a lively pace. The mile and one-quarter shouldn't be a problem.
He has run two strong races, with his Beyer numbers on the improve (89 to 95). He soared to victory in the 2017 Breeders' Cup Juvenile at Del Mar. Chad Brown is one of the game's elite trainers and he's on the verge of Derby glory after misses with Practical Joke (fourth last year), My Man Sam (11th) and Shagaf (eased) in 2016 and Normandy Invasion (fourth in 2013).
Jockey Jose Ortiz has taken off Hofburg to ride Good Magic. The horse is also following the path of the last Breeders' Cup Juvenile winner that won the Derby, Street Sense. That champion also entered the Derby off a run in the Blue Grass at Keeneland.
I'm smart enough to follow the money, however. Money poured in on Mendelssohn in the Oaks-Derby Double on Friday afternoon. He's the second-smallest double ($21) behind Justify ($17). The other prominent will-pays in the Oaks-Derby Double: Audible ($29), Good Magic ($34), Bolt d'Oro ($37), Magnum Moon ($54), Vino Rosso ($73), Hofburg ($84) and My Boy Jack ($96).
And in the advance wagering, My Boy Jack was getting hammered with flat money. He was 30-1 on the morning line but at 8 p.m. on Friday was just 5-1, with only Justify (7-2) taking more win action. Exacta probables reflected double-digit odds, however.
I'll pay attention to the Mendelsson money; I don't think I'll be swayed by the My Boy Jack money unless it also hits on the exactas.
This much I know: I'll get a thrill turning for home. I expect Good Magic, Audible and Bolt d'Oro to be within close proximity turning for home. If Justify and Mendelssohn are forced to exert themselves early, then I'll like my chances.