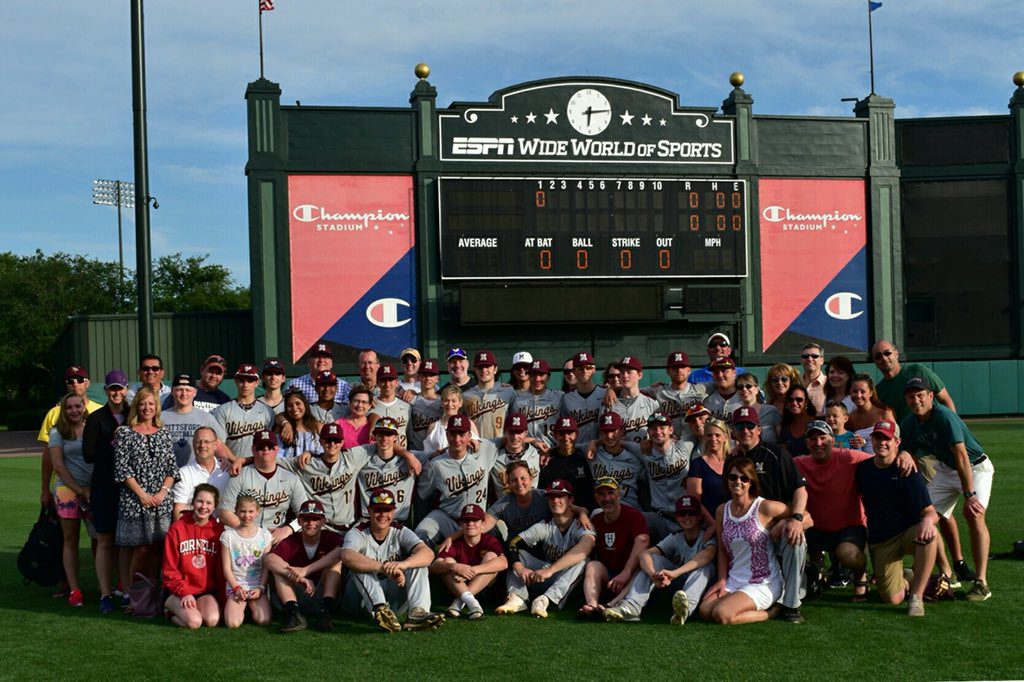 PENFIELD 10 NOTRE DAME 0
Eight of the nine starters had a hit in the Patriots romping of Notre Dame. Five of the eight starters had a multi-hit effort as Gage Ziehl, Bobby Bradley, Connor Stuewe, Patrick Bowes, and Jake Scoma had two hits apiece. They combined to go 10-for-19 with nine RBI and five runs scored. Danny Stapleton, Andrew Ebersol, and Brendan Rozek each had a hit of their own to contribute to the overall team effort. Ben Harrison was masterful with six scoreless innings, giving up one hit and striking out three batters on sixty-eight pitches. The junior threw first-pitch strikes to 12 of the 19 batters he faced. The Patriots sent eight to the plate in a five-run third inning. Penfield (2-1) plays Friday against Powdersville High School at 11:00am.
PIGEON FORGE (TN) 6 BROCKPORT 1
Nicholas Nealson was Brockport's bright spot as he compiled two of the Blue Devils three hits to go along with the only RBI. He finished 2-for-3 at the plate. Ashton Scott had the only other hit while Esten Schalge scored the lone run. Noah Schultz was efficient in his outing, going three innings while giving up three hits, one run, and striking out three batters on fifty-eight pitches. The game was played at Waccamaw High School in Pawleys Island, South Carolina. Brockport's next game is on Friday at 9:00am against Cuthberson at Carolina Forest High School in Myrtle Beach, South Carolina.
LENAPE 12 FAIRPORT 2
Teddy Sharman went 1-for-3 at the plate and had the lone run-producing hit for Fairport (2-2). Parker Houde, Josh Van Bramer, Derek Watson, and Perry Wheeler each had a hit. Houde and Bramer also scored the only runs for the Red Raiders. Jackson Sullivan struck out four batters over three innings. The game was played at the Ripken Experience in Myrtle Beach. Fairport's ext game is on Friday at 11:00am against Fordham Prep.
LOUISVILLE MALE 5 VICTOR 4
Zack Carpin finished 2-for-4 with a two-run home run to lead Victor. Chris Varone went 2-for-4 with a double and two runs scored. Tommy Ryan was 2-for-4. Andrew Westbrook pitched four innings allowing one earned run on five hit. Nick Boyer pitched two innings allowing two hits and no earned runs. The game was played in Myrtle Beach, South Carolina. Victor is 1-2 and will travel to Gates Chili on Monday to open league play.
BULLITT EAST 9 PITTSFORD MENDON 7
The Vikings had contributions up and down the order as they banged out fifteen hits. Four players had multi-hit games led by Jared Petrichick, who went 4-for-4 with an RBI and scored three runs. George Gines and Cam Yonda each had three hits as they combined to go 6-for-9 with two RBI and two runs scored. Jake Ring finished 2-for-2 with a walk, two RBI and a run scored. Hudson Bockmier, Billy Dalton, and and Kyle Wallman each had a hit apiece to round out the all-around hitting for the Mendon (2-2). Gives struck out three over 5 2/3 innings. The game was played at ESPN Wide World of Sports in Orlando, Florida.  Mendon returns to Rochester and is scheduled to play its next gam on Monday at 4:30pm against Pittsford Sutherland.