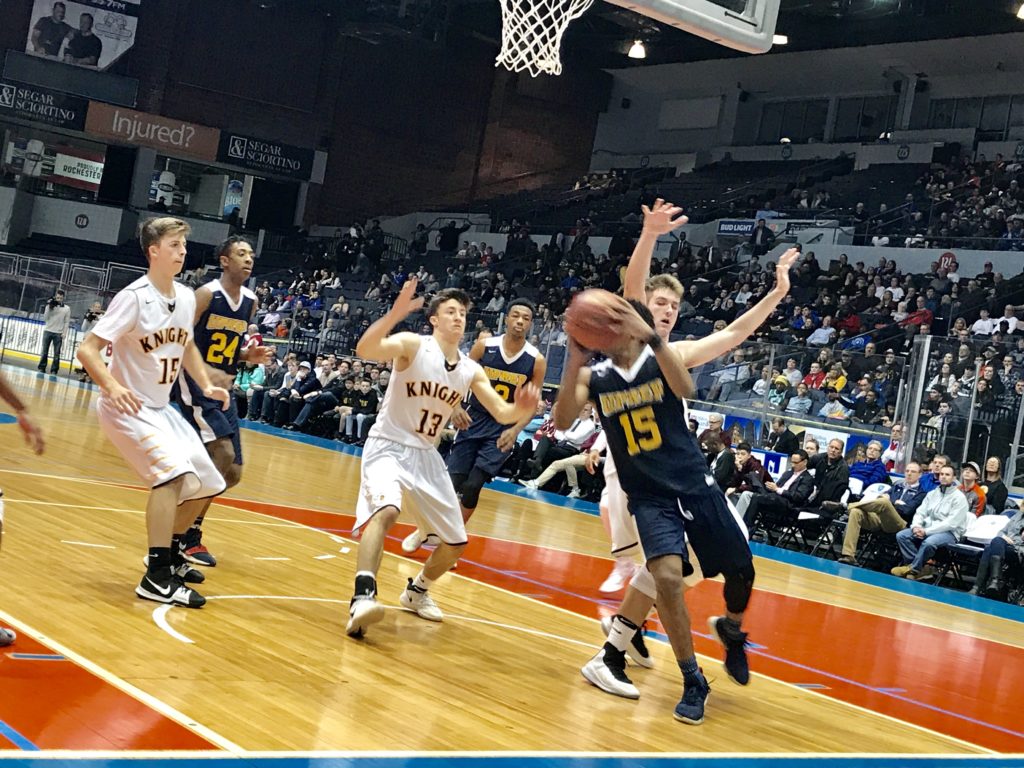 By MATT TRABOLD
TRABS KEEPS TABS
Looking Ahead to Far West Regional Saturday at Buffalo State College
The regional games for the teams that reigned supreme in their sectional title bids out of this area have swung back to being held in the Buffalo area. Buffalo State College was also the site in that area for this stage of postseason competition two years ago. Arguably the best contest during that long day of scholastic basketball action back then was Buffalo Middle Early College barely edging Rochester Early College International at the very end. Neither of those sides will be competing in the installment later this week.
The teams in the highest classification competing this upcoming Saturday actually are a part of a rather rare situation in which they played against each other in the regular season in a game outside of section for both of them. The side from the Rochester area in McQuaid Jesuit did not fare very well in that battle just about four months ago as the Knights fell by 22 points due in large part to breakout performances by eighth-graders Willie Lightfoot and Roddy Gayle.
The Knights were a shell of what they are at this point in the season back then though. Connor Zamiara and Josh Purcell are much more productive pieces now. Breakout sophomore Jermaine Taggart is now a consistent starter. Anthony Iglesia and Kobe Long have firmly returned to their full perimeter prowess and overall leadership by this point. Harry Bruu and Jon Catone are legitimate contributing members of the rotation for Jack Leasure and his staff now. Another bigger player for the Wolverines with Gayle that McQuaid Jesuit has to watch out for is actually a veteran stalwart that has seen his minutes dwindle a little bit this year due to how Gayle has played in the springy 6-foot-3 Syquan Ralands. He is no stranger to big performances against teams from the Rochester area over his Niagara Falls career.
Even though West Seneca West came into its last game with an undefeated record, it is pretty safe to say that plenty in the Buffalo area still expected them to fall to a Williamsville South squad with a hearty recent pedigree and an impressive collegiate basketball recruit in 6-foot-3 point guard Greg Dolan. The victor of the state qualifier contest between Irondequoit and Wayne Central will now get a still unblemished opponent that beat the Billies in four overtimes this past weekend.
Olean has a massive program pedigree of its own, but the other team vying for the chance to play a Greece Odyssey force that just won the first sectional title in program history has a Tennessee commitment in the rangy and high-flying Davonte Gaines. That team is a Buffalo Health Sciences Charter School club that came back to beat Mynderse Academy at this postseason stage a year ago. His future team of Volunteers nearly swept the season awards given out earlier today for the currently mighty Southeastern Conference.
SLAP YOUR PEEPERS ON THIS TROIKA
Clyde-Savannah vs. Prattsburgh at Penn Yan Academy—Wed., March 7, 7:00 PM
In television interviews Monday night, Northstar Christian superstar junior Miles Brown referred to losing in a sectional title game at Blue Cross Arena at the War Memorial as an eighth-grader before his Knights got their hands on a trio of championship bricks in a row. The team that took down Northstar Christian back then was none other than Prattsburgh. Garrett Socola was a freshman on that squad. He uncorked a double-double of a game-high 22 points and eleven rebounds in that one as his Vikings got their hands on a victory despite trailing by seven points entering the final frame. Socola has added a considerable amount of bulk since those days, but he is a still a quietly confident inside-outside threat. The underclassman starring for Prattsburgh this time around is sophomore guard Mason Putnam, who scored his career thousandth over the weekend in that championship game against Bradford. Putnam certainly wows with the shots that he makes, but the manner in which he dribbles with the ball on a string earlier in offensive possessions is arguably more impressive. This past Saturday, Clyde-Savannah more than took advantage of Honeoye top option Jon Marble needing a stretcher after sustaining a lower leg injury late in the first quarter of that one. When it comes to the impressive threesome of brothers on the Golden Eagles currently in Marcus Chance Jr., Derrick Chance and Camden Chance, brutish freshman frontcourt player Camden deserves respect in this section closer to that of his two older brothers.
Northstar Christian vs. Lyons at Rush-Henrietta Senior High School—Wed., March 7, 6:30 PM
A usual silent assassin in Miles Brown showed an added level of animation, both in play in certain facets and in demeanor, Monday night in a stirring sectional title game performance against previously undefeated Pembroke. It was arguably a fire fans in this area have not seen out of him quite at that echelon over his four-year career with the Northstar Christian varsity team. That fire included him not only taking more shots from downtown than usual, but it also consequently led to him making more threeballs than usual and exuding more passion running down to the other end of the court following those perimeter treats than usual. This possibly consistently new version of Miles Brown could be very dangerous for opponents going forward this postseason for the Knights. Northstar Christian had its share of trouble with the superior size of the Dragons last night. Lyons brings to the table even a lot more size than Pembroke possessed. The backcourt skills of Justice Smith almost make you forget that he stands 6-foot-4. 6-foot-5 Seth VanBuskirk came away with a couple wild blocked shots Monday night in the upset victory over Perry, including one of the recovery variety. Mainly through stretching the defense with its perimeter prowess, Northstar Christian has been no stranger though over the past pair of seasons, when the roster has certainly lacked considerable height, at downing much bigger teams than itself. Yesterday evening, the aptly named Tray Roberts shot 3-of-5 from deep.
Irondequoit vs. Wayne Central at Rush-Henrietta Senior High School—Wed., March 7, 8:15 PM
On its way to a second sectional title in as many years, Wayne Central made it a little more contested against Northeast Douglass this past Saturday than it seemed like it would be after the Eagles were up by as many as fourteen points in the first quarter. A win is a win though. Said win was due in large part to the underrated set of skills of 6-foot-5 junior Nick Carmichael. His biggest asset on the hardwood arguably is his fundamentally sound array of post moves, and those were certainly on display last weekend as he scored a dagger of sorts down the final stretch of the fourth quarter of that one off of a spin following backing down his defender that resulted in a hoop and the harm. Another quite underrated player for a couple campaigns now for Bill Thomson and his staff in Logan Holgado capitalized on a triple try at a clutch time in that fourth quarter. On the other side of this ballgame Wednesday night is an Irondequoit side that got a heaping helping of revenge in the final sectional title game of the day at Blue Cross Arena at the War Memorial this past Saturday by beating a battalion of Greece Athena Trojans that clobbered them not long before towards the end of the regular season. Relative to what he has shown over his career in the program over the years, no player arguably had a bigger performance in that contest than Frederick June Jr. Especially with how he hurt the Trojans from downtown, June looked like much more than a great athlete in general playing on the basketball team. The Eagles never trailed in the second half late that Saturday night. A big reason for that had to be the momentum that came from Gerald Drumgoole barely beating the horn signifying the end of the first half of play with a scoop of a layup under the outstretched arm of a defender.
SECTION V IN DIVISION I UPDATE
Anthony Lamb—So., Vermont (Greece Athena)
It seemed like it unfortunately would not happen at all this season for a second there, but Anthony Lamb made his valiant return from a foot fracture to the Catamounts essentially a complete week ago. The first two games Lamb competed in since being sidelined for a whopping seventeen contests were both actually against Maine due to one coming in postseason play. With him getting back into the swing of competition, Anthony logged eleven minutes of playing time in each of those ballgames against the Black Bears. Over that two-game stretch, Lamb recorded a combined twelve points on 5-of-7 shooting from the charity stripe and six rebounds. It is safe to say the young Rochesterian is not quite back to his normal healthy dominance just yet. The next opponent for Vermont in its journey to try and grab yet another automatic bid to the NCAA Tournament out of the America East Conference is a Stony Brook group that upset a heated rival of the Catamounts in Albany last time out.