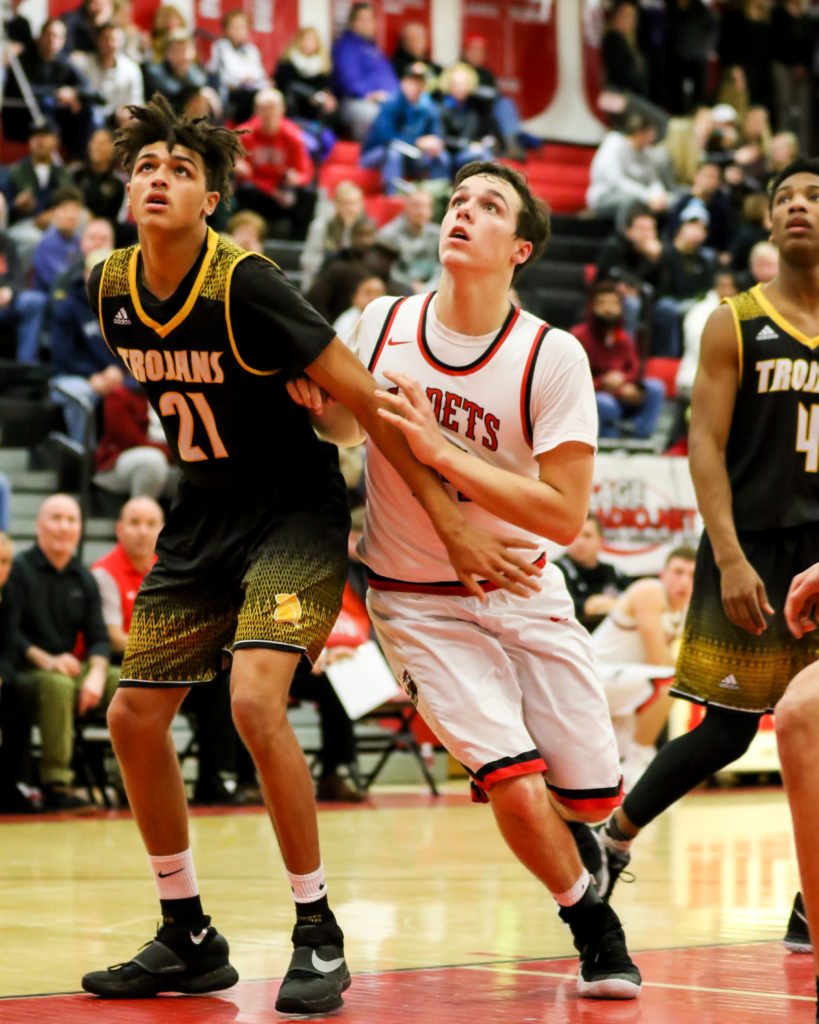 By MATT TRABOLD
TRABS KEEPS TABS
A Good Balance of Familiar Faces and Upstarts
If you look through what is left of the sectional brackets for this sport in this section, you will see a lot of familiar team names when it comes to which sides got very far in sectional play around here just last season or at least recently. While that type of team is what is most prevalent among the sides still standing, there are also a few exciting storylines blooming out of a crop of athletic departments that are not as renowned for what their teams over the years have accomplished on the hardwood.
One classification displaying both of these trends is Class B. If not for a bonkers late comeback by Buffalo Health Sciences Charter School, current one-seed Mynderse Academy would have played in at least a state semifinal a campaign ago. Livonia is also understandably a popular pick to come out of this sectional bracket due to the pedigree of the program, the winning mentality that permeates said program regardless of which bodies don the associated jerseys and the presence of notable contemporary basketball talents in those parts in the form of Devante Gwyn and Alex Minnehan. The electric new partygoer is five-seed Greece Odyssey via Jaden Hartsfield, DJ Billings, Aric Williams and company. You can also not forget about Desmond Battin. He has had a fantastic senior season for Penn Yan Academy following a summer that saw him compete in AAU basketball on ESPN3. The lacrosse stars around him for the Mustangs are also pretty stellar athletes on a basketball court.
Going up a classification size, what remains of the Class A2 sectional bracket includes a defending sectional champion in Wayne Central. With Braeden Zenelovic now back on the floor for the Eagles after being sidelined for a sizable stretch due to injury, Wayne Central has its entire rotation intact from the battalion that hoisted a sectional brick late last season following a victory in a back-and-forth affair against Wilson Magnet. The last instance in which Leadership Academy for Young Men stormed all the way past regionals in state postseason competition was as a Class B1 club three years ago. While the Lions are arguably known most these days for how many points they can pour in from the outside through Rondell Watson and Davon Brown, the team was legendary back in those earlier days of infancy for the program due to executing handfuls of dunks in single games off the boings of Devante Hagins, Keith McGee, Shabazz Mosley and Aney Majak.
Then, there is Class D1 with Tim Jackson and Clyde-Savannah at the top. The Golden Eagles are having by far their most impressive term since Joemaine Bogan and Kam DiSanto made Clyde-Savannah an elite dunking team, and certainly in terms of amount of victories, in this section a handful of seasons ago. Over the last half-decade, it is hard to think about guards for Clyde-Savannah without thinking about brothers Joe Faniel and Jarrod Faniel. Now, it is Derrick Chance, Marcus Chance Jr. and Camden Chance accounting for the brotherly explosions of points for the Golden Eagles. Try and wrap your mind around the fact that Clyde-Savannah led its most recent sectional game at the halftime break by a score of 71-8. That is how you score the rock.
VIEW MORE CHRIS ROACH PHOTOS HERE.
SLAP YOUR PEEPERS ON THIS FIVER
University Preparatory Charter School for Young Men vs. Hilton at The Blue Cross Arena at the War Memorial—Tues., Feb. 27, 6:30 PM
After the Cadets picked up an incredibly notable victory over Gates Chili by double figures back around six weeks ago on January 15 as part of a sizable winning streak, it probably would have been a surprise to many back then that Hilton would end up as a seven-seed come sectional time. The issue though was that this crew dropped six of its next seven games to finish out the regular season, including a bewildering loss to a Victor program that had much less clout this campaign than a year ago. The Cadet that really became a local star when heralded sophomore Tah-jae Hill was sidelined for a quite a bit of time during the regular season due to two different injuries in Mitchell Carr has been a supernova in this postseason run. Carr is arguably a weapon Troy Prince and his staff can lean on more these days than if he did not have to step up and be the absolute top option for the squad in the absence of Hill.
Plenty of local onlookers of this sport did not see University Preparatory Charter School for Young Men getting back to the sectional semifinals in Class AA after the departures of Jeenathan Williams and Jabez Thomas. Those wowing frontcourt bastions might not be suiting up for the Griffins anymore, but the starting guards on that mighty team for the program last season in Jakhi Lucas and Elroy Clark are now valiantly leading the charge. Another stalwart over the last pair of weeks for this group is 6-foot-4 starting sophomore forward Zach Harris Scott. He was not even a member of the rotation until Thomas officially departed from the Griffins fairly late in the regular season.
McQuaid Jesuit vs. Fairport at The Blue Cross Arena at the War Memorial—Tues., Feb. 27, 8:15 PM
Arguably two of the top ten perimeter shooters in the game right now around these parts in Anthony Iglesia and Kobe Long were not converting as well as expected as McQuaid Jesuit sputtered to begin this season. Some believed that might mean the program was headed for a sizable step back after the starting front line from the more than successful campaign before in Isaiah Stewart, Thomas Jones III and Cam Wilson moved on. What a turnaround since then though for the Knights largely behind the senior leadership of Iglesia and a breakout season for sophomore Jermaine Taggart. The depth for Jack Leasure and his staff has been thoroughly fortified by juniors Jon Catone and Harry Bruu lately. That duo led the way for McQuaid Jesuit as the club held off upset-minded rival Aquinas Institute on the final day of the regular season for both.
Scott Fitch is one of the coaches for USA Basketball for a reason. It is hard to put into words how much production Fairport lost after last season. The Red Raiders still find themselves deep into postseason play in the highest classification that this state provides this time around. Jackson Sullivan of Fairport and Connor Zamiara of McQuaid Jesuit are both much more versatile than they look. These two sides competed in an overtime thriller just about two months ago.
Greece Athena vs. Pittsford Mendon at Webster Schroeder High School—Wed., Feb. 28, 8:15 PM
On a few occasions down the stretch this year, the Trojans have flexed their muscles in terms of getting their hands on results to properly stake their claim as maybe the best team up to this point in a mighty Class A1. Greece Athena might not have the tallest starting backcourt in the section, but Christian Jones, Nigel Scantlebury and Patrick Meisenzahl are all the caliber of a top option regardless of position due to how hot they can get shooting the rock from the perimeter and when it comes to on-ball defense skills. Those attributes are what buried an Irondequoit squad with a backcourt with all sorts of size not long ago despite the Trojans not having the services of Johnny Salone and Melvin Council that night. This battle for Greece Athena also features an opposing guard with superior size. 6-foot-3 junior Michael Harrington has had his shining moments for Pittsford Mendon towards the end of the regular season and in this postseason. The best individual battle in this one might just be in the trenches. 6-foot-5 junior Viking Daniel Cook could very well lead the section in dunks this campaign up to this point, but he gives up a lot of bulk to 6-foot-5 Ryan Kubanka. The latter has come back from every offseason during his scholastic career with a great deal more positive weight. Whether it be on a spin through the lane or ranging outside of the paint to hit a jumper, Kubanka puts that bulk to good use on the court.
Irondequoit vs. Pittsford Sutherland at Webster Schroeder High School—Wed., Feb. 28, 6:00 PM
The column needs to take a second now to highlight one of the very best coaching moves and resulting season-long player performances of this campaign around here. When Irondequoit springking Patrick Thomas suffered a major wrist injury early this season, Chris Cardon started giving minutes to junior Josh Stenglein. Just about everyone knows about his slightly older brother in Zach Stenglein due to the latter being at the center of the Eagles winning a state title last year. The thing is that Josh and Patrick certainly do not play the same position. That is what makes this coaching decision by Cardon and his staff so brilliant. In the matter of a ballgame or two, Josh went from perimeter offense role player to major scoring threat. Now, he is virtually automatic shooting in many scenarios from downtown. It is such an asset for this program that its starting lineup now boasts the very different talents of both Stenglein and Thomas.
This go-around, he has not provided as many exciting dunk highlights as Matt Thaney or as many game-winning shots just before the final horn as Benedict DiGiovanni, but there is a reason 6-foot-6 junior Kevin Ryan has been invited to national camps and showcases since before he made the varsity roster for this sport at Pittsford Sutherland. He does whatever is necessary, regardless of how pretty a tactic is, to hurt an opponent on the offensive end. If Section V could be considered to have a Tim Duncan, it is Kevin Ryan. In addition to a variety of other positive attributes, Ryan gets to the charity stripe in mounds.
Leadership Academy for Young Men vs. Northeast Douglass at Victor Senior High School—Wed., Feb. 28, 6:30 PM
Northeast Douglass downing a defending sectional finalist in Wilson Magnet this past weekend surprised some. With Jiahmere Mitchell always expected to explode in the scoring department, the difference in that victory was arguably sophomore swingman Adonis Flagler. He went for 23 points against the Wildcats that night, including a span of twelve points in a row between the end of the third quarter and the beginning of the fourth quarter. A lot of the positive statistics that Flagler churns out on both ends are the product of passionate tenacity. With his transition skills and slightly superior size in relation to the guards of note of the Lions, Flagler could easily be the most important player for the Panthers in this one. On the topic of a pair of those guards of note of the Lions, seeing just a one-on-one competition between Mitchell and either Rondell Watson or Dezmere Ellis would be worth the five greenbacks that Section V charges fans at the door. Each member of that threesome has been one of the tiptop pure scorers in the Rochester area this year. Northeast Douglass does not have any players standing over 6-foot-0, so this one could mean a heavy collection of positive statistics for the likes of Marcus Barr, Tyler Banks and even the sneakily springy Jahvon Beard.
SECTION V IN DIVISION I UPDATE
Dontay Caruthers—Jr., Buffalo (East High)
He is back. At least that is how it would appear on the offensive end for Caruthers. In the last three full contests that he competed in before fracturing one of his feet, Dontay recorded a combined 59 points on 23-of-30 shooting from the field and 6-of-9 shooting from downtown against Niagara, South Dakota State and Alabama at Birmingham. He has been back from that fractured foot for eleven games now, but he has been increasingly working himself into full strength again over the span. This past Saturday against Ohio, Caruthers wove his first double-digit scoring outing since returning to action with nineteen points on 8-of-12 shooting from the floor in eighteen minutes of playing time. That outburst could not have come at a better time for the Bulls as well because they suffered their third conference loss of the year so far four days prior. The next step for Dontay is regaining his full lateral movement in order to get back to pulling off as many steals as he did in his notable defensive campaign last season.