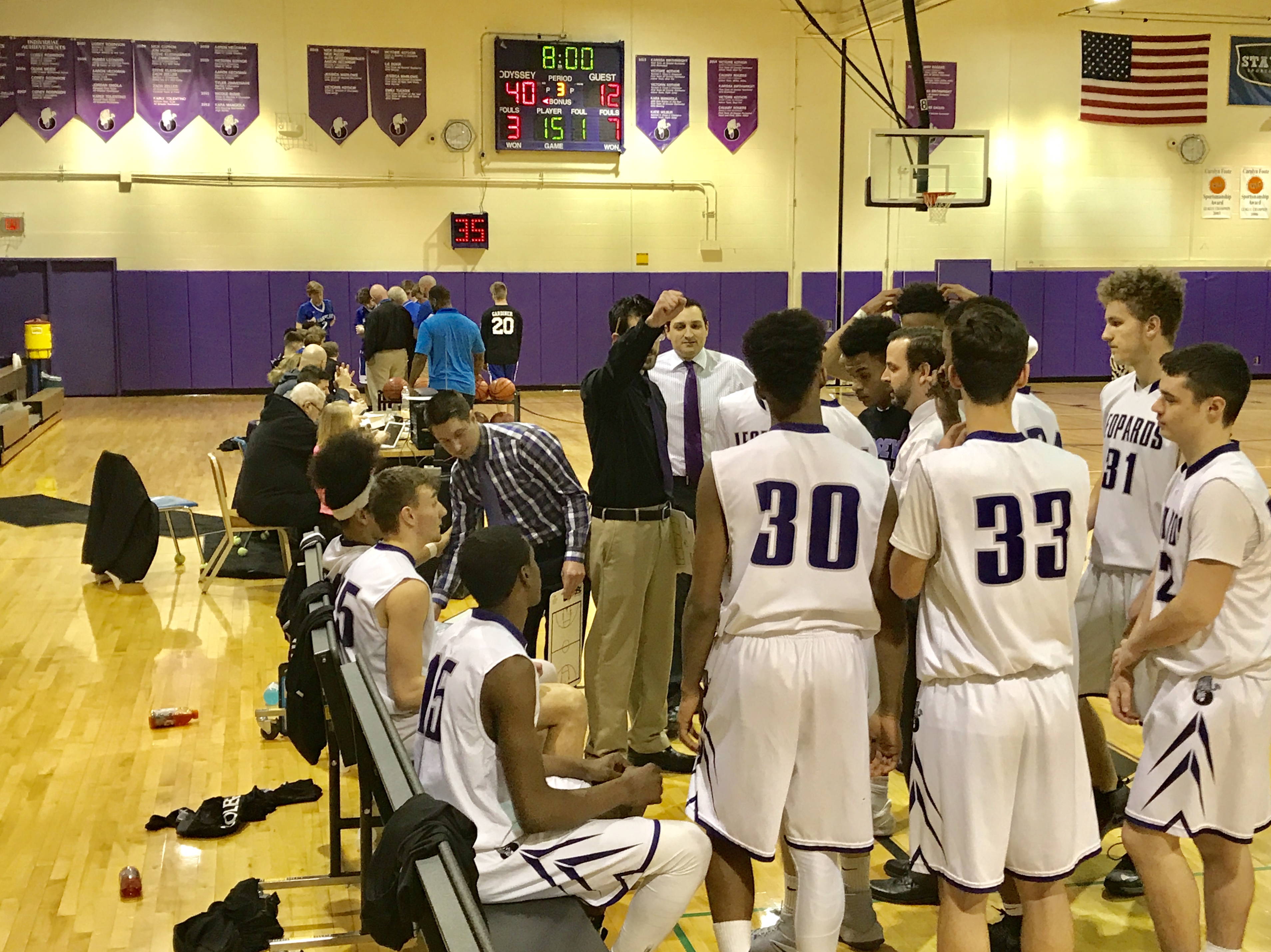 CLASS A1:
No. 1 GREECE ATHENA (19-2) 92
No. 9 BRIGHTON (3-19) 47
Christian Jones led Athena, No. 18 NYSSWA Class A, in scoring with 22 points, nine assists and six rebounds. Kelvin Reaves and Ryan Kubanka each added 15 points, while Pat Meisenzahl contributed 14 points and Nigel Scantlebury had 13 points. Kubanka also grabbed 11 rebounds. Athena scored over 20 points in all four quarters. Other scorers: Athena- Johnny Salone (4), Brandon Smith (3), Tyler Curtis (3), Austin Brown (2), Isaiah Brock (1). Athena will play Pittsford Mendon (17-4) in the semifinals.
No. 4 PITTSFORD MENDON (17-4) 77
No. 5 EASTRIDGE (12-9) 56
Daniel Cook led four in double figures with 21 points and Mendon grabbed a double-digit lead going into the fourth quarter. Michael Harrington and Conner Krapf combined for 14 third-quarter points to pace the Vikings to a 53-41 advantage going into the final eight minutes of play. Krapf finished with 16 points on the night. Harrington added 15. Freshman Jacob Shadders scored a dozen, and Matt Powers had nine points. Charles Bennett and Nathan Strauf scored two apiece for Mendon. Jalen Rose Hannah paced Eastridge with 17 points. Tony Arnold added 14, and Terrence Reed had 12 points. Kyndal Taggart scored nine points for the Lancers. Robert Clark chipped in four points. Pittsford Mendon will face No. 1 Greece Athena (19-2) in the semifinals.
No. 2 IRONDEQUOIT (18-3) 72
No. 7 SPENCERPORT (9-13) 37
Robert Diaz-Judson (13 points/10 rebounds) and Patrick Thomas (21 points/13 rebounds) registered double-doubles as Irondequoit breezed into the semi-finals.  The duo combined for 13 first-half points to pace the Eagles to a 26-13 lead going into the break. Gerald Drumgoole scored nine points. Tanner Pioch added seven. Kenny Gonzalez and  Keegan Vankerkhove scored five apiece for Irondequoit. Noah Mundt paced Spencerport with 14 points. Alton Jones, Jr. had eight points. Other scorers: Irondequoit – Frederick June, Jr. (4), Jack Brennan (3), William Porter (3) and Grayson Smith (2). Spencerport – Evan Clarke (4), JJ Jenkins (2), David Stewart (2), Gino Pellett (2) and Nick Thibeau (5). Irondequoit will take on No. 3 Pittsford Sutherland (18-3) in the semifinals.
No. 3 PITTSFORD SUTHERLAND (18-3) 60
No. 6 CANANDAIGUA (11-11) 49
Kevin Ryan led Sutherland with 21 points. Matt Thaney added 14 points, while Craig Rosen had 10 points. Devin O'Dell topped Canandaigua with 14 points, followed by Danny Herrick with 13 points and Scott Loforte with 10 points. Other scorers: Sutherland- Ben DiGiovanni (8), Josh Rosen (3), Graham Schild (2), Davis Heyman (2), Canandaigua- Connor Fisher (5), Noah Emerson (5), Jack Ferris (2). Pittsford Sutherland will play No. 2 Irondequoit (18-3) in the semifinals.
CLASS A2:
No. 1 LEADERSHIP ACADEMY (18-3) 77
No. 9 EAST HIGH (7-14) 59
Top-seeded Leadership Academy (18-3) found that out very quickly against upset-minded No. 9 seed East on Saturday night. But the Lions shook off the rust starting in the second quarter and dispatched of their rival in front of a packed arena at School 33. READ MORE.
No. 4 NE DOUGLASS (14-7) 75
No. 5 WILSON MAGNET (13-8) 68
Adonis Flagler and Jiahmere Mitchell combined for 49 points, and NE Douglass ended a brief post-season drought with a return to the Class A2 semi-finals. READ MORE.
No. 2 WAYNE (18-3) 63
No. 7 MONROE (12-10) 53
Logan Blankenberg netted six of his game-high 25 points along with handing out two assists during the second quarter. Wayne erased the double-digit deficit and pulled even heading into the break. READ MORE. 
No. 3 BATAVIA (14-7) 41
No. 6 HONEOYE FALLS-LIMA (15-7) 48
Tee Sean Ayala netted 13 points to pace Batavia to a 17-7 lead after the first quarter. HF-L outscored Batavia 10-0 in the second straight to battle back and tie the game going into halftime. Batavia used a 10-2 third-quarter run to to take a 27-19 lead, but HF-L rallied. David O'Connell highlighted a 12-4 run with putback to tie the game at 31.  HF-L's Garrett Ruff gave the Cougars a five-point lead at 44-39 with a driving lay-up and foul, which he finished for a 3-point play.  Owen VanNewkirk went 4-4 at the foul line for the Cougars in the closing minutes.  Garrett Ruff scored 10 of his team-high 13 points in the second half. Dan Hayes and Owen VanNewkirk both had 10 points and eight rebounds apiece.  David O'Connell had six points and seven rebounds. Trevor Chamberlain (4), Tyler Selke (3) and Jack Eastman (2) rounded out the scoring for HF-L. Ayala led Batavia with 20 points. Naz Pratt had nine, Antwan Odom six and Mason McFollins four points. Steve Gilebarto chipped in with two points.
CLASS B:
No. 1 MYNDERSE (19-3) 59
No. 8 WELLSVILLE (13-9) 50
Kellen Caraher paced Mynderse, No. 25 NYSSWA Class B, with 27 points, including going 7-for-8 from the charity stripe. Devin Henderson added 10 points. The score was knotted at 27 apiece at halftime, but Mynderse outscored Wellsville 15-5 in the third quarter to take the lead for good. Joe Tronetti topped Wellsville with 21 points, 12 in the fourth quarter, followed by Aiden Cook with 14 points. Other scorers: Mynderse- Darren Miller (7), Quinten Battle (6), Hunter Haust (6), Jesse Kabat (3), Wellsville- Max Jusianiec (7), Jimmy McKinley (4), Gage Caldwell (2), Colin Cook (2). Mynderse will play No. 5 Greece Odyssey (15-7) in the semifinals.
No. 4 HORNELL (16-6) 43
No. 5 GREECE ODYSSEY (15-7) 63
Jaden Hartsfield scored 12 of his team-high 16 points in the second half for Odyssey. Travon Harper added 13 points, while Romell Griffin had 12 points. Odyssey closed out the game by outscoring Hornell 19-5 in the fourth quarter. Spencer Weyand topped Hornell with 19 points, followed by Matt Smith with 11 points. Other scorers: Odyssey- Aric Williams (6), Dj Billings (6), Ray Colbert (5), Darren Davidson (3), Khyree Smith-Roberts (2), Hornell- Luke Smith (9), Tanner Stutzman (4). Greece Odyssey will face No. 1 Mynderse (19-3) in the semifinals
No. 2 PENN YAN (17-5) 75
No. 10 WAYLAND-COHOCTON (9-12) 48
Penn Yan will face No. 3 Livonia (17-5) in the semifinals.
No. 3 LIVONIA (17-5) 55
No. 11 MIDLAKES (7-15) 52
Freshman Alex Minnehan scored 19 points including the go-ahead 3-pointer with 2.1 seconds remaining. Barrett Lowe added 13 points and Da'Vieque Naulls had nine. Senior Trevor Milliman led Midlakes with 17 points and eight rebounds. Bryce Burri had 15 points and eight assists. Devin Hicks finished with 12 points. Livonia will face No. 2 Penn Yan (17-5) in the semifinals.
CLASS D1:
No. 1 CLYDE-SAVANNAH (18-4) 96
No. 8 FILLMORE (11-11) 34
Marcus Chance collected 25 points, five steals and six assists to lead Clyde-Savannah which took a 71-8 advantage into halftime. Dry Carnavale added 22 points, nine rebounds and six assists. Derrick Chance finished with 17 points, five steals and seven assists. Clyde-Savannah will take on No. 5 Mt. Morris (15-7) in the semifinals.
No. 13 LYNDONVILLE (7-15) 54
No. 5 MT. MORRIS (15-7) 69
Cam Regal stuffed the stat sheet with 18 points, 18 rebounds, six blocks and four assists to lead Mt. Morris to its 10th straight win. Colin Young added 15 points, and Dylan Cicero had 14 for the Blue Devils. Josh Hart collected 12 points and and six rebounds. Nathan Porter (13 points) and Zachary Johnson (11 points) paced Lyndonville which converted nine first-half rebounds into 16 points. The Tigers used a 10-0 run midway through the second quarter to knot the game at 27,  but Mt. Morris closed the half on an 8-0 run to take a 35-27 advantage into the break. Mt. Morris held Lyndonville to one offensive board in the second half. Jansel Martinez had six points and seven rebounds for Mt. Morris. Steve Soto took two charges in the fourth quarter. Justin Martin added one point. Mt. Morris will play No. 1 Clyde-Savannah (18-4) in the semifinals.
No. 2 NOTRE DAME BATAVIA (17-5) 59
No. 10 NAPLES (10-12) 72
Naples will face No. 6 Honeoye (13-9) in the semifinals.
No. 3 GENESEE VALLEY (17-5) 66
No. 6 HONEOYE (13-9) 74
Honeoye will take on No. 10 Naples (10-12) in the semifinals.