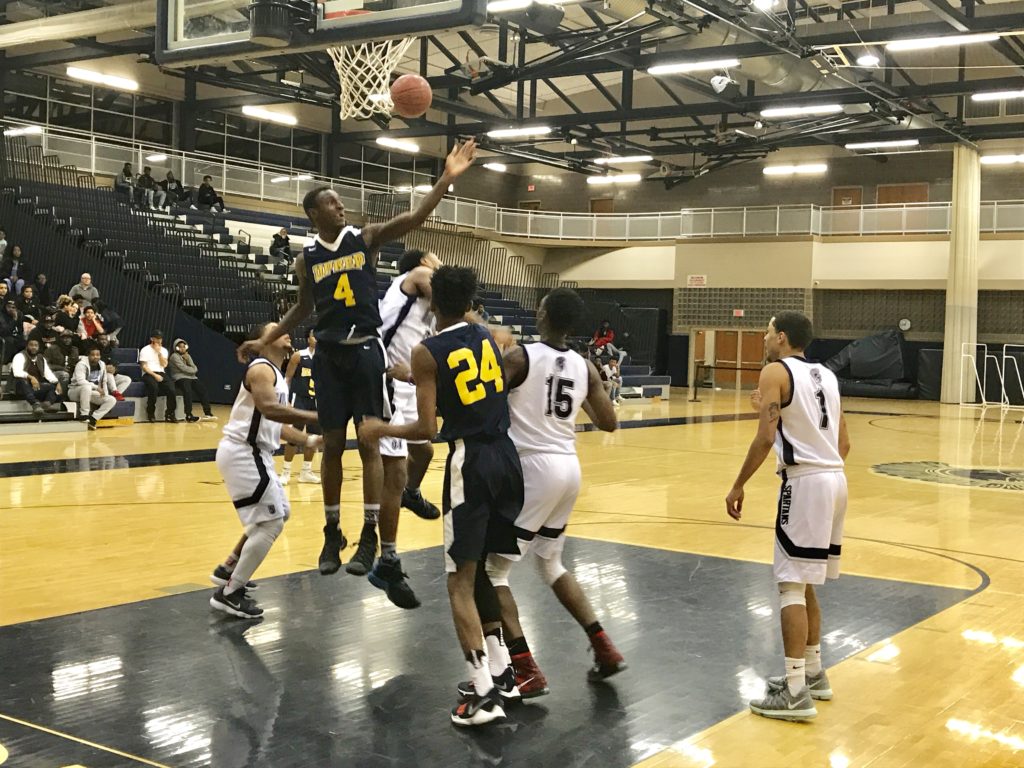 SPENCERPORT (7-9) 61
EASTRIDGE (8-8) 71
Tony Arnold scored 13 of his Eastridge-leading 29 points in the first quarter. The sophomore guard converted 10 of 14 from the charity stripe for the night. Jalen Rose-Hannah added 14 points for Eastridge and Kyndal Taggart had 13. Eastridge had doubled up Spencerport by halftime, holding a 41-20 lead heading into the locker room. Noah Mundt topped Spencerport with 20 points, followed by Allen Jones, Jr. with 12 and Josh Reding with 11. Other scorers: Eastridge- Adrian Rodgers (6), Robert Clark (4), Amir Spain (3), Terrence Reid (2), Spencerport- Evan Clarke (6), Malcolm McCullough (4), JJ Jenkins (4), Gino Pellett (4)
HILTON (7-9) 58
FAIRPORT (11-5) 70
UPREP (9-9) 60
GATES-CHILI (11-5) 64
Keith Slack paced Gates with 29 points, including the 1,000th point of his career, and six assists, followed by Damon Payton with 12 points and four assists, and Thomas Jones III with eight points and nine rebounds. Jahki Lucas led UPrep with 27 points, while Zack Scott added 10, Kayshawn Ross contributed nine and Elroy Clark had seven. READ MORE.
PITTSFORD MENDON (12-3) 76
CHURCHVILLE-CHILI (5-11) 56
Jacob Shadders topped Mendon with 18 points, tying his season-high, followed by Daniel Cook with 16 and Michael Harrington with 15. Griffen Stella led Churchville with 13 points, with David Johnson adding 10. Other scorers: Mendon- Garrett Bartzsch (9), Connor Krapf (8), Matt Powers (6)
HONEOYE FALLS-LIMA (9-6) 66
BROCKPORT (4-12) 61
HF-L's Dan Hayes finished with a game-high 19 points, and the Cougars clinched the program's first Monroe County League title.
IRONDEQUOIT (12-3) 67
GREECE ATHENA (15-1) 74
Pat Meisenzahl scored 11 of his Athena-high 24 points, a season-high, along with three of his six threes, in the third quarter to lead the Trojans to their 12th straight win. Christian Jones added 20 points for Athena, NYSSWA Class A No. 11, while Nigel Scantlebury had 18. Though the game was knotted at 33 entering halftime, Athena used a 23-9 scoring difference in the third quarter to create a padded 14 point lead entering the fourth. Gerald Drumgoole topped Irondequoit, NYSSWA Class A No. 8, with 30 points, including 10 in the fourth quarter alone. Josh Stenglein contributed 15 points with five threes, while Fred June, Jr. netted 13 for Irondequoit. Other scorers: Athena- Ryan Kubanka (10), Kelvin Reeves (2), Irondequoit- Patrick Thomas (7), Robert Diaz-Judson (2). READ MORE.
CSAT (VI) 55
BATAVIA (9-6) 73
Mason McFollins and Antwan Odom combined for 38 points for Batavia, each scoring 19 points. McFollins hit five threes and grabbed five rebounds on the evening, while Odom pulled in six rebounds. Naz Pratt handed out a Batavia-high 10 assists. Batavia held a 61-45 lead going into the fourth quarter, helped by opening the game by outscoring CSAT 15-2 in the first. Jayden Gulledge topped CSAT with 24 points, including 13 in the second quarter and five threes. Other scorers: Batavia- Steve Gilebarto (16), Jon Liciaga (11), John Kindig (4), Trevor Zewan (3), Andrew Francis (1), CSAT- Naz Austin (8), Lenard Harris (6), Daughlyon Willoughby (6), DeShawn Williams (5), Makhi Love (2), Frank Williams (2), Mel Thomas (2)
GREECE ACADIA (0-16) 58
GREECE OLYMPIA (2-13) 66
EAST (5-10) 47
MONROE (9-7) 68
FRANKLIN (0-15) 55
LEADERSHIP ACADEMY (15-1) 108
Dezmere Ellis scored 18 of his Leadership-high 25 points in the first quarter, also finishing the game with eight assists and seven steals. Onaejae Anderson netted a season-high 21 points for Leadership, NYSSWA Class A No. 17, including 16 in the third quarter. Davon Brown added 16 points and 10 rebounds for Leadership, while Rondell Watson had 13 points and 10 assists. Leadership opened the game by outscoring Franklin 34-11 in the first quarter, allowing them to lead 53-26 at halftime. Tahjir King topped Franklin with 21 points, his season-high, followed by Devontae Goins with 12. Other scorers: Leadership- Jahvon Beard (10), Shamir Mccullough (10), Shaheem Britt (9), Tyler Banks (4), Franklin- Tyree Spann (7), Kentonio Kelly (6), Tommy Coleman (5), Raheim Drisdom (2), Anthony Smith (2)
MCQUAID (8-7) 69
EDISON TECH (6-10) 56
Connor Zamiara led McQuaid with a season-high 24 points and 15 rebounds, followed by Anthony Iglesia with 18 points and five assists, including going 11-for-11 from the free throw line. Jermaine Taggart added 11 points and rebounds for McQuaid. McQuaid trailed 35-27 after the first half, but managed to score 42 points in the second half to come back and win. Alton Knight topped Edison with 15 points, with Tristian Flowers recording 14 points and five blocks. Marquan Anderson had 11 points for Edison. Other scorers: McQuaid- Kobe Long (9), Josh Purcell (5), Jon Catone (2), Edison- Dylon Foster (8), Ryziere Wilson (5), Jeremiah Caldwell (2), Da'Shawn Sims-Jones (2), Nassan Scott (1)
ADDISON (13-3) 51
WELLSVILLE (10-7) 68
Colin Cook scored eight of his Wellsville-leading 20 points in the second quarter. Joe Tronetti added 19 points for Wellsville, while Max Jusianiec had 10. Wellsville outscored Addison 22-9 in the second quarter to take a 40-27 lead into the half. Danny Ames and Adam Chilson combined for 45 of Addison's 51 points, including all 19 in the first quarter. Ames netted 23 points, 10 in the first quarter, and Chilson finished with 22 points, nine of which came in the first. Other scorers: Wellsville- Alec Acampora (9), Aiden Cook (8), Pacey Scott (2), Addison- Nick Solinas (5), Evan McIlwain (1)
MIDLAKES (6-10) 59
GENEVA (5-11) 64      2OT
NEWARK (5-10) 39
PALMYRA-MACEDON (6-8) 62
HONEOYE (9-7) 83
NAPLES (7-9) 62
MARCUS WHITMAN (13-2) 56
HAC (10-5) 39
PITTSFORD — Marcus Whitman's Jon Donovan scored 10 points and dished out 7 assists to defeat second place HAC 56-39 and put the Wildcats on the doorstep of clinching their second straight Finger Lakes West title.
MW, which is perfect in league play as 12-0 (13-2 overall) has a 4 game lead with 4 games remaining. The Wildcats dominated the paint, scoring all but 12 points near the rim, taking advantage of the absence of the Wolves' Ryan Hilton who missed the game with an illness. Thanks to quick ball movements and pin-point passing, MW drove to the basket at will. Xavier Israel battled all night and finished with 19 points and 8 rebounds for HAC, but it wasn't enough as the Wolves saw their 5-game winning streak snapped. HAC falls to 7-4 in the league and 10-5 overall. The 39 points marked their lowest scoring output of the year.
Riley McLoud scored 13 points and Liam Pendergrast 10 and grabbed 12 rebounds for the Wildcats, while Seth Benedict added 9. For HAC, Kyle Lacey, also battling illness, turned in a gusty performance with 9 points — all on three pointers.
Marcus Whitman raced to a 13-4 lead early in the game, but the Wolves battled back and a traditional three-point play by Israel late in the quarter cut the lead to 16-11 heading into the second. HAC cut the lead to 26-24 on one of Lacey's three pointers, but a short put back by Ben Stone with seconds remaining in the period put MW up 30-24 heading into halftime.
HAC cut the lead early to 30-28 in the third on a short shots by Israel and sophomore Andrew Alexis, but that was as close as the Wolves would get to handing the Wildcats their first defeat
in two years
. MW was perfect last season, finishing 16-0 in league play. For HAC, Zitong Jin and Alexis added four points each and Rob Dorsey 3 points. Other scorers for Marcus Whitman were Stone (4), Aidan Royston (4), Tim Cornish (3), Hunter Commisso (2) and Peyton Miller (1).
RED JACKET (6-10) 49
DUNDEE (4-11) 53
ROMULUS (6-9) 39
SOUTH SENECA (6-8) 42
EAST ROCHESTER (9-6) 46
LYONS (14-2) 71
Justice Smith led Lyons, NYSSWA Class C No. 16, with 22 points, seven rebounds and seven assists. David Weaver added 16 points, while Justin Tuti had nine. Lyons held a 58-26 lead through three quarters of play. Elijah Jacques and John Lexer each scored 10 points for East Rochester.
GANANDA (10-5) 71
MARION (2-13) 34
SODUS (8-6) 56
NORTH ROSE-WOLCOTT (2-14) 39
WILLIAMSON (3-10) 79
CLYDE-SAVANNAH (13-3) 102
MT. MORRIS (8-7) 73
PAVILION (5-10) 53