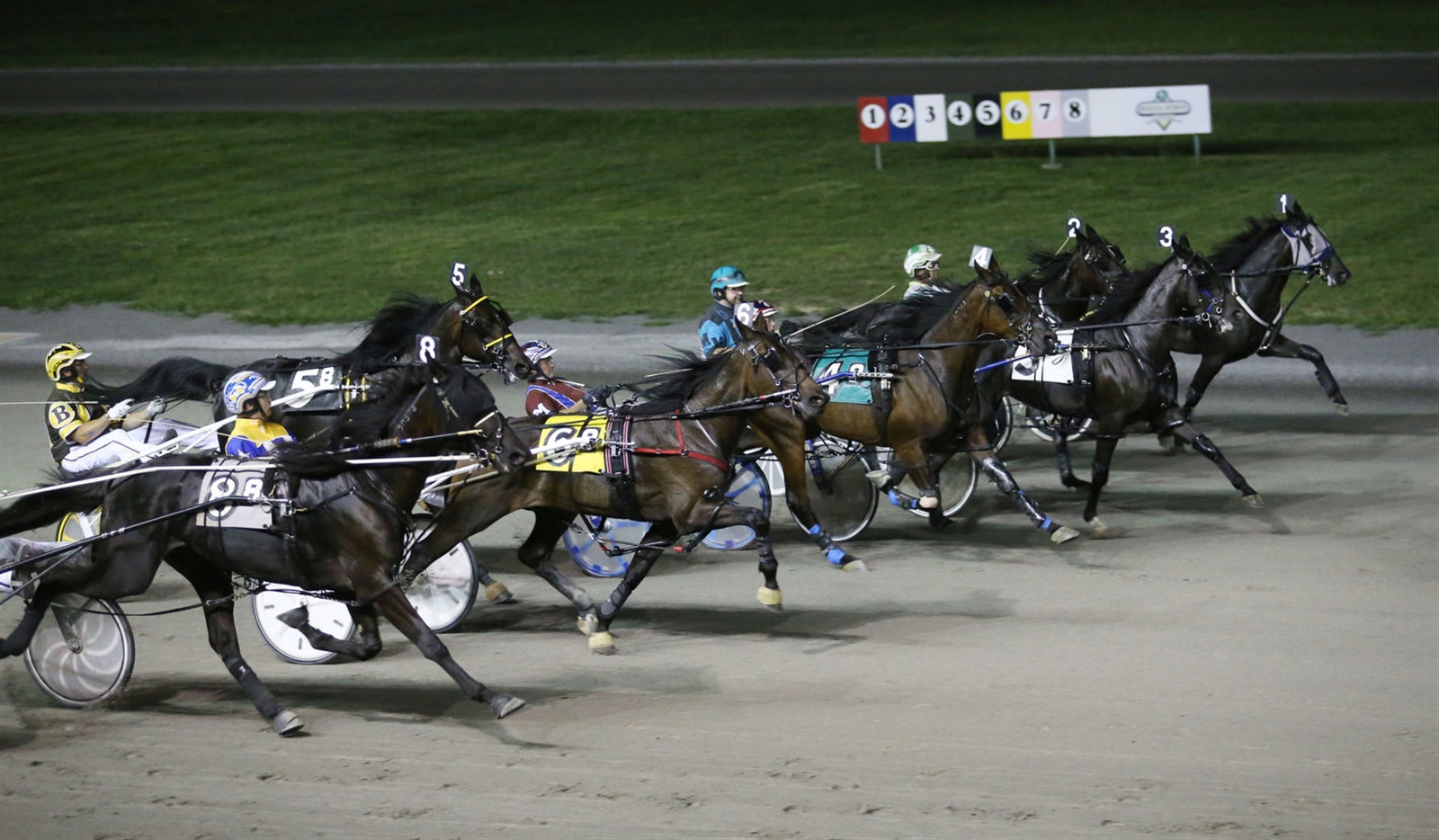 By Kevin Oklobzija
The final Spot Play Hot Plays of the 2017 Batavia Downs season, plus some Friday and Saturday Meadowlands plays.
Friday
at Batavia Downs
Race 1
No. 5 Warrawee Qually (3-1 morning line). Ray Fisher's choice of four, and there are only six the field. I've got to believe start three up from Pocono Downs will be better than the first two, especially dropping a tick in class.
Race 10
No. 4 One Source (7/2). Shawn McDonough chooses to drive, even though No. 1 Double Down Jo looks like the horse to beat. I'll follow him. Just paced a 1:55 mile on the five-eighths track at Dayton.
Friday at the Meadowlands
Race 4
I'll play two in any rolling pick: No. 1 Lothario, a solid-looking Brett Pelling trainee was terrific in his career debut back on Nov. 4, and No. 8 Lady Eagle, who caused great heartbreak last Friday when she missed second by a half-length.
Race 9
No. 5 Dandy's Beauty (7/2). The 1, 2, 3, 6 and 8 all pack speed, and Simon Allard driving the 9 probably means that one will be moving off the gate and looking for a tuck. Thus, I expect a hot pace and the class-dropping Dandy's Beauty should run them down.
Race 10
I'll use two in any pick 3 or 4: No. 6 Bee In Charge (3-1) and No. 8 Connie Keeper (15-1). Bee In Charge will be the favorite and raced fairly well against better in her last start. Now drops again. The knock is a 1-for-9 record in 2017. Connie Keeper has had amateur drivers in five of her past six starts. The only other: Jim Taggert Jr., tonight's driver, was in the bike. Her half-mile races are solid so if she takes to the big track she'll be a factor.
Saturday
Closing night at Batavia Downs
Race 1
I'll box the rocks: No. 2 Rock Fame (3-1), No. 4 Rock The Dream (10-1) and No. 6 Rock To Glory (5/2). Rock Fame drops and moves inside, Rock The Dream was first over last weekend and Rock To Glory was first over against MUCH better last Saturday night at the Meadowlands.
Race 4
No. 4 Royal Heart (2-1). He's been facing infinitely better. I'm not sure how he could lose here.
Race 8
No. 2 Fuzzylegsandall (7/2). Drops to the bottom level, which is about nine levels down from where he was three starts ago. And he's actually pretty sharp. Everything else in the field is essentially a $4,000 claimer.
Recapping last weekend's SPHPs
Friday at Batavia
Race 3
No. 1 Cashko. Second. Sat second behind True Muscle, the 1/2 favorite, and stayed second. The exacta returned a whopping $35.40, a crazy number considering it was the obvious lineup and involved a rail horse in a trot race.
Race 4
No. 5 Fraternity. Second. Wasn't good enough to beat even-money favorite Bred to Race but still ran second. Another well-paying exacta of $21.
Race 6
No. 6 A Weekend. Second. But second to the second choice, Saint William A, and still had exceptional value with an exacta paying $45.
Which helped make up for an aggravating night at the Meadowlands …
Friday at the Meadowlands
Race 2
No. 8 Lady Eagle. Third. Left and found a spot to tuck on the turn. Sadly she couldn't inch up to second, because the 1-8 exacta was paying an astonishing $364. Alas, nothing.
Race 7
No. 2 All It Takes. Ninth. Ranged up first over and wasn't good enough to sustain the bid in a :27.3 third quarter.
Race 8
No. 1 Steal N Gas. Seventh. Got away third and when Brett Miller pulled to go on the attack, the horse decided he'd rather retreat. Totally empty.
Race 9
No. 7 Nitro Glistening. Fourth. Left hard but got parked past a :27.2 quarter, and that took a toll. Lost by three lengths.
Race 10
No. 1 Every Intention. Third. Cut the mile and then took pressure all the way down the lane and couldn't hold off the challengers.
Saturday at Batavia Downs
Race 1
The play was using No. 5 Hands Off Frank and No. 6 Fuzzylegsandall in the first half of the double. Winner. Hands Off Frank prevailed as the even-money favorite (in what became a four-horse field due to scratches).
Race 5
No. 6 Rock Fame. Fifth. Southwind Whiski went wire-to-wire. No one ever challenged.
Race 9
Three-horse exacta box with No. 3 Chickenandabanjo, No. 5 David the Saint and No. 6 Big Ricky. Winner. They actually ran 1-2-3, in 6-5-3 order, and the exacta was a very healthy $29.40.
Saturday at the Meadowlands
Race 4
No. 2 Watkins. Seventh. Went off as the 8/5 favorite and Brett Miller made a three-wide move like he had trot. In reality, he had nothing.
Race 5
No. 1 Record Machine. Second. Rallied in the stretch at odds of 7/2 but couldn't get to the front-running Pembroke Joey (4-1). Nonetheless the exacta was a hard-to-believe $73.80. $73.80 for a 4-1 and 7/2. And people wonder why I like the Meadowlands?
Race 10
No. 8 Cousin Mary. Third. Left with Simon Allard, of course, but got parked by Anthony Napolitano on a million-to-one shot. Still somehow finished third, beaten less than two lengths, while Napolitano backed through the field in the stretch. If it was A-Nap's intention to get Allard beat, it worked. If it was a strategy for victory, he must have thought he was in a different race with a different horse.