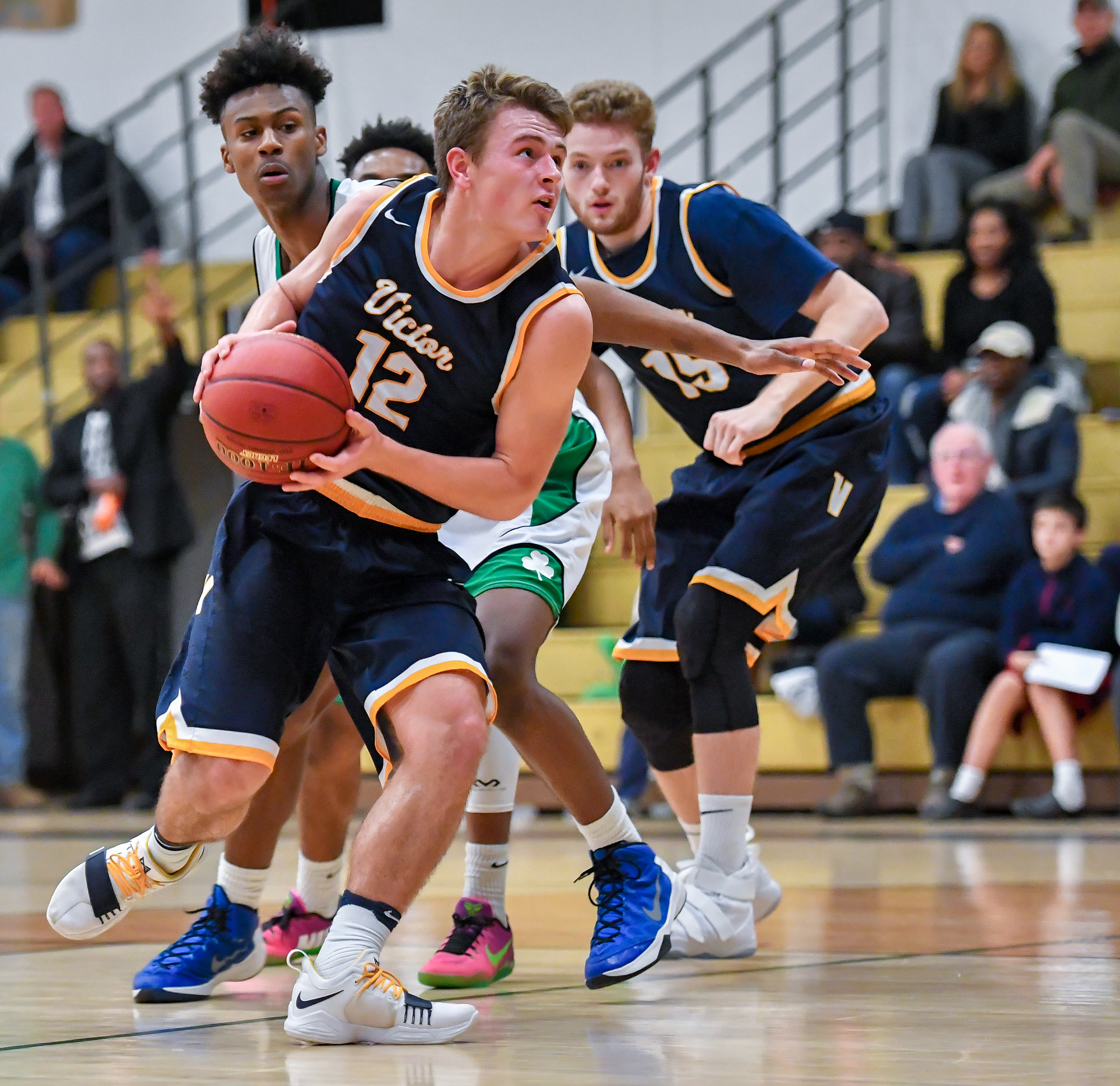 HILTON 54
IRONDEQUOIT 66
Tanner Pioch scored six of his team-high 18 points in the fourth quarter as Irondequoit (2-0) broke open a tie game. Robert Diaz-Judson hit five of six free throws, scored nine points in the final stanza and finished with 13 points in the contest. Patrick Thomas added 15 points for the game and Gerald Drumgoole had 10. Pioch grabbed 10 rebounds in the game. Mitchell Carr paced the Hilton offense with 22 points. The 6-foot-2 junior forward connected 10 times from the floor and converted two of four free throws. Joey Lipani added 10 points. Colin Burkis hit three 3-pointers and finished with nine points for the Cadets. Hilton was without Tah-jae Hill. The sophomore guard has been sidelined with an injury.
Defending champs @WIEagles get a run from @HiltonCadets in boys basketball. https://t.co/q5WKurBqlE

— Tim Irving (@TimIrvingSports) December 14, 2017
PENFIELD 74
GREECE ARCADIA 52

RUSH-HENRIETTA 78
WEBSTER SCHROEDER 60
Mecca McCullough and Kailee White combined for 55, and Rush-Henrietta spoiled Webster Schroeder's home opener to improve to 3-0 on the season. READ MORE.
VICTOR 62
CHURCHVILLE-CHILI 57
Joey Colyer hit 12 of 13 free throws and posted a team-high 21 points to lead Victor to its second straight win. Colyer scored 11 in the first half as the Blue Devils took a double-digit lead into the locker room at 25-15. Connor Keenan added 12 points, and Tanner Hay had 10. Chuck Nwugwo chipped in nine for Victor (2-3). Chruchville-Chili's Marcellus James hit six 3-pointers including four in the fourth quarter as the Saints outscored Victor 25-17. James finished with a season-high 20 points. Eric Lewis scored 13, and Marcus Postell had 11 for C-C (1-3).
VIEW MORE ROGER HAGAN PHOTOS HERE. 
BROCKPORT 44
GREECE ODYSSEY 52
Ray Colbert and Jaden Hartsfield scored 12 apiece to lead Greece Odyssey (3-1). Aric Williams also chipped in with seven points and nine rebounds. Five different players tallied in the third quarter as Odyssey erased a halftime deficit before outscoring the Blue Devils 16-10 in the fourth quarter. Willie Ball led all scorers with 13 points for Brockport (1-3).  Jake Jurhs added 12, and Amire Odey had eight.
CANANDAIGUA 55
HONEOYE FALLS-LIMA 80
Dan Hayes netted 12 points as HF-L went out to a 22 -12 lead after one quarter. Trevor Chamberlain chipped in 13 of his 17 points in the first half to give the Cougars a 41-28 lead going into the locker room.   Canandaigua cut the lead under 10 early in the third, but HF-L responded with six different players scoring in the stanza. Hayes drilled a 3-pointer at the buzzer and gave HF-L (2-1) a 61 – 45 lead going into the fourth. Hayes added six rebounds to a game-high 24 points. Chamberlain added 17 points and six rebounds. Jack Eastman chipped in 12 points, and Turner Wilson had 10 points and five rebounds. Owen VanNewkirk scored five points. Garrett Ruff had four points and six assists. Matt Cardon and David O'Connell scored four points apiece. Devin O'Dell led Canandaigua (3-2) with 17 points. Danny Herrick had 13 points and Scott LoForte 11.
PITTSFORD-MENDON 50
BATAVIA 56
Batavia jumped out to a 33-20 half time lead and held off Pittsford Mendon.  Steve Gilobarto led all Blue Devil scorers with 16 points in the victory. Antwan Odom added 11 points. Jonathan Liciaga had 10 points and Naz Pratt eight. Batavia converted 9 of 10 free throws, hit nine 3-pointers and collected 10 2-point field goals. The Vikings were led by Jacob Shadders and Daniel Cook who each scored 18 points apiece in defeat. Daniel Cook hit a pair of 3-pointers and finished with 10 points for the Vikings.
PITTSFORD SUTHERLAND 97
GREECE OLYMPIA 62
Matt Thaney led four in double figures as Sutherland (4-0) scored at least 23 or more points in each quarter. Thaney accounted for eight points in the first quarter to help the Knights take a 24-18 advantage. Kevin Ryan scored 15 points while Craig Rosen added 14  and Josh Rosen 11. The Knights did most of their damage within close range connecting on 36 shots inside the three-point arc. William Green Jr. paced the Olympia offense with 17 points. Rah'Qual Avant converted 9 of 12 free throws and scored a dozen for the Spartans (0-3).
MONROE 59
WORLD OF INQUIRY 67
Charles Maurice Brown led all scorers with 21 points, and CeyQuan Salmon scored 16 after sitting out most the first half when he picked up  two quick fouls.  The Brown and Salmon duo combined for 17 of the 20 points in the fourth quarter to help put the game away.
MCQUAID 53
CANISIUS HS (VI) 76
Nick MacDonald led Canisius with 17 points including five three-pointers. Austin James and Ryan Bradley added 12 points and 11 points respectively. McQuaid (0-3) was paced by Josh Purcell's 17 points while Jermaine Taggart chipped in with 12 points and Anthony Iglesia added 11 points.
UPREP 66
AQUINAS 44
Elroy Clark and Jabez Thomas posted double-doubles, and UPrep (4-3) snapped a three-game skid. Clark scored 21 points on 8-of-18 shooting, grabbed 10 rebounds and handed out six assists. He netted eight in the first quarter as the Griffins outscored Aquinas 24-9 and did not trail for the remainder of the contest. Thomas scored 16 on 6-of-12 shooting to go with a game-high 12 rebounds. Jakhi Lucas added 14 points for UPrep which outscored the Li'l Irish 36-14 in the paint and 26-11 on points off turnovers. Kidtrell Blocker paced the AQ offense with 17 points. Justin Johnson scored 11. UPrep outrebounded Aquinas 49-35 including 15-7 on the offensive glass.
Elroy Clark's 21 points leads UPrep past Aquinas. @sectvbb @PickinSplinters https://t.co/dZ8fqOrOQC

— Tim Irving (@TimIrvingSports) December 14, 2017
C.G. FINNEY 76
EARLY COLLEGE 51
BISHOP KEARNEY PPD. 
NOTTINGHAM HS (III)

CYLDE-SAVANNAH PPD.
EAST ROCHESTER

LYONS PPD.
RED CREEK

NORTH ROSE-WOLCOTT PPD. 
GANANDA
WILLIAMSON PPD. (rescheduled for 1/13/18)
SODUS
BYRON-BERGEN PPD.
ATTICA
FILMORE 75
HINSDALE 29
Ethan Valentine led a pair of  scorers in double-figures with a game high 16 points, while Mitchell McCumisky chipped in with 12 points. Hinsdale was paced by Colton Miller's 12 points.
HOLLEY 37
OAKFIELD-ALABAMA 77
LYNDONVILLE 39
NOTRE DAME-BATAVIA 77

WHEATLAND-CHILI 22
ELBA 55
Jon Boyce led all scorers to pace Elba with 16 points while adding eight rebounds. With the victory, the Lancers move to 3-1 on the season.
ROCHESTER PREP 54
ROCHESTER ACADEMY 49

KESHEQUA 54
LETCHWORTH 50