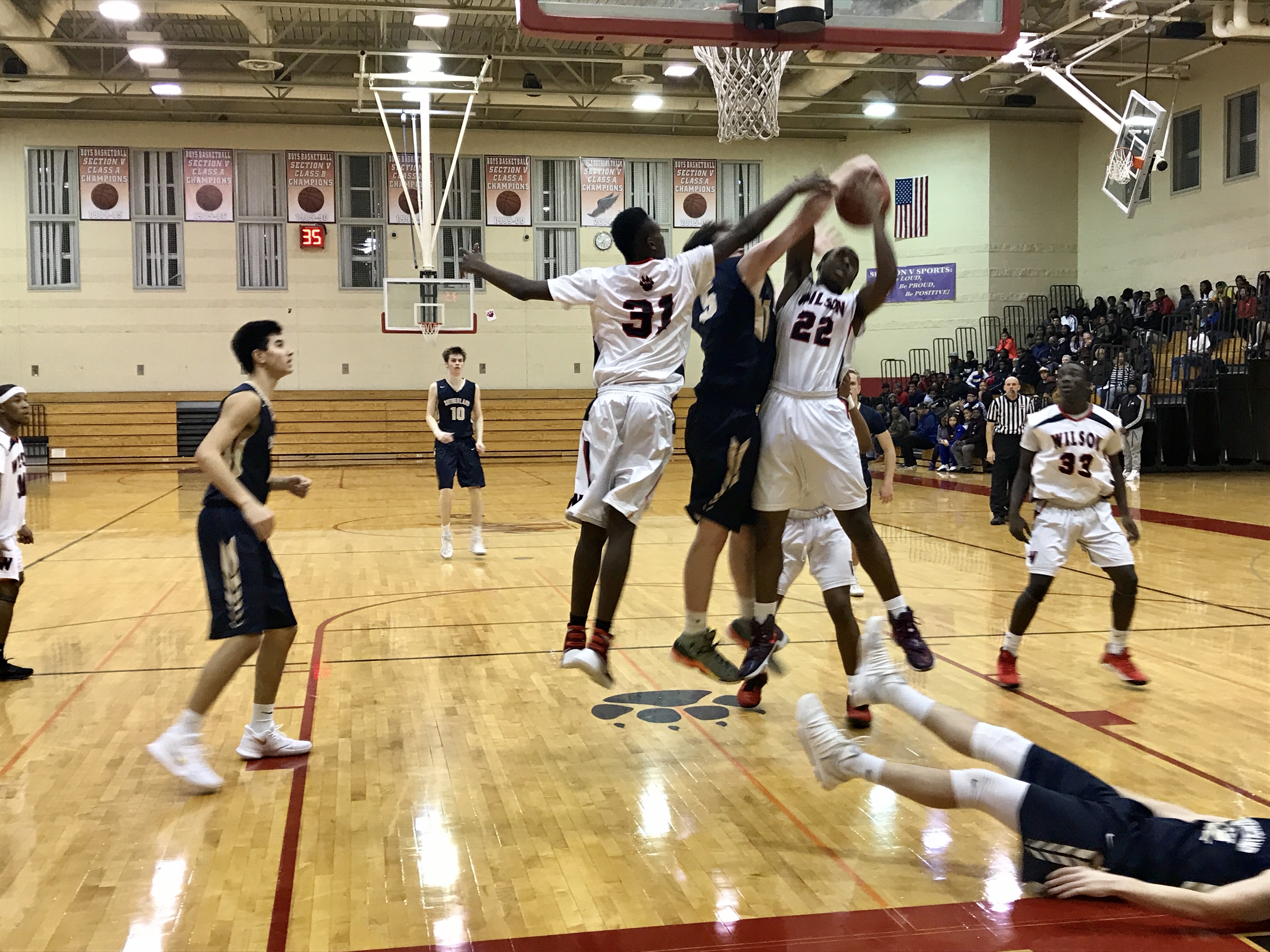 FAIRPORT 84
HILTON 43
Seniors Jackson Sullivan and Andrew Bartlett each netted 17 points, leading Fairport. Junior Vanzell Johnson added 11 points for Fairport. Morgan Kunigan, a senior for Hilton, led the team in points with 12 on the evening.
Fairport benefited from two 25-point quarters, finishing the second and fourth quarter strong, while holding Hilton to 11 points total between the two quarters. They hit 13 shots from downtown in the game, equaling their total from a game against Webster Schroeder earlier in the week.
RUSH-HENRIETTA 80
PENFIELD 58
Shamire Broyld paced three Rush-Henrietta scorers in double-figures with 20 points in a game that saw the Royal Coments race out to a (22-5) first quarter lead . Kailee White and Mecca McCullough chipped in with 16 points and 11 points respectively. Isiah Preston led all scorers with a game-high 27 points, 18 of them coming in the second half in defeat for Penfield.
VICTOR 62
GATES-CHILI 63   OT
Junior Keith Slack propelled Gates-Chili with 25 points while senior Damon Payton netted 14 for his team. Victor exhibited a balanced scoring attack, with seniors Connor Keenan (15), Tanner Hay (12) and Joey Colyer (12), and junior Jon Crowley (13), all scoring in double-digits.
Slack knocked down a game-winning three-pointer for Gates-Chili with 5.9 seconds remaining in overtime.
GREECE ARCADIA 22
IRONDEQUOIT 67
Playing in their first game since last season's state championship run the home Irondequoit Eagles jumped out to an early (38-3) half-time lead. Junior Gerald Drumgoole led all scorers with a game-high 18 points. Patrick Thomas chipped in with 10 points.
WEBSTER THOMAS 63
CHURCHVILLE-CHILI 56
Joe Luconte scored 21 points to lead all scorers for Webster Thomas. Will Johnson added 13 points and Andrew Mason finished with 12 points. Churchville-Chili's Fidel Brock scored 11 of  his team-high 18 points in the fourth quarter.
BRIGHTON 52
GREECE ATHENA 86
Senior Christian Jones put up a double-double for Athena with 39 points, 11 rebounds and five assists. Senior Ryan Kubanka (12) and sophomore Melvin Council (11) were Athena's other double-digit scorers. Ryan Martin (15 points) and Kendall Clyburn (14 points), both seniors, led Brighton.
Athena cruised to the win behind their offense, which scored more than 20 points in three of the four quarters, with the exception of the third.
EASTRIDGE 46
BATAVIA 81
Senior TeeSean Ayala hit five threes en route to a team-high 26-point performance. Junior Antwan Odom added 16 points for Batavia. Eastridge senior Kyndal Taggart scored 12 points in a losing effort.
Batavia opened both halves strong, scoring 25 points in the first quarter and 23 in the third.
HONEOYE FALLS-LIMA 82
GREECE OLYMPIA 55
HF-L senior Owen VanNewkirk dropped 23 points, a career-high, and grabbed 12 rebounds for a double-double. Senior Jack Eastman added 18 points, including four threes, and junior Trevor Chamberlain had 14 points and eight rebounds. David O'Connell, a senior, led HF-L in rebounds with 14.
A 21-6 run to open the game helped HF-L build a quick lead, with VanNewkirk and Eastman each scoring eight points. They led 39-17 at the half .
SODUS 37
GREECE ODYSSEY 67
Jaden Hartsfield led Odyssey (2-0) with 15 points and six rebounds. Travon Harper added 12 points and five assists. Romell Griffin had nine points and five assists. Malik Barton scored 17 points for Sodus. Paul James had 10 points.
WORLD OF INQUIRY 78
FRANKLIN 56
Charles Maurice Brown, a senior for World of Inquiry, netted 27 points and grabbed eight rebounds to lead his team. Fellow seniors CeyQuan Salmon and Javonte Burrell contributed 14 points, 8 rebounds and 11 points, 5 steals, respectively. Senior Parish Quick topped Franklin with 13 points.
PITTSFORD SUTHERLAND 65
WILSON MAGNET 58
Wilson's Robert Davis stuck a 3-pointer with 43.6 seconds remaining to make it five-point game at 63-58. The Wildcats forced a five-second call on the ensuing inbound, but could not convert on the opportunity. READ MORE. 
EARLY COLLEGE 53
WHEATLAND-CHILI 37
SOTA 79 OT
AVON 77
Reggie Smith scored a team-high 24 points including four in overtime to lead SOTA (3-1). Smith hit five 3-pointers and finished 9-of-13 from the free throw line. Logan Hayes connected four times behind the arc in the second quarter and added 19 points for the Silverhawks. Joe Denegal chipped in 13, and Ethain Clarke DeSouza had nine in the win. Avon's Connor Taylor led all scorers with 30 points. Aaron Ghent had 18.
EAST 53
HENNINGER (III) 77
WEBSTER SCHROEDER 50
CORCORAN 74
LIMA CHRISTIAN 53
C.G. FINNEY 92

MYNDERSE 55
NEWARK 47
Senior Devin Anderson's 17 points were good for the Mynderse team lead, followed  by fellow seniors Quentin Battle and Hunter Haust with 12 and 10 points each. Taylor Clements, a senior, led Newark with 17 points, while senior Terry Anglin had 16 points.
OLEAN (VI) 71
WELLSVILLE 44
PERRY 52
VERTUS 51
ROCHESTER ACADEMY 46
NORTHSTAR CHRISTIAN 98
PALMYRA-MACEDON 41
PENN YAN 48

WATERLOO 41
MIDLAKES 49
Senior Bryce Burri scored 19 points and senior Trevor Millman contributed a double-double (10 points and 13 rebounds) for Midlakes. Sophomore Mike Hubbard paced Waterloo with 17 points.
AQUINAS 36
NAZARETH (VI) 56
Dre Turnipseed's 18 points led Nazareth, with Bryan Medy adding 14 of his own. Both scorers were helped by an 11 rebound night from Michael Young and Jonah Hillard's 10 rebounds on the evening. Kidtrell Blocker and Justin Johnson tied for Aquinas' team lead for scoring with nine points each.
Nazareth opened up the second half with a 16-3 run to take an 18-point lead, a deficit Aquinas was unable to comeback from.
GENEVA 36
WAYNE 59
DUNDEE 38
MARCUS WHITMAN 50

ROMULUS 41
RED JACKET 58

SOUTH SENECA 55
HONEOYE 67
BATH-HAVERLING 57
WARSAW 63
HORNELL 70
LETCHWORTH 14
LIVONIA 49
LEROY 54
FILLMORE 31
GENESEE VALLEY 63

FRIENDSHIP 18
HOUGHTON 34
WHITESVILLE 56
SCIO 52
ANDOVER 63
HINSDALE 21
BYRON-BERGEN 54
OAKFIELD-ALABAMA 68

HOLLEY 19
ALEXANDER 57
PEMBROKE 80
ATTICA 44
ELBA 72
NOTRE DAME-BATAVIA 74     in OT

KENDALL 63
LYNDONVILLE 75
UPREP 72
NOTTINGHAM HS 77

MCQUAID 54
NIAGARA FALLS (VI) 76
Roddy Gayle topped Niagara Falls with 17 points, followed by Quran Dubois with 15 and Tazaun Rose with 11. Kobe Long, a sophomore, led McQuaid with 15 points. Sophomore Jermaine Taggart added 12 points of his own, while senior Josh Purcell netted nine points and pulled in eight rebounds. Niagara Falls outscored McQuaid 45-26 in the second half to power their way to the win.
ADDISON
HAMMONDSPORT     PPD
Rescheduled to 12/18
ALFRED-ALMOND 32
AVOCA 85