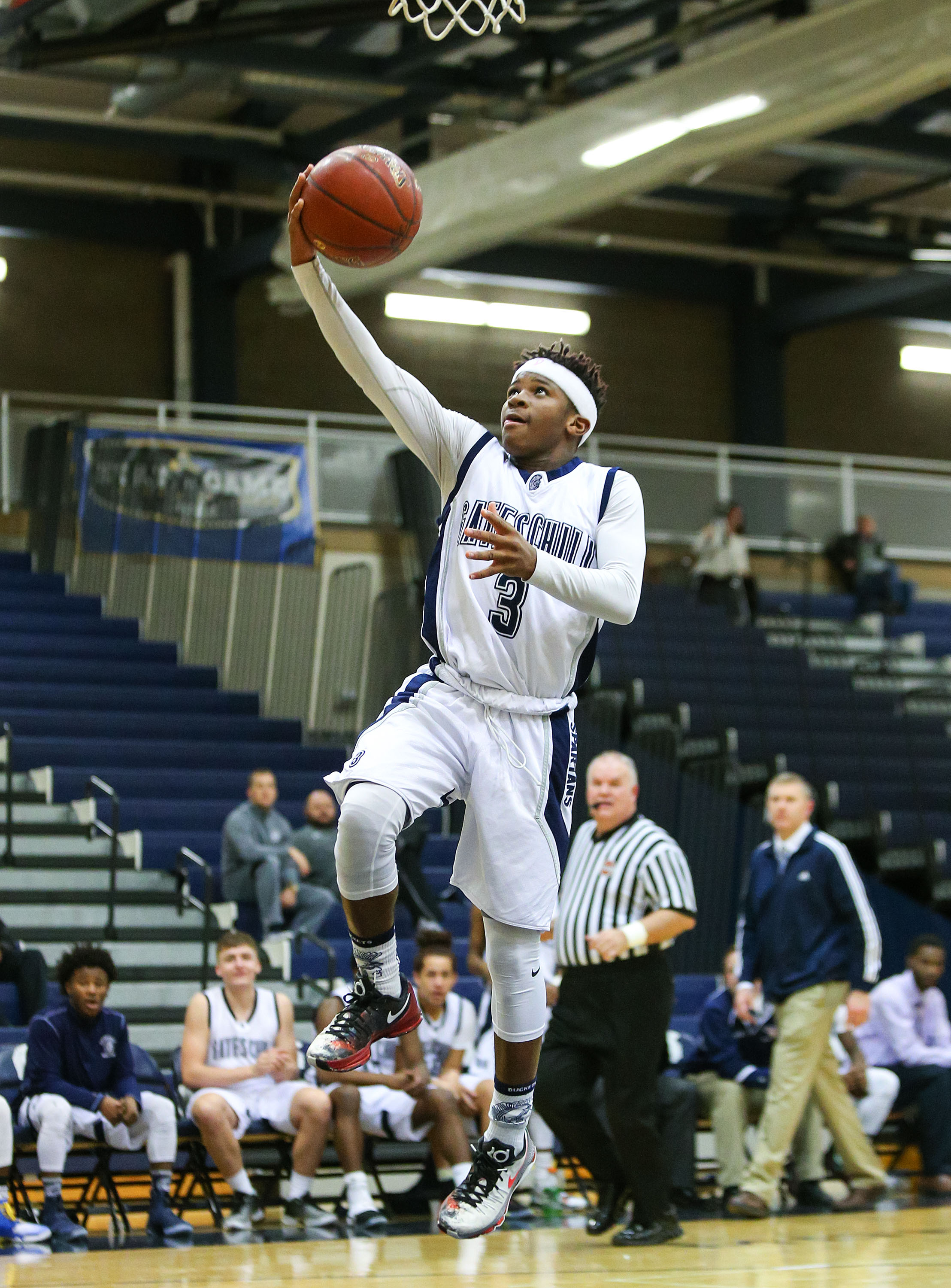 GREECE ATHENA 77
UPREP 73
Nigel Scantlebury netted 28 points and led four in double figures as Athena outlasted UPrep…READ MORE. 
MONROE 65
GATES-CHILI 77
Junior Keith Slack poured in a game-high 33 points to go along with nine rebounds to lead the Spartans. Thomas Jones III recorded a double-double with 17 points and 13 rebounds. Mark Morrison and Traylan McCray each added seven points. Chris Gibson Jr. paced Monroe with 18 points.
VIEW MORE CHRISTOPHER CECERE PHOTOS HERE.
WEBSTER SCHROEDER 46
FAIRPORT 86
Andre Starks hit three of Fairport's seven first-quarter 3-pointers as the Red Raiders took a 29-11 lead after the first eight minutes. Fairport connected 13 times behind the arc as Andrew Bartlett matched Starks with three treys on the night. Starks led four in double figures with 15. Bartlett and Brett Heininger scored 12 apiece. Jackson Sullivan added 11 for Fairport which led 43-18 at half. Nate Hardy paced Schroeder with 11 points. Luke Insley and Ky'mere Meeks scored seven apiece for the Warriors.
GREECE OLYMPIA 63
CHURCHVILLE-CHILI 77
Sophomore Marcus Postell finished with 23 points to lead the Saints to their first victory of season while Griffin Stella chipped in 16 points. Greece Olypmia's William Green Jr. led all scorers with 25 points while grabbing 10 rebounds.
BRIGHTON 58
PITTSFORD-MENDON 65
Matt Powers paced the Vikings to a season-opening victory with a game-best 19 points. Also contributing in the victory were Jacob Shadders 15 points and Dan Cook who went for 13 points to go along with 10 rebounds.  A trio of Barons scored in double figures highlighted by Kendall Clyburn's 16 points and Jack Falter's 15 points.
CANANDAIGUA 67
PITTSFORD-SUTHERLAND 70
Craig Rosen paced three Knights in double figures with 15 points while Kevin Ryan added 14 points and Graham Schild chipped in 10 points  Danny Herrick scored a game-high 21 in defeat for the visiting Braves.
GREECE ARCADIA 45
BROCKPORT 68
Jake Jurhs hit three of his four 3-pointers in the first quarter to pace Brockport to an 18-5 lead after eight minutes of play. Amire Odey scored five in the second quarter and finished with a game-high 18 points. Jurhs added 16 points in the contest. Alex Trostle chipped in nine points for the Blue Devils. Joe Gallery led Arcadia with 11 points. Caleb Barnard and Anthony Morris had seven apiece for the Titans.
EARLY COLLEGE 45
WORLD OF INQUIRY 67
Charles Maurice Brown had 21 points and 10 rebounds to lead World of Inquiry to victory. Frankie Santiago added 14 points and Tremier Dollar had 11.  Prophet Hampton finished with 14 points for Early College.
NE DOUGLAS 57
WILSON-MAGNET 69
Robert Davis and Richard Rollin combined for 13 points, and Wilson-Magnet (2-0) outscored NE Douglass 16-6 in the second quarter to take a 30-16 lead into halftime. Davis finished with a game-high 23 points. Rollin and Desi Floyd scored 12 apiece. Brennan Clark netted 14 of his 18 points in the fourth quarter. Jiahmere Mitchell paced NE Douglass (1-2) with 17 points. The junior guard is averaging 27.3 points per game. Trevion Miller added 12 for the Panthers. Adonis Flagler and Lamar Lovelace had nine apiece.
FRANKLIN 87
SOTA 59
Ethain Clarke DeSouza netted a dozen of his game-high 24 points in the first quarter as SOTA (2-1) raced to a 30-12 lead and never trailed.  Ke'vion Mitchell added 20 points. Logan Hayes had 16 points. Reginald Smith had 13 and Joe Denegal 10 for the Silverhawks which connected on seven 3-pointers in the contest. Tommy Coleman paced Franklin with 18 points. Keeashman Hendrix added 17 for the Quakers.
LIVONIA 62
MIDLAKES 49
Livonia improved to 2-0 with the victory and were led by three scorers in double figures as Barrett Lowe had 18 points, Alex Minnehan 14 and Cody Ullock 12. Midlakes' Bryce Burri scored a game-high 19.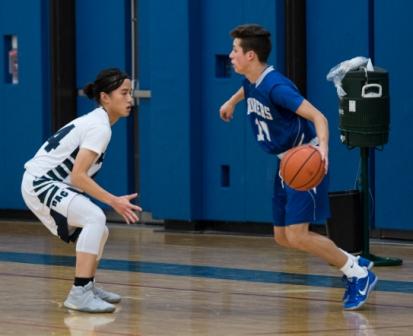 BLOOMFIELD 62
HAC 60
PITTSFORD — In a battle pitting two of the best players in Finger Lakes West, Bloomfield's Patrick Geitner got the best of HAC's Xavier Israel to lead the Bombers to a thrilling 62-60 win over the Wolves, snapping HAC's four-game winning streak. Geitner, the returning FLW Player of the Year,  finished with 23 points and four steals. Israel, a second-team member last year, finished with 23 points of his own and added three steals and two assists.
Bloomfield (1-0) used a 14-2 run to end the first half to head into the locker room up 36-28. Eight of the points were netted by Geitner. The run was aided by many fast-break baskets taking advantage of defensive lapses on the HAC end, which was playing their fifth game
in eight days
.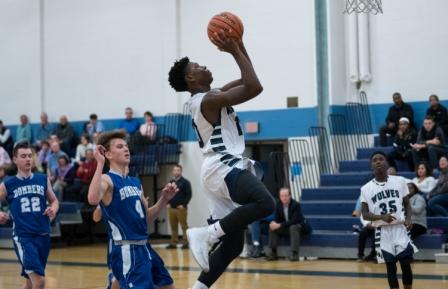 But in the third quarter the Wolves' (4-1) defense got some key stops and scores — 10 points by Israel and eight from Zitong Jin on two big three point baskets — to cut the lead to 53-50 heading into the final stanza. Ryan Hilton, hobbled by a sore ankle, cut the lead to 58-56 late in the game, but HAC could not forge a tie the rest of the way. Alex Roach missed a 1:1 with 2.0 seconds left and HAC rebounded and called time out, but a last second play wasn't successful.
For HAC, Hilton finished the game with seven points, seven assists, three blocks and a career high 23 rebounds while Jin finished with 16 points and seven rebounds. Robert Dorsey added seven points, seven rebounds and two blocks
For Bloomfield, Roach scored a double-double and finished with 15 points, 12 rebounds, four assists and two blocks, while Tanner Kimball netted nine points and Devin Campbell had five points and seven rebounds.
HONEOYE 45 OT
DUNDEE 36
Jon Marble scored 16 points including his 1,000th career point. READ MORE. 
MARCUS WHITMAN 59
NAPLES 49
RED JACKET 41
SOUTH SENECA 42

BARKER 58
HOLLEY 56
ALBION 37
ELBA 47
ROCHESTER PREP PPD.
KENDALL
PERRY 46
HORNELL 64
CALEDONIA 52
MT. MORRIS 47
MT. MORRIS — It doesn't always have to be pretty, but Dan Dickens and the Cal-Mum Red Raiders will gladly take it. Dickens' team (1-0) forced several turnovers and made key free throws down the stretch Wednesday night to rally past LCAA crossover opponent Mt. Morris…READ MORE.
LEROY 69
KESHEQUA 30
Canyon Roster led the Oatkan Knights with 18 points.  While teammates Luke Stella (12), Reece Tresco (10) and Ty Williams (10) all scored in double figures. Nathan Ellsworth and Bryson Mellin each scored 8 points to lead Keshequa.
LETCHWORTH 67
PAVILION 75
ARKPORT 15
CAMPBELL-SAVONA 46

AVOCA 57
ADDISON 62
Addison scored the final ten points of the first half to take a five-point lead into the locker room. Avoca cut the lead to (48-46) but Adam Chilson scored nine straight of his 19 points to put the game out reach. Avoca's LaDre Stanford scored 13 of his 18 points in the fourth quarter.
HAMMONDSPORT 45
CANISTEO-GREENWOOD 42
PRATTSBURGH 95
ALFRED-ALMOND 33