GENESEO, N.Y. — Logan Hayes and Reginald Smith combined for 33 points, and the School of the Arts (SOTA) Silverhawks took the lead with a late 3-pointer in the first quarter and cruised to a 70-34 victory over the Geneseo Blue Devils, Monday night in non-league action.
Hayes snapped a nine-all tie in the closing seconds of the first quarter with one of his three makes on the night from behind the arc. The Silverhawks then used a full-court press in the second quarter to outscore Geneseo 16-3 in the stanza to take a 28-12 lead into halftime on the way to their first victory of the season.
Hayes finished with 16 points on the night. Smith added 17.
SOTA's Joe Denegal came off the bench to score seven of his 13 points in the first half. The junior center added nine rebounds in the game. Ethain Clarke-DeSouza scored 11 of his 15 points in the fourth quarter as the Silverhawks tallied 30 points in the final eight minutes to seal the victory. The freshman guard finished with five rebounds and six steals.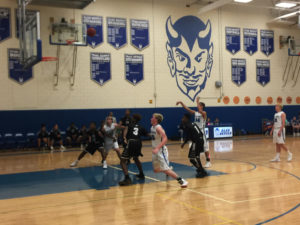 Looking to break through their offensive struggles and the lockdown defense of the press, the Blue Devils came out in the second the half with new life. The rejuvenated play led by senior point guard Daniel Kaye turned into points as they attempted a comeback. Not leading with his scoring but his hustle, Kaye turned steals and turnovers into points for his team including a three of his own. Jake Hamilton connected three times behind the arc and finished with 18 points to pace the Geneseo offense. Geneseo outscored the Silverhawks 13-12 in the third quarter.
SOTA travels to Franklin Wednesday for its next game. A 6 p.m. tipoff is scheduled.  Geneseo (0-3) hosts York for a 7:30 p.m. start on December 15th.