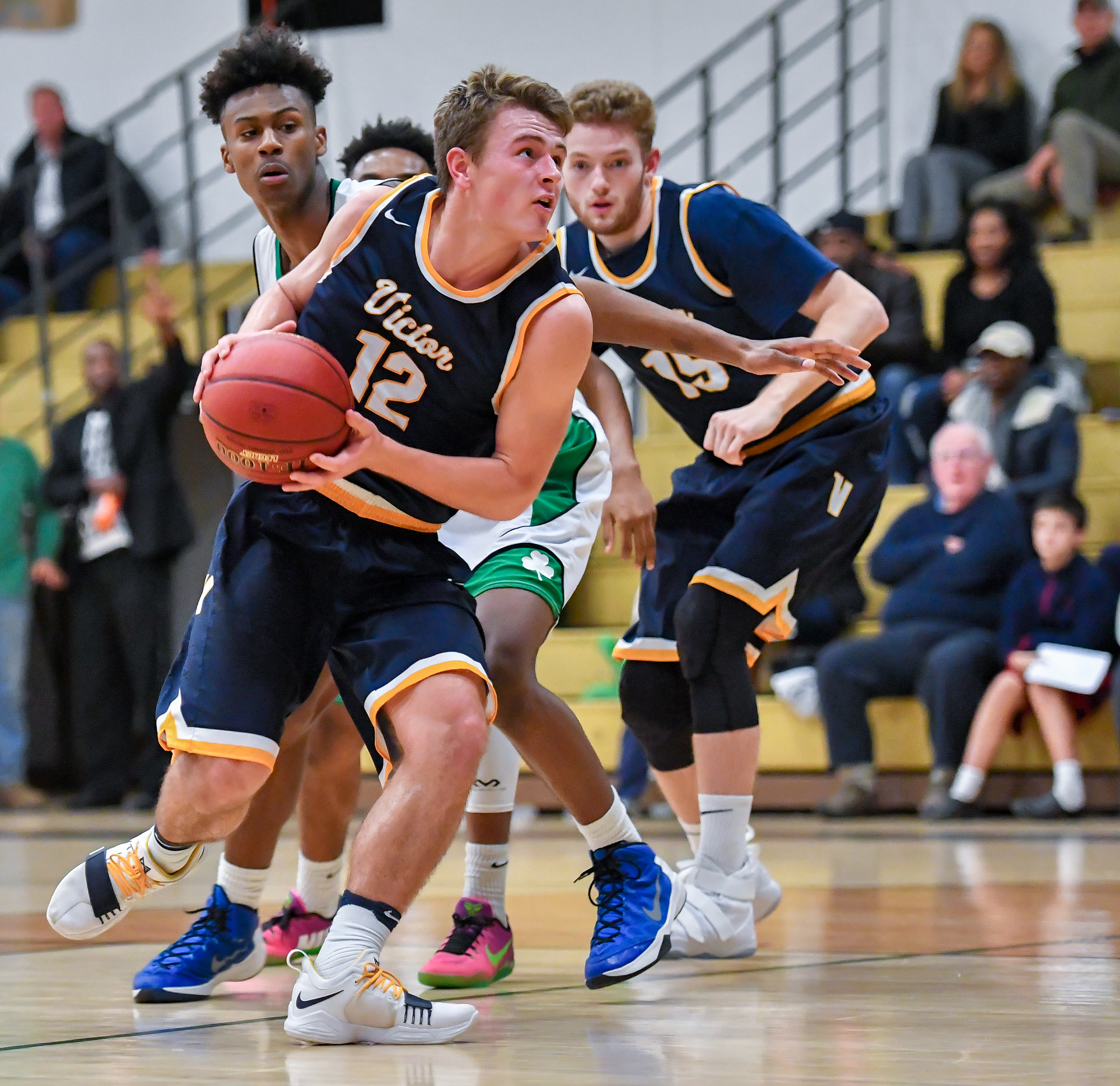 FRANKLIN 51
MONROE 86
Chris Gibson, Jr., a senior, fueled the Monroe win with 22 points. Junior Kerone Kearse assisted Gibson, Jr. with 14 points of his own. Junior Devontae Goins netted 11 points for Franklin. Monroe scored 20 or more points in three of the four quarters, including a game-high 26 points in the fourth quarter. The only quarter in which they did not was the first, when they scored 19 points.
VIEW MORE ROGER HAGAN PHOTOS HERE. 
LEADERSHIP ACADEMY 66
EDISON TECH 59
Less than seven minutes remained in an 11-point game Tuesday night when Leadership Academy's Davon Brown was turned away twice by Edison Tech's Tristan Flowers at the rim. A look of dismay came over Brown's face when the ball squirted through a tangle of arms and legs inside the lane and ended up at the 6-foot-4 forward's feet. Alertly the senior corralled the loose ball and finished off the glass. READ MORE.
EASTRIDGE 75
PENFIELD 66
Tony Arnold's 25 points and Kyndal Taggart's 19 points made them the top two scorers in the game for Eastridge. Terrence Reid also had 12 points for Eastridge. A majority of Penfield's offense came from the trio of senior Bryson Scott (24), senior Isaiah Preston (19) and sophomore Dyllon Scott (18). Eastridge controlled the game throughout the second half, scoring 44 points coming out of the locker room on their way to the win.
VICTOR 37
BISHOP-LUDDEN 67
Nine different Blue Devils scored, but it was not enough as Victor fell behind 24-9 in the first quarter and did not recover. Nic Button connected three times behind the arc in the first quarter and finished with a game-high 17 points to lead the Gaelic Knights. Matt Caggiano led Victor with eight points. Jeremy Summerson had six while Joey Colyer and Connor Keenan tallied five apiece.
WEBSTER THOMAS 45
NEWARK 35
Webster Thomas picked up double-digit performances from senior Will Johnson (11) and sophomore Andrew Mason (10). Mason's lone field goal of the game was a three-pointer in the first quarter, with his other seven points coming by way of free throws. Newark senior Taylor Clements led his team with a double-double (15 points and 14 rebounds), complimented by a 12 rebound performance for fellow senior D'Andre Saunders. Newark kept the Webster lead to 25-24 going into halftime thanks to an 18-point second quarter, but ultimately came up short. Newark's downfall came when Webster held them to two points in the fourth quarter.
VERTUS 40
PALMYRA-MACEDON 52
Senior Sawyer Bloom's 24 points and Logan Ameele's, also a senior, 17 point, 10 rebound double-double propelled Palmyra-Macedon to the win over Vertus. Crashing the boards along with Ameele was senior Travis Snyder, who grabbed 13 rebounds along scoring seven points for Pal-Mac. Junior Jahmel Demery topped Vertus on the night with 23 points, including eight of the team's 13 points in the fourth quarter. Pal-Mac held Vertus to just eight points in the fourth, while scoring 18 points of their own to build an early double-digit.
PENN YAN 80
ATTICA 40
HOUGHTON 29
BOLIVAR-RICHBURG 57
ALEXANDER 41
PEMBROKE 45
ROYALTON-HARTLAND 69
OAKFIELD-ALABAMA 56
WARSAW 46
YORK 68
Junior Matt McFarland led York to the double-digit victory, coming three rebounds short of a double-double, with 17 points, seven rebounds and five assists. Senior Dylan Zambito added 15 points, including going three-for-three from downtown, and fellow senior Walker Major contributed 13 points for York.
Warsaw's scoring leader was junior Dmitri Steele, who posted a 14 point evening. Steele received support in the form of 11 points for senior Ben MacConnell and 10 for senior Dalton Burdin.
"We were able to hold Ben MacConnell without a field goal until the fourth quarter," York head coach Ed Orman, Jr. said. "He's a heck of a player so that was a real accomplishment!"
After outscoring Warsaw by a combined nine points over the first two quarters, York came out of the half firing, outscoring Warsaw 16 to four in the third quarter. This allowed them to enter the final quarter of play with a commanding 21 point lead, and set them up for the eventual 22-point victory.
"We played really hard tonight against an undefeated Warsaw team," Orman, Jr. said. " We really need a win and to get it against a good team like this feels good!"
LYNDONVILLE 42
AKRON 52
Weylon Abrams, a senior, topped Akron with 14 points on the night, helped by a balance of scoring from his teammates. Senior Nelson Logan had eight points, while both senior Owen Hill and freshman Adam Mietz posted seven points. Juniors Matt Hess and Zach Johnson netted 12 points for Lyndonville. Nathan Poler, also a junior, also scored in double-digits for Lyndonville with 10 points. Though they struggled to score to start the game, leaving the first quarter with only seven points, Akron heated up in the second half. A rush of scoring helped them score 21 points in the second quarter alone, heading into the half with a 28-18 lead.
CLYDE-SAVANNAH 80
RED CREEK 46
Clyde-Savannah saw a pair of players post 30+ point evenings en route to their 34-point win. Derrick (34) and Marcus (31) Chance fueled their team's offensive onslaught in the win over Red Creek.
NORTH ROSE-WOLCOTT 50
MARION 63
SODUS 39
EAST ROCHESTER 53
BELFAST 81
HINSDALE 23
Adams Enders dropped 37 points for Belfast in the win. Kevin McCumiskey contributed 11 points and Isaah Leisure added 15. Junior Cameron Carey scored 10 of Hinsdale's 23 points.