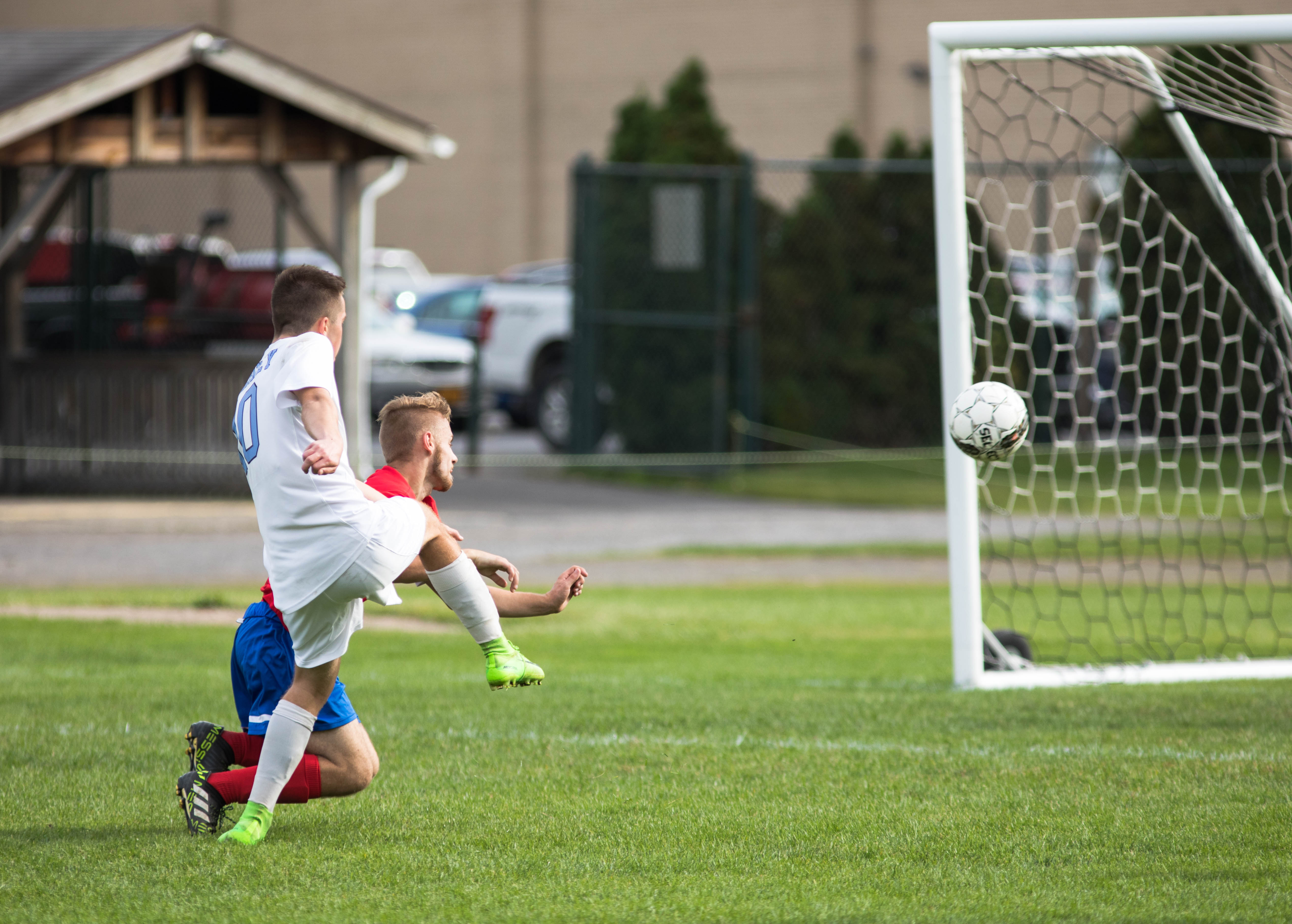 No. 4 Bishop Kearney (11-5-1) vs. No. 9 Red Creek (8-9-1/5-6-1 Wayne League)
How they got here: Red Creek knocked off No. 8 Cuba-Rushford (5-4) and No. 1 Bloomfield (4-2) on its way to the semi-finals. Bishop Kearney shut out No. 5 Campbell-Savona in the quarterfinals, winning 3-0.
Season Series: Bishop Kearney and Red Creek have yet to face each other this season.
Bishop Kearney has won five of its last six games and Red Creek had lost two of its final three regular season games entering the tournament.
Names to Know: Bishop Kearney- TJ Tytler (11 G), Jordan Freed (8 G, 4 A) and David Tierney (70 saves, 21 GA, 1.214 GAA)*
Red Creek- Tristan McIntyre (19 G, 9 A) and Dylan Wood (11 G and 3 A)
Coaches: Tim McIntyre (Red Creek), Stephen Strauss (Bishop Kearney)
History 101 – Bishop Kearney was knocked out of the 2016 tournament in the quarterfinals by Keshequa while Red Creek got eliminated by Byron-Bergen/Elba in the quarterfinals of the Class C1 tournament in 2016. Bishop Kearney's last title came in 2010, sharing the Class CC title with East Rochester. Red Creek won the Class CC the year before, 2009.
A 6 p.m. start time is set for Wednesday at Wayne.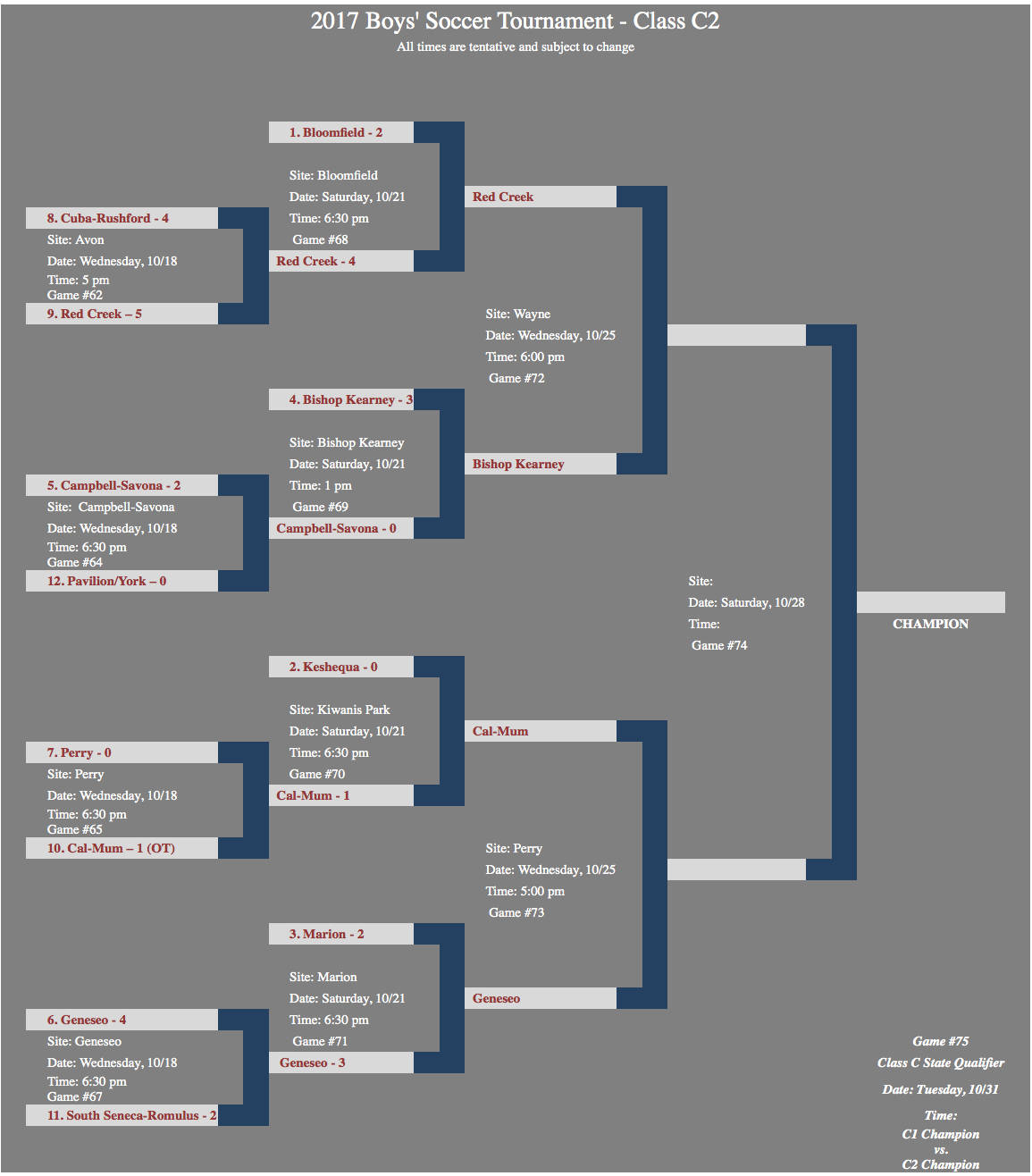 No. 6 Geneseo (9-6-3/2-4-2 Livingston League) vs. No. 10 Caledonia-Mumford (6-11-1/0-6-0 Livingston League)
How they got here: Caledonia-Mumford defeated No. 7 Perry 1-0 in overtime in round one and dropped No.2 Keshequa 1-0 in the second round. Geneseo took out No. 11 South Seneca-Romulus 4-2 to start the tournament, following the win up with a 3-2 victory over the defending champions, Marion.
Season Series: Geneseo took the win 2-1 in the only meeting between the two teams this season, which was played at Caledonia-Mumford on October 2.
Geneseo has not lost since falling to Keshequa on September 30 while Caledonia-Mumford has won its last three games after not having won since September 23 against Canisteo-Greenwood.
Names to Know: Caledonia-Mumford- Jonathan Boilard (7 G, 6 A) and David Morrison (208 saves, 26 GA, 1.596 GAA)
Geneseo- Jack Gagnier (15 G) and Matthew Kreher (42 saves, 6 GA, .619 GAA)
Coaches: Chris Masters (Geneseo), Dave Veltre (Caledonia-Mumford)
History 101 – Caledonia-Mumford was unable to escape the first round of last season's tournament while Geneseo fell to Holley in the 2016 Class C1 quarterfinals. Geneseo has won the sectional title five times since 2009 and Caledonia-Mumford has yet to win a section title in soccer.
The two teams will meet on Wednesday at Perry, beginning at 5 p.m.