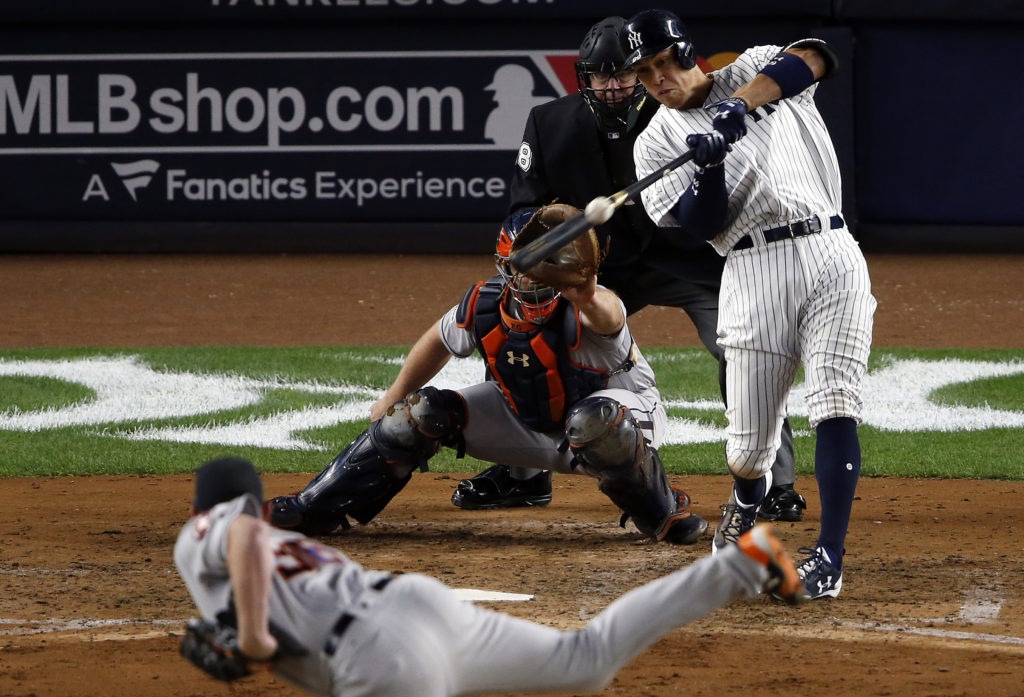 HOUSTON ASTROS (2-1) 1
NEW YORK YANKEES (1-2) 8
BRONX, NY– Aaron Judge and Todd Frazier both hit a three-run home run, giving Judge his first hit of the series and Frazier his first career postseason home run. C.C. Sabathia tossed six scoreless innings for the Yankees, allowing three hits and four walks while striking out five. Adam Warren gave the Yankees two scoreless innings in relief, giving up no hits, one walk and fanned one.
Frazier was the seventh Yankee to hit his first career postseason home run this season. Sabathia improved to 10-0 when starting after a Yankee loss this season, becoming the first pitcher to do so since Whitey Ford. It was also the first scoreless playoff start of Sabathia's career. Chase Headley contributed an RBI single for the Yankees, the first hit by a Yankee designated hitter this postseason.
Collin McHugh threw four scoreless, hitless innings in relief for the Astros, walking one and punching out three.
Judge also contributed on defense for the Yankees, robbing the Astros of potential extra base hits with a pair of catches. The first came to start the top of the fourth inning when Astros' designated hitter Yuli Gurriel drove the ball deep into right field. Judge retreated to the warning track and, showing little regard for his own body, leaped to make the catch and slammed into the wall while holding on as he fell.
The second catch came in the following inning. With a runner on first base, Astros' left fielder Cameron Maybin blooped a ball into shallow right field that appeared destined to fall for a single. But Judge, running with a full head of steam, dove to make the catch just before the ball hit the ground, holding Josh Reddick on first base.
The Yankees and Astros will return to Yankee Stadium Tuesday for game three. The Yankees will send Sonny Gray to the mound and the Astros are expected to start Brad Peacock.
TUESDAY'S SCHEDULE:
HOUSTON ASTROS vs. NEW YORK YANKEES (Game 4) 5:08 p.m.
LOS ANGELES DODGERS vs. CHICAGO CUBS (Game 3) 9 p.m.