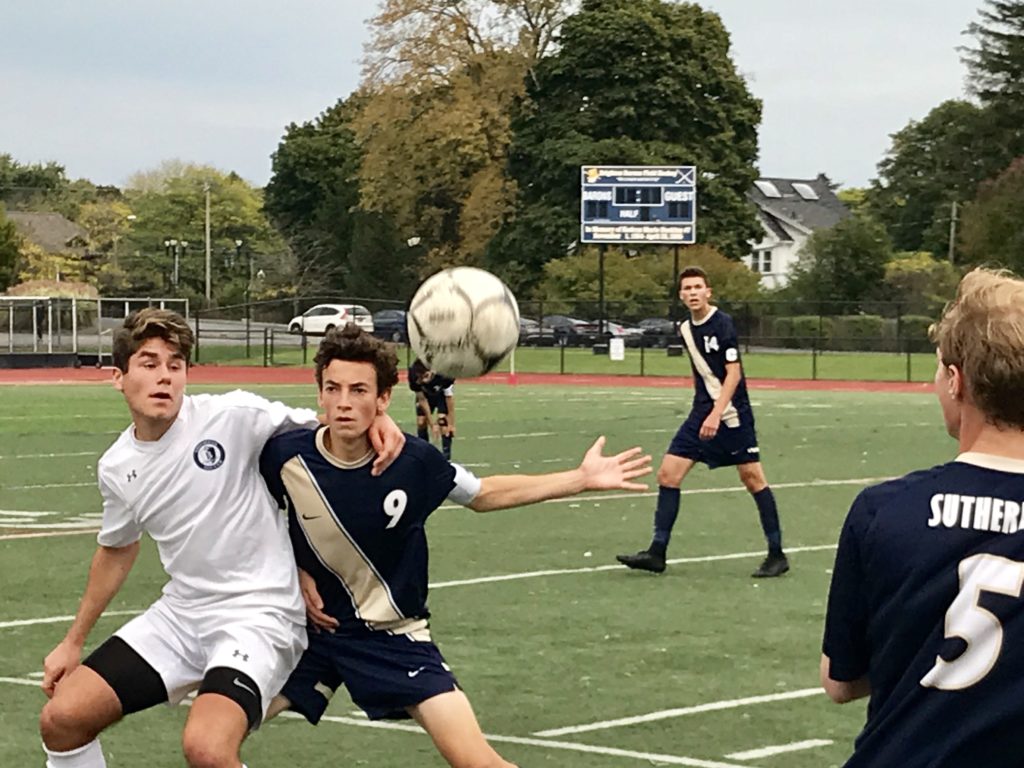 Brighton 4 Pittsford-Sutherland 0
Brighton improved to 8-1-0 (12-1-0 overall) with the win and cut the magic number to one for clinching their first division title since 2013. READ MORE.
Greece Arcadia 2 Webster Thomas 1
Sergio Garcia and Tyler Lewandowski scored a goal apiece as Greece Arcadia ran its record to 9-3-2 (7-1-1 Monroe County Division II). Cameron Misiurewicz and Jose Santiago added an assist apiece.
Penfield 1 Victor 0
Milton Birmajer scored the lone goal of the game, a second half tally assisted by Tahj Mounnarat. The goal was Birmajer's second of the season as was the assist for Mounnarat. The shutout was Penfield's second of the year. Penfield is now 3-6-0 in Monroe County Division I with Victor a point ahead at 3-5-1.
Honeoye Falls Lima 5 Batavia/Alexander 2
Parker Hotchkiss tallied two goals for HF-L, bringing his season goal total to 14. Jack Emerson, Hayden Smith, and Ben Dale each scored a goal a piece for the Cougars while Gunner Wetzel added two assists. With the win, HF-L finishes undefeated in Monroe County Division IV at 8-0-0.
Brockport 2 Greece Athena 1
Vander Hart scored with 28:13 remaining, and Brockport improved to 7-1-1 in Monroe County Division II and 12-1-1 overall. Zach Wharram gave the Blue Devils a 1-nil advantage in the first half.
Pittsford Mendon 3 Canandaigua 0
Connor Krapf opened the scoring for Mendon with a 37th minute goal, his first of the year, to take a 1-0 lead into halftime. Matt Bamford (Fifth) and Alex Morley (Third) added second half goals to bring the final to a 3-0 shutout, the Vikings second of the year.
Rush Henrietta 3 Gates-Chili 1
Hunter Kassel scored two first half goals, both assisted by Zein Mohamed, to help the Royal Comets to a Friday win. Kassel and Mohamed now have five and four goals on the season, respectively. Gabe Foltz added another Comets' goal, his first of the year. Rush Henrietta and Gates-Chili are now both 3-6-0 in league play.
Eastridge 3 Greece Odyssey 2
Aquinas 2 St. Francis (VI) 1
Josiah Fragnito and Gian Malcom found back of the net, and Aquinas (7-5-1) won its second straight game. Aiden Kopacz and Luke Putnam had an assist apiece.
Bishop Kearney 4 Northstar Christian 0
Ramsey Daymon scored twice and added an for Kearney (8-4-1). Fernando Furioso and Jordan Freed collected a goal and an assist apiece.
McQuaid 1 SOTA/NW/NE 0
Nick Bonfiglio scored with an assist from Dan Malloy for the Jesuit Knights.
Greece Olympia 3 Wilson Magnet 0
Brandon Bruno, Gidyon Chane and Guy Kadge tallied a goal apiece for Olympia (8-5-1). Saeed Shaibi collected two assists. Ceasar Castillo made two saves.
Bath-Haverling 2 Livonia 1
Logna Ingraham netted the game winner in the 58th minute as Bath-Haverling, No. 6 NYS Class B, came from behind to beat Livonia (12-3-0) for a second time this season. Kyle Feldman gave the Bulldogs a 1-nil edge in the 15th minute with an unassisted goal. Noah Hill answered 18 minutes later for Bath-Haverling (12-1-1). Thomas Binkowski assisted on the game winner. Binkowski leads the Rams with 10 goals and five assists. Livonia ranks No. 7 NYS Class B.
Naples 12 Midlakes 1
Cole Rathbun collected four assists including three in the first half as Naples, No. 2 NYS Class D, sprinted to an 8-0 lead at the break. Rathbun also added a second-half tally. Whalen Jensen and Stefan Radak scored two goals apiece for Naples. Evan Bay chipped in with three assists. Adam Quarterman, Tim Brautigam, Ethan Emmons, Aiden Peterson and Jacob LaPrarie added a goal apiece in the first 40 minutes. Luke Didion and Spencer Hunter scored second-half goals.
Belfast 3 Scio 1
Adam Enders scored twice for Belfast, No. 13 NYS Class D. McKenzie Cox added a tally and Hunter Enders an assist. Carter Scholla scored the lone Scio goal. Belfast is 13-1-0 on the season.
Pal-Mac 2 Mynderse 1
Jake Gallina netted a golden goal in the first overtime and Pal-Mac, No. 25 NYS Class B, improved to 10-3-0 (8-1-0 Finger Lakes) on the season. Nick Sapienza opened the scoring in the fifth minute with an assist from Gabe Martinez. Matthew Reardon leveled the score for Mynderse midway through the second half. Alex Wahl assisted on the game winner for Pal-Mac.
Wheatland-Chili 2 Byron-Bergen/Elba 1
Joey Sutherland collected a goal and an assist as Wheatland-Chili (8-5-0) upset Byron-Bergen/Elba ranked No. 12 NYS Class C. Troy Smith scored the eventual game winner. Anthony Rosado added an assist. Kyle Foeller had the lone Byron-Bergen/Elba (14-1-1/8-1-1) tally with an assist from Wade Thompson.
Mount Morris 3 World of Inquiry 1
Steve Soto had a goal and an assist as Mount Morris, ranked No. 9 NYS Class D, scored three second-half goals. Colin Brickwood and Collin Young added a goal apiece. Josh Hart had an assist for Mount Morris (11-2-1). World of Inquiry is 9-4-0.
SATURDAY
Hilton 1 Fairport 0
Justin Arilotta connected on the game winner in the second overtime, and the Hilton Cadets clinched the Monroe County Division I title – the first such title in program history since 2003. READ MORE.
Irondequoit 3 Webster Schroeder 1
Caleb Felton and Obed Berhe netted first-half goals as Irondequoit won its first game of the season. Mason DeLuca added a second-half tally for the Eagles. Islet Domac had an assist.
Bishop Kearney 4 Kendall 0
Caleb Baraka scored twice including a first-half tally to give Bishop Kearney a 1-nil advantage at the half. TJ Title added a goal and an assist for BK, 9-4-1 on the season. The Kings have won three straight and undefeated in their last seven. Jordan Searles had a goal. Fernando Furioso, Ramsey Daymon and Yaak Awuok added assists.
Jasper-Troupsburg 2 Campbell-Savona 0
Connor VanGorden found the back of the net twice in the second half for Jasper-Troupsburg, ranked No. 15 NYS Class D. Ashton Perkins chipped in with an assist.
C.G. Finney 3 HAC 1
Ian Lau Atencio had a hat trick to lead C.G. Finney (9-2-1). Joseph Tomlinson and Keegan Ocorr added assists. Jaden Sowell scored the lone HAC goal with an assist from Nick Schultze.
Lima Christian 1 Bradford 0
Jordan L'Esperance scored the  game winner in the 18th minute.