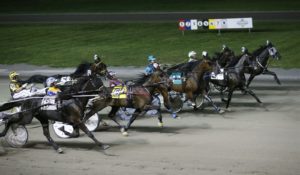 By Kevin Oklobzija
Spot Play Hot Plays for Sept. 22/23 at Batavia Downs
Unfortunately, I don't see many possible price plays for Friday.
Friday
Race 1
The Billings amateur drivers series kicks off the card, and in these events it's not just horse but also the driver, since these guys don't drive for a living, and some are clearly better than others. I'll play exacta boxes off No. 4 Signal Hill OK (2-1 morning line) with Joseph Lee driving. He works as a clubhouse attendant for the New York Yankees and has by far the best record among the amateurs. Use with the 1 (Grecale As, who will be even money but has gone off-stride in two of his past three races) and the 5 (Christina Victory).
Race 5
No. 1 Way To Go Fabieo (5-2 morning line). Sorry, no price here but seems like the only one that can win unless the 2 (Wrangler Rockstar) improves greatly in the new barn. Way To Go Fabieo plunges in class, gets the rail and Kevin Cummings jumps back into the bike.
Saturday
Race 5
No. 1 Jet Airliner (4-1 morning line). Finally draws the rail, and it seems logical to think he'll either cut the mile or trip out from the pocket.
Race 10
No. 7 One Chaser (10-1 morning line). Dominated the $4,000 claimers and found the $6,000 claimers a tick too tough. Now in for $5,000. Will be firing off the gate and, if no one leaves inside, then it's a 7-1/1-7 lineup.
Recapping the Wednesday SPHPs
Race 3 Stargazing Cruiser. Moved up first over against the 4/5 favorite Tinker Taxi, dropped into the pocket up the backstretch but couldn't get past the front-runner. Settled for second at 6/5.
Race 7 Kruella. Pulled first over heading to the three-quarter marker, put away the favorite but All Charged Up had the easiest race of her life, maybe. She never left the cones and zoomed up the passing lane to win. Kruella was second as the 2-1 second choice (bet down from 8-1 morning line). The exacta was still a more-than-fair $21.60.
Race 9 Barefoot Bluejeans. Ended up with a expected second-over trip but simply wasn't good enough. The horse he followed, Dream Shark, wore down front-runner Enzo Seelster to win. BB settled for third.