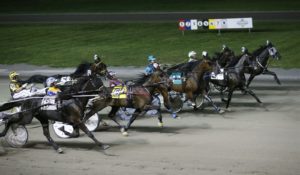 By Kevin Oklobzija
The Spot Play Hot Plays for Monday at Batavia Downs.
Race 2
No. 6 Can U Be Fun (9/2 morning line). If, and it's a big if, but if the 3 (Girls Luv Diamonds) and the 5 (Kisses N Kicks) both leave, then this becomes a closer's race, because Doug Bowins at the rail with Watt A Funny Face surely isn't letting two horses go. That would be ideal to set up the closing kick of Can U Be Fun.
Race 4
No. 6 Bred to Race (5-1 morning line). Took a five-week break and came back to race huge last week. He went off the 7/5 favorite and make a strong three-wide brush at the three quarter-marker to finish second in a race that went 1:55.3. He should be even better this week.
Race 8
No. 4 A Weekend (4-1 morning line). Ships in from Tioga for trainer Joe Skowyra, who has done well here (6-6-3 in 29 starts). Has speed to gun to the lead if Drew Monti so desires.
Race 9
No. 1 Maradona (5-2 morning line). Best bet of the night and maybe the week. Claimed by J.D. Perrin for $20,000, he drops into the optional $10,000 because he fits the optional condition (non-winners of $3,250 last five starts). The move to the top barn is one reason to love. The drop in class is another. The rail is a third. The only negative: the price will be short, short, short.
Recapping the weekend SPHPs
Friday
Race 1 Egosnattitudes. Winner. Was on the outside grinding for better than half a mile but it didn't matter, he was still the best. Paid $3.80 to win.
Race 4 Lucky Nadotremblay. Winner. Jim Morrill Jr. used a secondary leave to get the top and never looked back; well, maybe to see where everyone else was. Paid $3.40.
Race 10 Bettor's Night. From 3-1 morning line to 1/2 at post time. Couldn't get near the leaders, however, and settled for third.
Saturday
Race 2 Sunset Sid. Winner. Left, allowed Mr. Sessor to take the lead, and rode the pocket until the stretch, when he zoomed away in the passing lane to win by two widening lengths. The 3-1 morning line eroded to 4/5 favorite status by post time, however.
Race 3 Bakken. Not my greatest of picks. I didn't expect him to win but I thought he could make the gimmicks. Very wrong. He got away eighth from the six-hole and was never a factor. While he closed in :27.3,  but so did everyone else.
Race 9 Busy Doing Nothing. Winner. Left alertly and posted a wire-to-wire score at a healthy $6.60. Once again, Trooper Jim was the odds-on favorite (1/2) and once against Trooper Jim went off stride as the race began. The strategy with any race involving Trooper Jim is simple: Either you bet another horse, or you don't play the race.