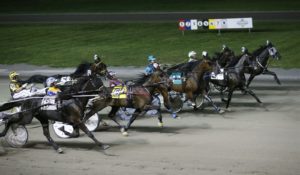 By Kevin Oklobzija
Spot Play Hot Plays for the weekend at Batavia Downs
Friday
I'm going to try to make the early Pick 5 a Pick 3 with two singles.
Race 1
No. 6 Egosnattitudes (9-5 morning line). Quite simple. If he trots the mile, he wins. He has already trotted a sub-1:57 mile here, and that included a three-wide sweep.
Race 4
No. 4 Lucky Nadotremblay (5-2 morning line). After a seven-week freshening, he had his return start on Sept. 9. Now plunges to the bottom level, where he may have never raced before and faces a VERY unimpressive field. It honestly seems too good to be true, but the condition allows this plunge and Jim Morrill Jr. will be driving. Plus, the morning line choice is a mare against the boys. Beat this one and the Pick 5 probably carries over.
Race 10
No. 5 Bettor's Night (3-1 morning line). Claimed last week by Rose Russo, I'd expect big-time improvement and front-end victory. Don't leave out the No. 7, Part Time Lady, who drops to the $4,000 claiming level and will be closing.
Saturday
(Riding the Ray Fisher Jr. bandwagon, as it turns out)
Race 2
No. 5 Sunset Sid (3-1 morning line). The 3, Mr. Sessor, was an impressive winner in his Batavia debut, but that was against infinitely weaker than Sunset Sid has been facing. 'Sid also is pretty sharp now, and the price will be much more inviting than the favorite.
Race 3
No. 6 Bakken (8-1 morning line). Tons of back class on this guy, and now it's third off the layoff. I'm not sure he gets up to win, but he's my key horse in exactas and tris.
Race 9
No. 4 Busy Doing Nothing (5-2 morning line). Her Batavia debut came in a New York Sire Stakes event on Sept. 6 and now she's in a low-range condition race. Trooper Jim, the morning line favorite, is simply too unreliable to ever play. I'll take the stakes filly, and the better price.
Recapping Wednesday's SPHPs
Race 1 Arch Credit. Was looking great heading into the final turn. Arch Credit was 10-1 and sitting in the pocket behind the favorite. Unfortunately, he went off stride.
Race 2 Larjon Laura. WINNER. Right down the road at 3-1, winning for Ron Beback Jr.
Race 6 Letsgosomewhere. WINNER. Namely, let's go to the winner's circle (paying $8.80).
Race 12 Mayabelle. WINNER. Rode the pocket to victory. The 6-1 morning line eroded to 9-5, however. But a win is a win, even at $5.90.