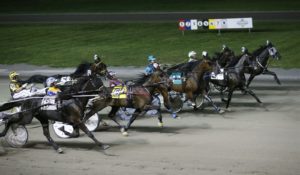 By Kevin Oklobzija
The New York Sire Stakes series makes its final trip to Batavia Downs for 2017, and some of the big boys among the 3-year-old trotting colts and geldings are making the trip.
That means there will be a class of titans in the $60,200 third race, when Yonkers Trot winner Top Flight Angel takes on Hambletonian finalist Guardian Angel As.
Andy Miller will drive Top Flight Angel, who got his nose past Yes Mickey in the $500,000 Yonkers Trot final.
Jason Bartlett drives Guardian Angel As, who won his elimination for the Yonkers Trot but then went off-stride at the start of the final. He also was part of the Hambletonian controversy; he was the horse that David Miller knocked off-stride in the stretch. Miller and What the Hill won the Hambletonian … then were disqualified and placed last because they cut off Bartlett and Guardian Angel As.
Also coming in to drive in the sire stakes events: Jim Marohn Jr. and Daniel Dube.
Here are the Spot Play Hot Plays for Wednesday:
Race 1
No. 6 Arch Credit (5-1 morning line). Gets the outside post (7) but drops out of a sire stakes event into the Excelsior A. He's been facing the best so he may be worth using.
Race 2
No. 4 Larjon Laura (4-1 morning line). Drops a notch and, unless the two recent shippers from the Meadows improve dramatically from their first starts, she should be heard from.
Race 6
No. 1 Letsgosomewhere (5-1 morning line). After outside posts the past three weeks, she draws the rail and may get the dream pocket trip behind Quicksilvercandy A.
Race 12
No. 1 Mayabelle (6-1 morning line). The past two starts have been from the 6-hole and 8-hole. Now she has the cones, plus gets Larry Stalbaum in the bike. The exacta could be as easy as 1-2, 2-1.
Recapping Monday's SPHPs
Race 1 Doing Some Damage. Right down the road at 8/5, cutting the mile and holding off favored Bred to Race (7/5) to win.
Race 2 City Kid. Went off as the 4/5 favorite but was hung out to the quarter because two horses inside also left. Still, he led until the last 20 yards, when the rail-sitting Order By Commander took advantage of the ground-saving, energy-saving trip to win. City Kid finished second.
Race 6 Skyway Hurricane. Went off as the 7/5 favorite, got away third and had very little pace. Finished an unimpressive fourth.
Race 10 X Spinsive. How did I ever think this horse had a shot? Went off at 6-1, should have been 60-1. Had very little pace and raced near the back of the bus the entire mile.