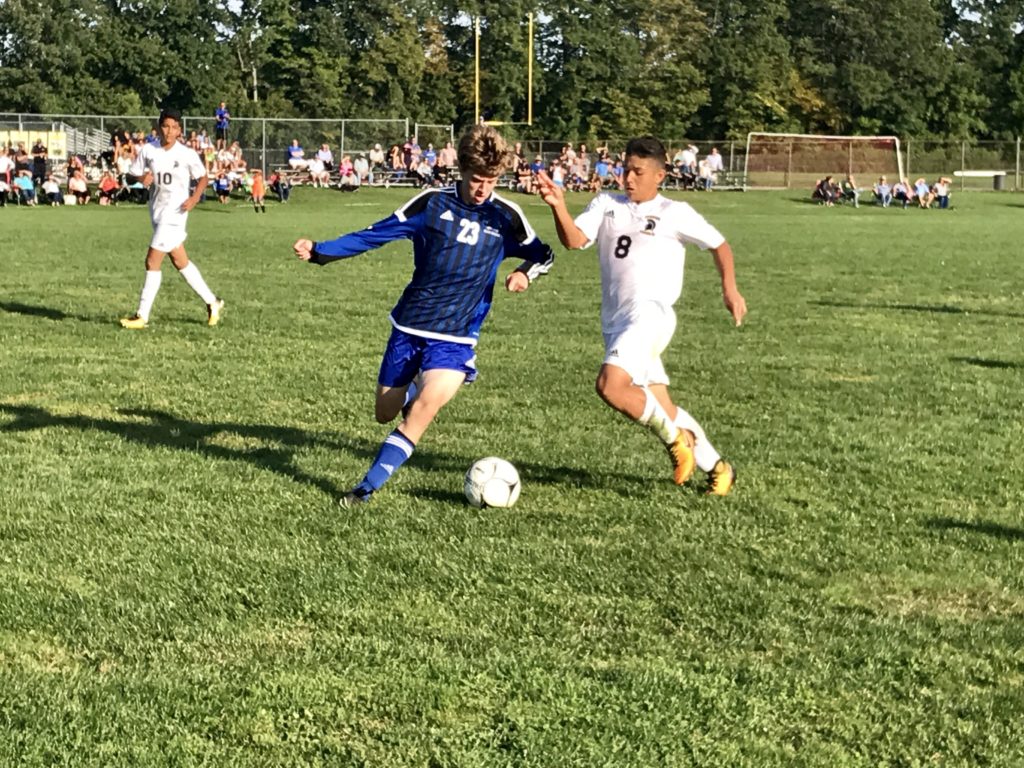 Honeoye Falls-Lima 3 Batavia/Alexander 0
HFL and Batavia Alexander were tied 0-0 at the half, but HFL came out strong in the second half and put up three goals. Matthew Bond, David Goetz, and Justin Hoffman all tallied as HF-L improved to 5-2-0 on the season and 3-o-0 in Monroe County Division IV play.  The Cougars have won three of four. Goetz also added his fifth assist of the year.
Fairport 1 Hilton 0
Rorie Simpson scored in the match's second minute, and Fairport (4-1-0) handed Hilton (4-1-0) its first setback of the season. The shutout was the second straight for Fairport. The rematch takes place at Hilton on October 7th.
Brockport 0, Greece Athena 0
Brockport (5-0-1) and Greece Athena (4-1-1), two teams with one loss between them, played a match worthy of their records. READ MORE.
Eastridge 4, Greece Odyssey 2
Eastridge jumped out to an early 2-0 lead with goals from Matt Stefaniw (20th minute) and Jordon LeBlanc (30th minute), but Oddysey's Dylan Ange cut that lead to one with a 37th minute goal, his seventh of the season, to take the game to halftime 2-1. LeBlanc added two more goals in the second half for the hat trick, totaling nine on the season. Stefaniw's goal was his 10th and also tallied an assist, his seventh. Garrett Delves assisted both first half goals for Eastridge, his fourth and fifth of the year. Eastridge improved to 5-1-0 on the season.
Churchville-Chili 3 Spencerport 1
Churchville-Chili scored three first half goals to lock down the win, with two from their leading scorer, Aaron Blondale, his third and fourth of the year. Parker Zah added Churchville's other goal, his second of the season, and also assisted Blondale's second goal, his second assist of the season. Justin Hockenberger netted Spencerport's tally with an assist from Vincent Ranieri. With an overall record of 6-0-0 C-C remains one of two undefeated teams in the Monroe County League. Brockport is 5-0-1.
Webster Thomas 1 Greece Arcadia 1
Owen Ledermann scored his first goal of the season for Webster Thomas in the 22nd minute. Chris Colilli tallied his third of the season for Arcadia with an assist from Jose Santiago. Arcadia (3-1-2) is 3-0-1 in Monroe County Division II.  The Titans square off with Churchville-Chili Friday night at Roberts Wesleyan in a battle for first place in the division.
Webster Schroeder 2, Irondequoit 1
Colin Merkey converted a first-half penalty, and Alex Ortiz netted the game winner in the 74th minute as Webster Schroeder won its first game of the season. Emir Erkenkalken scored Irondequoit's goal.
Victor 2 Penfield 1
Jordan Bailey tallied twice including the golden goal in the 96th minute as Victor (2-4-0) won its second straight game and pulled into a tie with Penfield for third place in Monroe County Division I with a record of 2-2-0. Bailey has three goals on the season.
Brighton 2, Pittsford Sutherland 0
Conor McQuillan scored his second goal of the season in the game's eighth minute. It was the only goal Brighton needed as the Barons notched their second shutout in the last three games. Gabriel Barraclough added a second half goal, his fourth of the season, assisted by McQuillan. Brighton (5-1-0/3-1-0) has allowed just one goal in the past three games.
McQuaid Jesuit 8, Wilson Magnet 0
Dan Malloy collected a goal and two assists for McQuaid (5-0-0/2-0-0) as the Jesuit Knights remained undefeated in RCAC play. Malloy has four goals and five helpers on the season. Dominic Duncan added two goals, totaling seven on the season. McQuaid has yet to allow a goal this year, posting their fifth consecutive shutout. Justin LaFountain, Mark Croop, Vincenzo Capezzuto, Kumar Shimmery and Chris Maenza added a goal apiece for McQuaid. Brennan Brown, Nick Pierloni, Carter Moore, Croop and Maenza each chipped in with an assist.
Bishop Kearney 2 C.G. Finney 0
Fernando Furioso and TJ Tytler tallied second-half scores, and Bishop Kearney improved to 3-2-0 on the season.
Greece Olympia 2 Geneva 1
Gidyon Chane delivered the game winner in the 89th minute with an assist from Saeed Shaibi, and Greece Olympia (2-2-1) won its second straight game. Shane had the helper as Azis Lomidze spotted the Spartans a 1-nil edge in the 13th minute. Fadly Kafrawi netted the equalizer in the 36th minute for Geneva. Baka Bekauri assisted on the play.
Northstar Christian 7 Vertus 0
Daniel Miller scored once and collected three assists as Northstar Christian (1-3-0) won its first game of the season. Josh Pickett scored twice for the Crusaders. Matthew Williams had a goal and two assists. Daniel Pickett and Kevin Anderson chipped in with a goal and an assist apiece. Joe Hinds added a goal.
Rush Henrietta 4 Gates-Chili 3