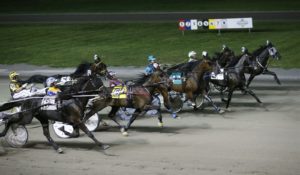 By Kevin Oklobzija
First, a horse on my watch list from the Saratoga meet is in at Belmont Park:
Sunday
Race 4
No. 7 Lucullan (no odds posted as of Thursday). Was entered to race Saturday at Saratoga but, as an also-eligible, he didn't get in. That may actually be better, since he's a closer and he fought a strong front-end bias on the Saratoga turf.
Why to like him: Was airborne in the stretch to finish third on July 30 and galloped out impressively. The winner of that allowance race came back with a black-type fourth-place finish in the West Point on Aug. 25. The fourth-place finisher, Kantune, won in this same class on Aug. 20.
At Batavia Downs
(Note: Sunday racing at Batavia has ended for the season, replaced by Monday through Sept. 18. Then comes the shift to a schedule of just Wednesday-Friday-Saturday through Dec. 16.)
Friday
The New York Sire Stakes series for 2-year-old filly pacers takes center stage.
Race 5
Sorry for the short price but it doesn't look like this race can be anything but 1-5/5-1. Box Casie's Believer and With Wings and parlay the tiny profit into something later.
Race 6
No. 2 Twin B Halo (15-1 morning line). Let's take a shot here that Twin B Halo can slide into the tri or exacta. Third time in the Andrew Harris Barn, she closed stoutly last week at Yonkers in her first try against state-breds. Hopefully Jason Bartlett can work out a trip.
Race 7
No. 4 Heaven's Diva (15-1 morning line). Admittedly this is a stretch, but perhaps worth it. She made her first four starts in the NYSS series and paced in 1:55.3 at Vernon Downs in her debut. Wasn't competitive at the top level, but has found her form — and confidence — on the fair circuit. Simply needs to shave a second or so off her qualifying time and she'll be in the mix of this Excelsior A race.
Race 11
No. 5 Before I Die (5-1 morning line). Drops a notch and trots 1:58-and-change every week. That's good enough to win this race, especially with live cover from Snapshot Springs.
Saturday
Race 9
No. 5 Lenny Mac (7-2 morning line). We can assume No. 3 Christina Victory will improve off the claim by J.D. Perrin, but Lenny Mac is well worth using first and second in exactas.
Race 13
No. 3 Idbegoodatthat (4-1 morning line). In a field filled with horses that haven't won or have gone off form, let's go with the newcomer, especially since trainer J.D. Perrin has a solid history of winning with new acquisitions.
Recapping Wednesday's SPHPs
Race 5 Glow Stick. Left from post 7 but it was a slow grind to the top, finally making the lead in a parked-out :27.3. She then looked fumbly-gaited heading to the 5/8th marker and caved down the backstretch. At odds of 3-1, she beat one horse, the one that broke before the gate.
Race 10 Machin Marley. Went right to the top as the 2-1 second choice but the half was fast :56.3 and she was no match for a first-over Drinkn N Dancin (14-1). Managed to hang on for third.