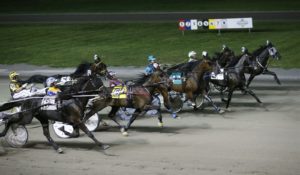 By Kevin Oklobzija
Spot Play Hot Plays
For weekend of Aug. 25-26-27
Saratoga
First off, three beat-the-favorites plays for Travers Day at Saratoga on Saturday, including one in the Travers Stakes where 12 are entered.
Race 3
A two-for-one SPHP in No. 6 Fortune Cookie (8-1 morning line) and No. 8 Strike Me Down (5-1 morning line). Fortune Cookie gets a rider change to Jose Ortiz (that's GOOD) and stretches out from a sprint to a route for his second career start for trainer Bill Mott. Figures to show speed, and the double probables starting in the second race should show if he's live. Strike Me Down, meanwhile, is making his career debut for Graham Motion, who wins at 20 percent with firsters. The morning-line favorites (Nos. 9 and 10) have experience at the distance, but neither was bet like a good thing in their debut race.
Race 5
No. 2 Syacamore Lane (8-1 morning line). Granted, this is a bit of a reach since he hasn't raced since July of 2015, but there's some reasoning. Bill Mott wouldn't enter the horse unless he was: a) fit, b) healthy, c) competitive. And before his two-year break, he was dominating this level of competition to the degree that he earned a shot in the Grade I United Nations at Monmouth. No dragon slayers in this field, so I think he's worth using in Pick 3s.
Race 8
No. 2 Takaful (5-1 morning line). Jose Ortiz is aboard for trainer Kiaran McLaughlin, who is having a dynamite meet. A bullet work on Thursday has him primed and ready to flaunt speed, and while he wanted no part of route races, the 7 furlongs is fine. His prep on July 21 was enough to convince me he can win today.
Race 11 — Travers Stakes
No. 5 Good Samaritan (5-1 morning line). Riding the Bill Mott train today. This son of Harlan's Holiday was a monster in winning the Jim Dandy on July 29, and his work on Aug. 20 was ultra-impressive. The hands of the rider never moved, and yet he still drew off. I'm using in Picks, and playing a three-horse exacta box with No. 3 West Coast and No. 4 Tapwrit.
Now for Batavia Downs
Friday 
Race 6
No. 3 Farmerssixfournine (3-1 morning line). Coming off a sparkling qualifier, he drops to the bottom level and faces a field with six mares. He simply should pace faster, as long as he paces.
Race 7
No. 1 Barn Winner (6-1 morning line). This is a nice 3-year-old for trainer Steve Pratt. He faces the best at the track, but the rail plus his speed may be the equalizers.
Race 10
No. 7 In Runaway Bay N (6-1 morning line). Drops to the bottom condition after a parked-out mile against tougher. He still paced 1:57.2 despite the overland route. The rail horse, Proud Blue Hay, is the 2-1 favorite but why? He hasn't hit the board all year. Shop for value in the last leg of your Pick 3 and use both the 4 and 7.
Saturday
Race 1
No. 5 Rockin In Heaven (9-5 morning line). You won't get a price, that's for sure, but take the money. Ships down from Mohawk for Ian Moore. Gets Jim Morrill Jr. Seems unbeatable.
Race 5
No. 8 Teo Enteo N (7-2 morning line). A really nice field in the Open II pace but Teo Enteo showed what he's made of in last week's Open with a powerful brush at the half. Got tired late but it was his first start since May, with a trip from Australia in between.
Sunday
New York Sire Stakes for 2-year-old colt/gelding trotters comprise first six races.
Race 4
No. 1 Clive Bigsby (8/5 morning line). Chris Lems should control the fractions with this George Ducharme trainee in the New York Sire Stakes event.
Race 10
No. 5 Fox Valley Lena (9/5 morning line). She paces 1:56 and change or 1:57 and change pretty much every week. The rest of the field never goes that fast anymore. They'll all be chasing and they shouldn't catch her.
SPHP recap from Wednesday, Aug. 23
Race 1 Mister Livan N. As expected, went right down the road, and right to the winner's circle as the 4/5 favorite.
Race 8 Stonebridge Marvel. Fresh off the claim, he executed the old brush-and-crush, drawing off for an easy victory at 4/5.
Race 10 So much for a three-for-three day. The exacta box of Creating A Dream and Magical Cowboy created nothing close to magic. They didn't line up that way, Creating a dream ended up first over and dropped anchor badly. Magical Cowboy finished third.