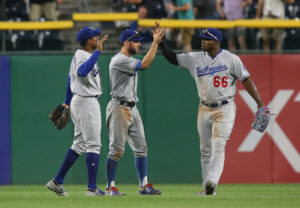 New York Yankees (68-58) 6
Detroit Tigers (55-71) 10
DETROIT– Jose Iglesias hit a bases clearing go-ahead double and finished with four RBI for the Tigers in a game that featured three bench-clearing quarrels and eight ejections. Getting the nod for Detroit, Michael Fulmer gave up five runs (four earned) in six innings and was responsible for hitting Gary Sanchez with a pitch in the fifth. New York's Jaime Garcia was saddled with a no-decision after allowing four runs (two earned) on five hits and three walks. Headlining the Yankees' offense was Brett Gardner who went 4-for-5 with a run scored and an RBI. As a result of the bench clearings, among those ejected were Andrew Romine (NYY),  Dellin Betances (NYY), Miguel Cabrera (DET) and the managers from both teams.
Toronto Blue Jays (60-67) 0
Tampa Bay Rays (63-66) 2
TAMPA BAY– Kevin Kiermaier made two game-saving catches for the Rays to give them the series win over the Blue Jays. Hindered by a high pitch count early on, Tampa Bay's Alex Cobb exited the game in the fifth inning, letting up no runs and fanning five batters. Tom Koehler fell on the losing end of the pitcher's duel after surrendering one run, four hits and three walks in five innings.
Boston Red Sox (73-54) 6
Cleveland Indians (70-56) 13
CLEVELAND– Yandy Diaz had himself a 4-for-4 game to go along with two RBI and four runs scored as the Indians earned the series split with the Red Sox. Trevor Bauer earned the win for Cleveland after allowing four runs on seven hits and striking out eight in five-and-one-third innings. Getting the nod for Boston, Chris Sale struggled as he lasted just three innings while being charged with six runs and seven hits. At the dish, Mitch Moreland came around to score twice and drove in four runs.
Minnesota Twins (65-62) 1
Chicago White Sox (50-76) 5
CHICAGO– Yolmer Sanchez and Kevan Smith each scored a run and brought one home as the White Sox took three of four games from their division rival. Derek Holland started for Chicago, yielding one run, three hits and four bases on balls in six innings. Minnesota's Jose Berrios lasted five-and-one-third innings, surrendering five runs (three earned) on four hits while striking out nine. Driving in the lone run for the Twins was Byron Buxton who went deep with a solo shot.
Colorado Rockies (69-58) 3
Kansas City Royals (64-62) 2
KANSAS CITY– Pat Valaika hit a go-ahead home run in the eighth inning to help the Rockies end their four-game skid. Pitching for Colorado, German Marquez went six innings, allowing two runs and eight hits. Opposing him, Jake Junis pitched well giving up just one run on seven hits while also matching a career-high with seven strikeouts in five-and-one-third innings. Providing the offense for Kansas City were Whit Merrifield and Brandon Moss who each led off an inning with a homer.
Texas Rangers (64-63) 3
Los Angeles Angels (65-63) 0
LOS ANGELES– Drew Robinson launched a two-run home run to give the Rangers an early lead that would eventually turn into a series win. Getting the nod for Texas, Martin Perez was dominant, tossing seven scoreless innings and fanning three batters. Los Angeles' Troy Scribner was dealt the loss after letting up three runs on three hits and two walks through five innings.
Washington Nationals (76-49) 5
Houston Astros (77-50) 4
HOUSTON– Anthony Rendon doubled twice and hit a go-ahead sacrifice fly in the eleventh inning to lift the Nationals over the Astros. In his second start off the disabled list, Stephen Strasburg looked like the pitcher that Washington wanted him to be. He pitched six shutout innings, allowing three hits and a base on balls while eliminating seven on strikes. His counterpart, Dallas Keuchel, gave up three runs (two earned) on four hits and two walks over seven innings of work. At the plate, Josh Reddick played an instrumental role in the ninth inning for the Astros as he hit an RBI single cutting their deficit to one and later scoring the tying run.
Miami Marlins (63-63) 9
Philadelphia Phillies (46-80) 8
PHILADELPHIA– Giancarlo Stanton launched a towering home run for his major league-leading 47th of the season to lead the Marlins to a series win. Also contributing to the comeback effort was JT Realmuto who hit an inside-the-park home run and brought home the go-ahead run on a sacrifice fly. On the mound, Vance Worley was lit up for eight runs on nine hits in four innings of work. Philadelphia's Jake Thompson lasted five innings, surrendering five runs, seven hits and four walks. Headlining the Phillies' offense was Rhys Hoskins who made history by becoming the third player to hit eight home runs in the first fifteen games of his career.
Arizona Diamondbacks (70-58) 3
New York Mets (55-71) 2
NEW YORK– Gregor Blanco, Ketel Marte and Brandon Drury each drove in a run for the Diamondbacks as the team took three of four games from the Mets. Making his first start since being drilled in the head by a line drive, Arizona's Robbie Ray tossed five innings of one run ball and struck out nine. His counterpart, Rafael Montero, yielded three runs, seven hits and two walks in five-and-one-third innings. At the plate, Yoenis Cespedes was responsible for half of New York's offense, going 2-for-3 with a home run.
San Diego Padres (57-70) 4
St. Louis Cardinals (64-63) 3
ST. LOUIS– Manuel Margot went 3-for-4 with two runs scored, including the game-winner, to help the Padres take two of three games from the Cardinals. Tying the team lead for quality starts with thirteen, Luis Perdomo allowed two runs on seven hits in six innings for San Diego. Carlos Martinez countered by throwing seven innings, giving up one run on seven hits and fanning six batters. Pete DeJong and Dexter Fowler paced St. Louis' offense by each scoring a run and contributing three hits apiece.
Los Angeles Dodgers (90-36) 5
Pittsburgh Pirates (61-67) 2
PITTSBURGH– Chris Taylor was one of five Dodgers with an RBI as the team reached 90 wins in just the 126th game of the season. On the mound, Hyun-Jin Ryu kept up the dominance that Dodgers hurlers have had, by going six innings and letting up one run on four hits. Getting the nod for Pittsburgh, Chad Kuhl was plagued by command issues, yielding five bases on balls along with six hits and two runs in four innings.
Chicago Cubs (68-58) 2
Cincinnati Reds (54-74) 4
CINCINNATI– Jose Peraza helped the Reds avoid a series sweep by hitting a pinch-hit three RBI double in the eighth inning. Pitching for Cincinnati, Sal Romano went seven innings, allowing two runs on six hits while eliminating seven on strikes. Opposing him, Jake Arrieta kept up his solid second half (5-1 in eight starts) by giving up one unearned run and striking out eight. Providing all of the offense for the Cubs were Javier Baez and Ian Happ, who each drove in a run.