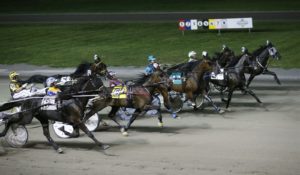 By Kevin Oklobzija
Spot Play Hot Plays
For Aug. 23 at Batavia Downs
(5 p.m. post time)
Race 1
No. 1 Mister Livan N (3-1 morning line). It's a take-no-prisoners, right-down-the-road blitz tonight. Since the meet began, he's drawn horribly and had brutal trips. Either parked past the quarter, parked the mile or first over. Revenge is called the winner's circle.
Race 8
No. 5 Stonebridge Marvel (3-1 morning line). Claimed by J.D. Perrin last Wednesday, he faces a lot of nothing.
Race 10
A SPHP exacta special. Box No. 1 Creating A Dream (4-1) with Jim Morrill and No. 4 Magical Cowboy (5-1) with Kevin Cummings. There doesn't seem to be any way they don't line up 1-4/4-1. Creating A Dream was sitting second in a blistering first half of :55.3. Two weeks ago Magical Cowboy just got beat at the wire after cutting a 1:54.3 mile.
Recapping the Aug. 18-19-20 SPHPs
(a better name would be Spot Play Cold Plays)
Friday
Race 2 Milliondollardad (5-1). Cut the mile but fighting off the first-over bid by Babe's Chip cost him in the lane. Faded to third.
Race 4 Harmony Oaks Ruler (10-1). Hustled out from the rail to get away second but looked VERY gimpy. Gait was far from fluid and he raced like there was a problem, backing through the field. Artacus took the worst of it, getting shuffled to last and probably 10 lengths from the lead. Artacus was FLYING in the stretch, losing by just a length. Take note.
Race 5 Money Bag (8/5). Didn't make the gate, going off stride before the start.
Race 8 Snapshot Springs (2-1). Left and opted to let another leaver, Hold On Tightly, have the lead trotting to the quarter. Enjoyed a two-hole trip but vacated the pocket to make a three-wide move. Because of that move, Arnold scooted up the inside and won the race. Snapshot Springs finished fourth.
Saturday
Race 3 Cam's Oracle (28-1). Making his debut for Larry Stalbaum, took NO money and raced like it.
Race 4 Brees Creek (5/2). Cut the mile, fought tooth and nail with Out of Texas for a three-eights of a mile and lost in a three-horse photo.
Race 9 Miss Larissa (2-1). Half the field left, which meant Art of Duty and Miss Larissa ended up fifth and sixth. Art of Duty (6/5) ended up with the second-over cover and Miss Larissa was behind him. That's how they finished, too; Art of Duty was a much-the-best winner and Miss Larissa settled for second.
Sunday
Race 2 Millbrook Hanover (8/5 favorite). The No. 1, I B Trouble, came first-over and got the jump, drawing off to win. Millbrook Hanover was second.
Race 4 Best Ears (10-1). Cut the mile but drew leg-weary nearing the wire and R M Hawk scooted up the passing lane to win. Best Ears still returned $12.20 to place, $8.60 to show and completed an exacta that paid $225.50.
Race 5 Henry's Way (6/5 favorite). Enjoyed a second-over trip but when he tipped three-wide, he was about as empty as the first keg at a frat party. Finished off the board.