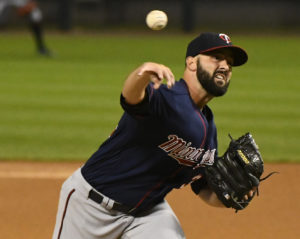 Boston Red Sox (71-53) 4
Cleveland Indians (69-54) 5
CLEVELAND– Roberto Perez launched a three-run home run and bunted home the game-winning run to push the Indians past the Red Sox. Struggling with his pitch count early on, Mike Clevinger lasted four-and-one-third innings for Cleveland, yielding four runs on four hits and four walks. Boston's Eduardo Rodriguez garnered his fifth consecutive no-decision after going five-and-two-thirds innings and surrendering three runs. Providing all of the offense for the Red Sox were Andrew Benintendi and Hanley Ramirez who had two RBI apiece.
Oakland Athletics (54-71) 3
Baltimore Orioles (61-64) 7
BALTIMORE– Adam Jones went 4-for-4 with two solo shots and three runs scored to help the Orioles halt their two-game skid. On the mound, Wade Miley picked up his first win at home in over two months by pitching six innings and allowing two runs on five hits. Opposing him, Chris Smith endured his shortest start of the season after giving up five runs (four earned) in four-and-one-third innings.
Minnesota Twins (63-60) 6
Chicago White Sox (48-74) 7
Game 1
CHICAGO– Yolmer Sanchez went deep and drove in four runs for the White Sox as they took the first game of a day-night doubleheader. Earning his first victory since July 3rd, Carlos Rodon tossed six-and-one-third innings of two run ball while also fanning nine batters. His counterpart, Tim Melville was charged with five runs on four hits and three walks in three-and-one-third innings. Jorge Polanco provided much of the Twins' offense as he scored twice and had four RBI.
Minnesota Twins (64-60) 10
Chicago White Sox (48-75) 2
Game 2
CHICAGO– Brian Dozier and Jorge Polanco combined to plate six runs for the Twins, who are now winners of five of their past six games. On the mound, Dillon Gee was dominant, allowing one run on two hits through six innings. As a result, he was able to earn his first victory in a Minnesota uniform. Things did not go as smooth for Chicago's Carson Fulmer though. In just one-and-one-third innings, he gave up six runs on four hits and three walks.
Texas Rangers (62-62) 5
Los Angeles Angels (64-61) 3
LOS ANGELES– Adrian Beltre drove in four runs to help the Rangers take the series opener over the Angels. Getting the nod for Texas, Cole Hamels tossed seven innings, yielding two runs on three hits and two walks. Including this outing, the southpaw is now 4-0 in the month of August with a stellar 1.64 ERA. Los Angeles' Tyler Skaggs took the loss after surrendering five runs (four earned) on four hits in five-and-two-thirds innings.
Seattle Mariners (64-62) 6
Atlanta Braves (55-68) 5
ATLANTA– Yonder Alonso went 3-for-5 with a pair of two RBI doubles as the Mariners inched closer to the second American League wild card spot. Pitching against his former organization, Andrew Albers allowed four runs (three earned) on six hits in five innings. He also helped himself at the plate by collecting his first major league hit and RBI. Getting the nod for Atlanta, Mike Foltynewicz suffered his fourth loss in his past five starts after getting charged with six runs on nine hits in five-and-two-thirds innings. Pacing the Braves' offense was Ozzie Albies who scored twice and brought home two runs.
Arizona Diamondbacks (68-57) 3
New York Mets (54-69) 2
NEW YORK– AJ Pollock hit a go-ahead two run homer in the tenth inning to help the Diamondbacks snap a three-game losing streak. Pitching for Arizona, Taijuan Walker tossed five-and-two-thirds scoreless innings while striking out four. Opposing him, New York's Robert Gsellman let up one run on five hits in six-and-two-thirds innings. At the plate, Michael Conforto and Yoenis Cespedes each drove in a run.
Los Angeles Dodgers (88-35) 6
Pittsburgh Pirates (60-65) 5
PITTSBURGH– Yasiel Puig launched a tie-breaking home run in the twelfth inning as the Dodgers handed the Pirates a seventh loss in their last nine games. Alex Wood started for Los Angeles, allowing three runs on five hits in six innings. Pittsburgh's Gerrit Cole gave up five runs, all of which came in the seventh, and struck out seven in six-and-one-third innings of work. Headlining the Pirates' offense was Josh Harrison, who went 3-for-5 with two runs scored and a pair of RBI.
Milwaukee Brewers (65-61) 0
San Francisco Giants (51-76) 2
SAN FRANCISCO– Jarrett Parker and Hunter Pence each had two hits and a run scored apiece as the Giants shutout the Brewers. On the mound, Chris Stratton threw six scoreless innings for San Francisco, surrendering just four hits and two bases on balls. Milwaukee's Zach Davies fell on the losing end of the pitcher's duel after yielding two runs on seven hits in six innings and eliminating five on strikes.