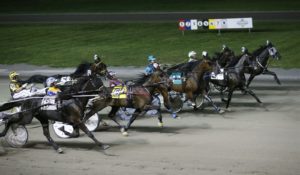 By Kevin Oklobzija
Spot Play Hot Plays for Aug. 18-19-20
at Batavia Downs
Friday, Aug. 18
Race 2
No. 1 Milliondollardad (6-1 morning line). This is a gelding racing against a field of mares, and it's his second start back off a five-month layoff. Has the rail and has shown speed in the past. My advice, though: get to the track early and watch him warmup before the first race, and then also see what he looks like in the post parade.
Race 4
No. 1 Harmony Oaks Ruler (6-1 morning line). Moves from Post 8 to the rail and picks up veteran catch-driver Ross Wolfenden. We're not getting 6-1, that's for sure.
Race 5
No. 2 Money Bag (4-1 morning line). His last three posts were 8, 8, 6. Now moves inside to brush and crush.
Race 8
No. 5 Snapshot Springs (5-1 morning line). Has been facing much tougher and will enjoy the easier competition. The No. 3, Lucky Guess, will try for another wire-t0-wire score but I expect the 5 to be charging to the wire.
Saturday, Aug. 19
First a note: Teo Enteo A, the 3-horse in the first race, is a new acquisition for Larry Stalbaum from Australia. The 9-year-old gelding set a Batavia Downs qualifying record by pacing the mile in 1:53 on Aug. 12. 1:53! That was his debut on Lasix. How fast can he go in a real race?
Race 3
No. 7 Cam's Oracle (10-1 morning line). My "Any horse from any other track" theory applies here. There's not much speed inside, Larry Stalbaum loves to be on the front end, and this guy is coming out of very tough $10,000 claimers at Pocono. A must-use if you're playing the early Pick 5.
Race 4
No. 1 Brees Creek (9/2 morning line). Drops a notch, has the rail and Jim Morrill Jr. chose off to drive the No. 3; that will only help the price. Morrill drove him very aggressively last week, leaving hard and coming back out first-over. Use on top and underneath in exactas, especially with Morrill's choice, Out of Texas.
Race 9
No. 3 Miss. Larissa (9/2 morning line). Drops about five classes and should get a dream second-over trip. The No. 1, Signal Hill OK (3-1 morning line), hasn't won since at least 2015. If Kyle Spagnola couldn't get him to the winner's circle, why would he win tonight. The No. 2, Art of Duty (2-1), has serious late trot, but is only 1-for-15. He's very likely first over, and Miss Larissa will ride that cover to the lane.
Sunday, Aug. 20
Race 2
No. 6 Millbrook Hanover (9-5 morning line). I don't see anyone in this field capable of trotting a sub-2:00 mile, with the exception of maybe No. 2 Boomer N Us. Very playable (assuming he makes this gate this week).
Race 4
No. 6 Best Ears (6-1 morning line). He hasn't been in this cheap in a long, long time. I expect him to flaunt his back-class today.
Race 5
No. 5 Henry's Way (5-2 morning line). Two reasons to like: a) he drops in class and b) process of elimination says so. The No. 1 hasn't hit the board all year. The No. 2 clearly has issues. The No. 3 can't get out of his own way. The Nos. 4 and 6 are mares. The No. 7 won't get a :55.3 half to close into like he did Wednesday. As for the No. 8, I'd like him if he drew inside and still like him to be part of the super (if not the tri). So there, there's nothing else left besides Henry's Way.
Wednesday recap
Race 9 Quicksilvercandy A. Rolled to an easy wire-to-wire score as the 3/5 favorite.
Race 10 JM'sdukeof delight. I was right that Helena's Hope was VERY beatable; three horses did so. Unfortunately my pick, JM'sdukeofdelight (6-1), was first-over and did all the dirty work, paving the way to victory for Open Water. JM still finished third.