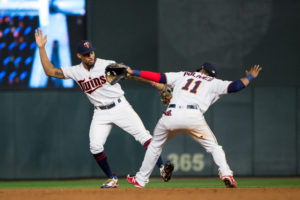 Miami Marlins (52-58) 2
Washington Nationals (66-44) 3
WASHINGTON– Adam Lind delivered a pinch-hit tie-breaking single in the eighth inning to widen the Nationals' divisional lead over the Marlins to fourteen games. No longer showing signs of being plagued by neck spasms, Max Scherzer ate up seven innings, allowing two runs on five hits while striking out nine. His counterpart, Chris O'Grady only faced five batters before leaving due to injury and being replaced by Odrisamer Despaigne. At the plate for the Marlins, Giancarlo Stanton matched a career-high with his 37th home run of the season.
Chicago Cubs (59-52) 5
San Francisco Giants (44-70) 3
SAN FRANCISCO– Javier Baez hit a two run inside-the-park home run to lift the Cubs over the Giants. On the hill for Chicago, Jake Arrieta yielded three runs (two earned) on nine hits in six-and-one-third innings. Matt Moore countered by going six innings while also being charged with five runs and eight hits. Headlining San Francisco's offense was Ryder Jones, a rookie, who hit his first career home run and drove in two.
San Diego Padres (49-62) 3
Cincinnati Reds (46-66) 11
CINCINNATI– Joey Votto connected for a home run in the third consecutive game as the Reds cruised to a victory over the Padres. With the long ball, he set the record for most home runs hit at Great American Ball Park and moved into a tie for fifth on the franchise list. On the mound, Tim Adleman went four-and-two-thirds innings while giving up two runs on six hits and a base on balls. For the Padres, Jhoulys Chacin surrendered five runs, five hits and three walks over six innings of work. Jose Pirela provided all of San Diego's offense by going deep twice.
St. Louis Cardinals (56-56) 11
Kansas City Royals (57-54) 3
KANSAS CITY– Matt Carpenter launched a three-run home run to cap off a six-run fourth inning for the Cardinals as they improved their record to .500. Earning just his second win in his past nine outings, Carlos Martinez tossed eight innings of two run ball for St. Louis to go along with seven strikeouts. In his start, Ian Kennedy was tagged for seven runs (six earned) on six hits and four walks. Eric Hosmer, Mike Moustakas and Brandon Moss each hit solo shots for Kansas City.
Milwaukee Brewers (59-55) 4
Minnesota Twins (54-56) 5
MINNEAPOLIS– Jorge Polanco went 4-for-4 with two runs batted in to help the Twins continue their chase for the second American League wild card. Ervin Santana started for Minnesota, allowing four runs (two earned) on six hits in six innings to go along with six punchouts. Milwaukee's Brent Suter went four innings, giving up three runs and five hits. Keon Broxton paced the Brewers' offense with two hits as well as two RBI.
Detroit Tigers (51-60) 0
Pittsburgh Pirates (55-57) 3
PITTSBURGH– Francisco Cervelli hit an RBI double and scored a run as the Pirates won their third consecutive game. Backed by the early run support, Trevor Williams tossed a one-hitter and fanned five batters in seven innings. Detroit's Jordan Zimmermann was dealt the loss after lasting five innings and yielding three runs on five hits and three walks.
Baltimore Orioles (56-56) 6
Los Angeles Angels (55-58) 2
LOS ANGELES– Manny Machado launched a go-ahead grand slam in the seventh inning for the Orioles as they spoiled Mike Trout's historic birthday night. Getting the nod for Baltimore, Dylan Bundy went seven innings, allowing two runs and five hits to go along with a career-best ten strikeouts. JC Ramirez was saddled with the loss for Los Angeles as he gave up six runs on eight hits over seven innings of work. At the dish, Trout lined a double for his 1,000th career hit and also went deep for his fourth birthday home run in six seasons. With the long ball, he became the youngest player in major league history to do that four times.