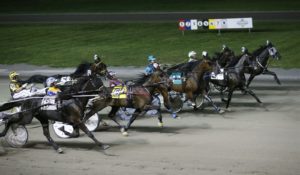 Spot Play Hot Plays
Batavia Downs, Wednesday Aug. 2
Race 1
No. 6 It's A Miracle (9-5): Loved her last week and she got trapped, then shuffled to the back of the bus when Dustlanemissymolly (Not Dusty!, Ken Warkenton) dropped anchor going to the three-quarter marker. She still flew home once free. Outside post, plus other droppers should ensure a price better than the morning line.
Race 6
No. 2 Exotic Beach (5-2 morning line). A recent acquisition to the Stalbaum/Asher stable from Pennsylvania, she had the obligatory get-to-know-her mile last week from post 8 and closed stoutly.
Race 9
No. 5 Ping Pong Hanover (4-1 morning line). First, the negative. She hasn't raced since June 27. But I'm willing to use my "any horse from any other track" belief and still use her in exactas and Pick 3s.
A look back at Sunday's SPHPs
Race 5: Out of Texas bet down from 7/2 to even money. Endured a first-over grind but couldn't get past the front-runner, losing by a neck.
Race 6: UF Rockin Dragon. I said the only way he could lose is if he fell down. He didn't fall down. He won. At odds of 1/9.
Race 9: Criminal Element. Was 4-1 morning line, went off at 7-1 and raced like he was 70-1.