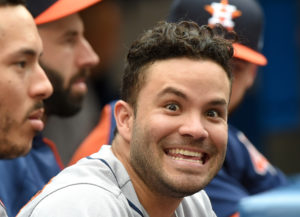 By MIKE DeSANTO
Jose Altuve has 37 hits in 68 at bats over his last 15 games, becoming the first batter to do so since Rogers Hornsby. Yeah, THE Rogers Hornsby.
During Altuve's recent stretch, the Astros are 10-5 and have continued to cement themselves as the leader in the American League West.
Altuve has contributed 19 RBI and 18 runs scored, bringing up his batting average to .507 for the month of July.
Prior to their age 27 seasons, since Altuve is in the middle of his, Hornsby had played a little over seven seasons in the major leagues. Before his 27th birthday, Altuve had played about five-and-a-half seasons.
In that span, Hornsby recorded 1,323 hits, while Altuve amassed 1,046. Hornsby batted .331 before reaching the current lifespan of Die Hard 2 and Altuve nearly matches it with a .306 average. Finally, Hornsby scored 641 runs and Altuve has scored 449.
Now, while he may not be completely matching Hornsby's numbers and hasn't played as long as he did before turning 27, just to be in the same breath as Hornsby is a good sign. We may have a Hall of Famer on our hands.