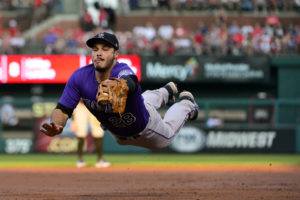 Baltimore Orioles (48-51) 5
Tampa Bay Rays (51-49) 0
TAMPA BAY– Adam Jones went 3-for-5 with an RBI and two runs scored as the Orioles handed the Rays their fifth consecutive loss. At the plate, Jonathan Schoop drove in a run to extend his RBI streak to eight games in a row. The Orioles' pitching would turn out to be the talk of the game though and for good reason. Backed by Jones' home run that put Baltimore on the board, Kevin Gausman threw a gem, tossing six shutout innings while eliminating eight on strikes. For the Rays, Blake Snell lasted a career-high seven innings and allowed three runs on six hits and a base on balls.
Oakland Athletics (44-55) 2
Toronto Blue Jays (45-54) 4
TORONTO– Russell Martin went 2-for-4 and was one of four Blue Jays to drive in a run as the team ended their three-game losing skid. Starting on just three days rest, Francisco Liriano pitched five innings, limiting the Athletics to two runs on two hits. Those two runs came off an RBI single from Oakland's Ryon Healy and a solo shot from Matt Chapman. Liriano's counterpart, Chris Smith, surrendered three runs and six hits over six innings.
Boston Red Sox (55-46) 0
Seattle Mariners (50-51) 4
SEATTLE– Kyle Seager went deep to give the Mariners a lead that they would not relinquish as they defeated the Red Sox. For James Paxton, that would be the only run he really needed on the mound, with the rest just being icing on the cake. Tossing seven innings, he gave up just four hits which were all singles and set down ten batters on strikes. Getting the start for Boston, Eduardo Rodriguez yielded four runs on six hits and two walks in five-and-one-third innings.
Miami Marlins (45-52) 4
Texas Rangers (48-51) 0
ARLINGTON– Giancarlo Stanton tied the major league lead for home runs after launching two more in the Marlins' win over the Rangers. On the mound, Adam Conley threw seven scoreless innings while striking out five. Martin Perez went seven innings for Texas, allowing three runs on seven hits and two walks. Adrian Beltre led all Rangers' batters with four hits.
Houston Astros (66-33) 13
Philadelphia Phillies (34-63) 4
PHILADELPHIA– Jose Altuve remained scorching hot at the plate as he had four base hits for the second consecutive game. Aside from Altuve who also had three RBI, Houston saw their lineup churn out eighteen hits, with eight of them going for extra bases. That would be plenty of runs for Astros pitchers, including  Joe Musgrove, who earned the win. Coming in for starter, Brad Peacock, after the prolonged rain delay, he pitched three scoreless innings, giving up two hits and striking out three. On the opposing side, Vincent Velasquez was saddled with the loss after surrendering four runs on six hits and three walks. Nick Williams went 2-for-5 with three runs batted in for Philadelphia.
New York Mets (46-51) 5
San Diego Padres (43-56) 3
SAN DIEGO– Asdrubal Cabrera went 3-for-4 with a run scored while Jose Reyes stole the 500th base of his career in the Mets' win over the Padres. Jacob deGrom threw eight strong innings for New York, allowing two runs on five hits and striking out eight. With the outing, he became the first pitcher in franchise history since 1997 to win eight straight starts. On the hill for the Padres, Clayton Richard struggled even though he lasted eight innings and fanned eight batters as well. His night consisted of five earned runs on twelve hits and two walks. At the dish, Hunter Renfroe was responsible for two of San Diego's runs as he hit two long balls.
Atlanta Braves (47-51) 2
Arizona Diamondbacks (57-42) 10
ARIZONA– AJ Pollock went 3-for-5 with two runs scored and four runs batted in to fuel the Diamondbacks' victory over the Braves. Zack Greinke pulled double duty driving in a run to put Arizona up early and giving up just two runs over eight innings while striking out six. For Atlanta, RA Dickey lasted three and two-thirds innings, letting up four runs on five hits and four walks.
Minnesota Twins (49-49) 4
Los Angeles Dodgers (69-31) 6
LOS ANGELES– Cody Bellinger hit a go-ahead three run home run in the eighth inning to propel the Dodgers over the Twins. Also contributing for Los Angeles, Chris Taylor went 3-for-4 with a run scored and an RBI. Making his first start since coming off the disabled list, Hyun-Jin Ryu pitched five innings and let up two runs, five hits and three walks. Bartolo Colon got the nod for the Twins and also lasted five innings but he allowed three runs on eight hits. Eddie Rosario paced Minnesota's offense, driving in three runs, off  two doubles and a home run.
Chicago White Sox (39-57) 3
Chicago Cubs (51-47) 1
CHICAGO– Adam Engel and Matt Davidson both went deep to help the White Sox snap their nine-game losing streak. Getting the win for just the second time in his past eleven decisions, Miguel Gonzalez held the Cubs to one run on seven hits in seven and one-third innings. Opposing him, Kyle Hendricks made his first start after being activated from the disabled list. He finished his outing by pitching four-and-one-third innings while giving up one run on eight hits and fanning five batters.
Kansas City Royals (51-47) 5
Detroit Tigers (45-53) 3
DETROIT– Salvador Perez and Mike Moustakas hit back-to-back solo home runs in the 12th inning to help the Royals win their sixth consecutive game. Getting the start for Kansas City, Jason Hammel yielded three runs, five hits and a walk through five and two-thirds innings. Hammel's counterpart, Justin Verlander, had a similar outing surrendering three runs on five hits but over seven innings while striking out nine. At the plate, Miguel Cabrera and Alex Avila combined to drive in all three runs for Detroit.
Cincinnati Reds (41-58) 2
Cleveland Indians (52-45) 6
CLEVELAND– Carlos Santana hit two home runs and scored three times to lead the Indians to their fourth consecutive win. On the hill, Josh Tomlin allowed two runs on four hits to go along with six strikeouts over six innings. Tim Adleman took the loss after lasting six innings and letting up five runs on six hits and three walks. Zack Cozart and Scooter Gennett each brought home a run for the Reds, courtesy of the long ball.
Colorado Rockies (58-43) 2
St. Louis Cardinals (48-51) 8
ST. LOUIS– Randal Grichuk brought home two runs and was one of six Cardinals to record an RBI as St. Louis defeated the Rockies. Mike Leake was dominant on the rubber as he stifled Colorado's batters, holding them to four hits and no runs while fanning six. The same could not be said for Rockies starter, Antonio Senzatela who had the shortest outing of his career. In four innings, the right-hander surrendered four runs on six hits and two walks. Pat Valaika was the only source of Colorado's offense after hitting a pinch-hit home run in the eighth inning.
Pittsburgh Pirates (50-50) 10
San Francisco Giants (38-63) 3
SAN FRANCISCO– Jordy Mercer and Andrew McCutchen combined to drive in seven runs as the Pirates trounced the Giants. Winning for his fifth time in his past six starts, Gerrit Cole allowed two runs on six hits and four walks in six innings. After taking the hill for the Giants, Matt Cain went four innings and was tagged for six runs (two earned) on six hits. Buster Posey had two RBI for San Francisco.