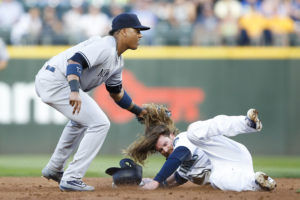 New York Yankees (49-45) 4
Seattle Mariners (48-49) 1
SEATTLE– Brett Gardner put the Yankees on the board with a solo shot in the sixth inning and the team did not look back as they took the series opener from the Mariners. Luis Severino looked like an ace on the rubber, tossing seven shutout innings for New York while fanning six batters. Seattle's Felix Hernandez pitched just as well but fell on the losing end of the pitcher's duel. In seven innings, he gave up one run on three hits and struck out nine.
Toronto Blue Jays (44-51) 8
Boston Red Sox (54-43) 6
BOSTON– Justin Smoak went 3-for-5 with two home runs and three RBI as the Blue Jays snapped their two-game skid against the Red Sox. On the mound for Toronto, Francisco Liriano got chased early, lasting just one-and-two-thirds innings and allowing three runs (two earned) on five hits. Responsible for knocking Liriano out of the game was Mookie Betts, who finished his day with two hits as well as two RBI. Boston's pitcher, Doug Fister, struggled just as much on the mound, even though he pitched further into the game. In four-and-one-third innings of work, he was tagged for six runs on seven hits and four walks.
Texas Rangers (45-50) 7
Baltimore Orioles (46-49) 9
BALTIMORE– Adam Jones and Jonathon Schoop both went deep and drove in a combined six runs to lead the Orioles to the series sweep over the Rangers. In a game of struggling pitchers, Wade Miley endured his second dismal start in a row, giving up five runs, seven hits and four walks over five innings. On the mound for Texas, Cole Hamels was lit up for seven runs on nine hits in five-and-one-third innings. At the dish, Mike Napoli led the Rangers lineup with two hits and three runs driven in.
Detroit Tigers (43-51) 4
Kansas City Royals (47-47) 16
KANSAS CITY– Brandon Moss had two hits and four RBI in the Royals' win over the Tigers. Aside from Moss, three other Kansas City players drove in at least two runs, contributing to the team's season highs in both runs and hits. Danny Duffy earned the win despite surrendering four runs on nine hits through five innings. Coming off of winning his last four starts for Detroit, Michael Fulmer had the shortest outing of his career, lasting two-and-two thirds innings. He retired only eight Royals while getting tagged for eight runs (five earned) on seven hits and a walk.
St. Louis Cardinals (46-49) 2
New York Mets (43-50) 3
NEW YORK– Jose Reyes hit a game-winning single with two outs in the bottom of the ninth to help the Mets earn a series split with the Cardinals. On the hill, Seth Lugo tossed six-and-two-thirds innings of one run ball on four hits and a walk. Opposing him, Lance Lynn put up nearly similar numbers as he went six innings and allowed one run on three hits and a base on balls. Providing all of the offense for the Cardinals was Tommy Pham, who went deep and had an RBI double.
Milwaukee Brewers (52-46) 2
Pittsburgh Pirates (48-48) 4
PITTSBURGH– Chris Stewart went 3-for-3 with an RBI and a run scored as the Pirates completed the four game sweep against their division foe. Throwing a career high 116 pitches, Jameson Taillon gave up two runs on six hits and two walks while fanning eight batters. For the Brewers, Jimmy Nelson lasted five innings and surrendered four runs on six hits. At the dish, Brett Phillips and Orlando Arcia each drove in a run.
Arizona Diamondbacks (55-40) 12
Cincinnati Reds (40-55) 2
CINCINNATI– Jake Lamb hit two home runs and set a career high with six RBI to lead the Diamondbacks to a series win. Earning his first victory since June 16th, Patrick Corbin pitched a season high seven-and-one-third innings, holding the Reds to a run and seven hits to go along with six strikeouts. The sole run allowed by the southpaw came in the fourth inning when Eugenio Suarez went deep for a solo shot. Getting the nod for Cincinnati, Luis Castillo let up four runs on four hits and eliminated seven on strikes.
Atlanta Braves (46-48) 6
Los Angeles Dodgers (66-30) 3
LOS ANGELES– Freddie Freeman and Kurt Suzuki drove in two runs apiece to help the Braves snap the Dodgers' eleven-game win streak. Facing one of the most potent lineups in the MLB, Mike Foltynewicz handled them with ease as he allowed three runs on six hits in six-and-one-third innings. During his outing, most of the damage came off of a home run hit by Los Angeles' Yasmani Grandal during the sixth. Brandon McCarthy was saddled with the loss after lasting four innings and getting shelled for six runs on nine hits.
San Diego Padres (41-54) 5
San Francisco Giants (37-60) 2
SAN FRANCISCO– Cory Spangenberg went yard with a go-ahead homer and had two RBI as the Padres snapped their three-game losing skid. On the mound, Jhoulys Chacin went six innings, yielding two runs on four hits. Pitching in his home stadium for the first time since returning from the disabled list, San Francisco's Madison Bumgarner, gave up four runs on six hits and a walk in six-and-one-third innings. Providing the offense for the Giants were Denard Span and Eduardo Nunez who each had two hits and a run batted in.