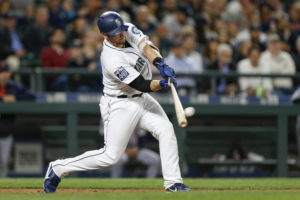 Boston Red Sox (39-31) 2
Kansas City Royals (34-35) 4
KANSAS CITY– Whit Merrifield and Lorenzo Cain both drove in runs in the bottom of the seventh inning to give the Royals their eighth win in the past nine games. Jason Hammel went seven innings for Kansas City, allowing two runs on seven hits without issuing a walk. The only damage against him came on a home run from Jackie Bradley Jr which had tied the game at two. Making just his second career start, Hector Velazquez engaged in a pitcher's duel with Hammel in the first two innings before Eric Hosmer took him deep for a two run shot. He was relieved after five-and-one-third innings and two runs and five hits surrendered.
Cincinnati Reds (30-39) 7
Tampa Bay Rays (37-36) 3
ST. PETERSBURG– Joey Votto posted three hits and the go-ahead RBI in the eighth inning to help the Reds snap a nine-game losing streak. After being promoted from Triple-A to replace the injured Zack Cozart, Jesse Winker also made an impact by hitting a bases loaded single to put Cincinnati up 6-3 at the time. On the mound, Scott Feldman provided six innings of two runs and six hits allowed. It was not until Steven Souza Jr went deep with two outs in the sixth that the Rays brought their first run home. Opposing Feldman, Jake Odorizzi allowed three runs on five hits and three walks in seven innings.
Cleveland Indians (37-31) 12
Baltimore Orioles (34-35) 0
BALTIMORE– Carlos Santana and Austin Jackson combined to plate six runs to move the Indians to a season-best six games over .500. As a team, Cleveland also added ten extra base hits with seven of those being doubles. Backed by his offense, Corey Kluber had a stellar start, pitching a complete game shutout and fanning twelve batters. His counterpart, Dylan Bundy, did not fare as well though, going four-and-one-third innings while giving up six runs on six hits and three walks. Bundy's start marked the sixteenth straight outing in which an Orioles pitcher has surrendered at least five runs.
Toronto Blue Jays (34-35) 7
Texas Rangers (34-35) 6
ARLINGTON– After blowing a 5-1 lead earlier in the game, Josh Donaldson and Kendrys Morales each drove in a run in the ninth inning to push the Blue Jays past the Rangers. Justin Smoak also added three hits and tied his career best for most home runs in a season with 20. In his start, Marco Estrada struggled for Toronto, lasting just three-and-two-thirds innings and having allowed six runs on seven hits and four walks. Although Texas' starter, Austin Bibens-Dirkx, went five innings, he did not have much more success. He yielded five runs on five hits while issuing one walk.
Houston Astros (47-24) 4
Oakland Athletics (31-39) 1
OAKLAND– Jake Marisnick was one of three different players to homer as the Astros improved to a major league best 24-8 on the road this season. On the hill, Brad Peacock retired 16 of his first 18 batters faced and fanned eight over five-and-one third innings. After struggling in the first major league start of his career, A's pitcher, Daniel Gossett, lasted six-and-two-third innings while giving up two runs on six hits. Jed Lowrie drove in Matt Joyce on an RBI double for Oakland's only run of the game.
Detroit Tigers (32-37) 2
Seattle Mariners (35-37) 6
SEATTLE– Mike Zunino connected for a couple of two-run home runs as he continued his historic month in the Mariners' win over the Tigers. Since being recalled from Triple-A, he has driven in 28 runs and already has the franchise record for most RBI in a month by a catcher. Zunino's battery mate, Sam Gaviglio, struggled with his pitch count but was able to make it through five innings while allowing two runs on three hits and four walks. Anibal Sanchez also lasted five innings and gave up two runs in his first start of the season for Detroit.
Washington Nationals (42-28) 7
Miami Marlins (31-37) 8
MIAMI– After being on the losing side of two walk-offs over the weekend, it was the Marlins' turn to get the game winning hit. With two outs and the bases loaded in the bottom of the ninth, Marcell Ozuna turned that fantasy into a reality as he brought home the winning run. However, there would be no walk-off without their six-run third inning, highlighted by a grand slam off the bat of Justin Bour. For both teams, it was also a battle of the bullpens. Miami starter, Justin Nicolino, surrendered six runs (three earned) on seven hits in three innings while Tanner Roark lasted only two-and-two-thirds innings, yielding six runs on six hits. At the dish, Bryce Harper and Michael A. Taylor each had two runs batted in for the Nationals.
New York Mets (31-38) 6
Los Angeles Dodgers (45-26) 10
LOS ANGELES– Cody Bellinger made major league history after he became the fastest player to reach 21 home runs in 51 career games. With his two long balls, he also leads the National League in home runs despite not getting called up until three weeks into the season. On the mound, Clayton Kershaw was not his typical self as he allowed a career-high four homers and six runs over six-and-one-third innings. However, he still struck out ten and earned the win which makes him the first ten game winner in the National League. For the Mets, their starting pitching which was once viewed as a strength has been a weakness of late. In just two innings, Zack Wheeler, was tagged for seven runs on eight hits.
San Francisco Giants (26-46) 0
Atlanta Braves (32-37) 9
ATLANTA– Matt Adams and Dansby Swanson each drove in two runs as the Braves handed the Giants their seventh consecutive loss. Adams also hit a solo shot which brought his home run total to 10 since being acquired from St. Louis last month. After struggling to muster runs against San Francisco's Johnny Cueto (7 innings, five hits, 2 runs), Atlanta broke through with seven runs in the eighth inning. R.A Dickey pitched well enough to not need much run support though as the knuckleballer threw seven shutout innings and struck out six.
San Diego Padres (28-43) 2
Chicago Cubs (35-34) 3
CHICAGO– Anthony Rizzo continued to flourish in the leadoff role as he went 2-for-3 to extend his career best hitting streak to 13 games in the Cubs' win. In the six contests that he has batted leadoff, he is now 5-for-5 with a walk in his first at-bat. Jon Lester pitched six innings for Chicago and gave up two runs while striking out seven. Both of those runs came off the long ball as Jose Pirela and Yangervis Solarte each sent one into the stands. San Diego's Clayton Richard exited after six-and-one-third innings, having allowed two runs on five hits and three walks.
Pittsburgh Pirates (32-38) 8
Milwaukee Brewers (38-34) 1
MILWAUKEE– Andrew McCutchen homered and drove in three as the Pirates defeated the Brewers. Getting the nod for Pittsburgh, Gerrit Cole pitched his second consecutive quality start. In seven innings, he held Milwaukee to just one run on three hits. The sole run came off the bat of Travis Shaw, who helped set a franchise record for most consecutive runs via the home run at sixteen. On the hill, Matt Garza surrendered four runs over five-and-one-third innings for the Brewers.