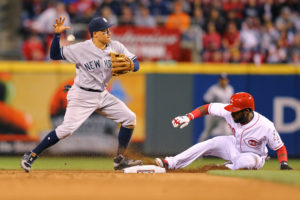 New York Yankees (21-9) 10
Cincinnati Reds (17-15) 4
CINCINNATI– Brett Gardner extended his hit streak to eleven games and homered for the sixth time in nine games as the Yankees ended the Reds' win streak at five. After using much of their bullpen in an 18-inning thriller at Wrigley Field on Sunday, New York needed Masahiro Tanaka to go deep into the game and he did just that. En route to earning a victory in his fifth consecutive start, Tanaka tossed seven innings while allowing four runs (three earned) and striking out six. Cincinnati's Joey Votto hit a single and a home run while driving in three runs. Former Yankees prospect, Rookie Davis, toed the rubber for the Reds, and gave up five runs (four earned) on seven hits and three walks in four-and-one-third innings.
St. Louis Cardinals (17-14) 9
Miami Marlins (13-18) 4
MIAMI– Cardinals ace, Carlos Martinez, managed to do it all as he got his first two hits of the year and drove in four RBI while also registering a quality start. In six innings of work, Martinez allowed three runs while striking out seven and walking two. Those three runs all came off the bat of Marcell Ozuna who had two round trippers. Adam Conley struggled in his start for Miami, getting knocked out of the game after just three-and-two-thirds innings pitched and seven runs allowed.
New York Mets (15-16) 4
San Francisco Giants (11-22) 3
NEW YORK– Neil Walker had a timely piece of hitting as he cracked the game ending single in the bottom of the ninth with two outs to give the Mets their seventh win in ten games. On the mound, Jacob deGrom struck out eleven while giving New York six innings of three runs on four hits. Providing the offense for a struggling San Francisco ball club were Hunter Pence and Buster Posey who each went yard. Matt Moore kept the Giants competitive in his start, eating up five-and-one-third innings, while giving up three runs and striking out five.
Baltimore Orioles (21-10) 6
Washington Nationals (21-11) 4
BALTIMORE– Trey Mancini was one of three Orioles to hit a home run in the first inning as Baltimore won the first game in the Battle of the Beltway. Facing one of the most dominant offenses in the majors, Kevin Gausman pitched like an ace limiting the Nationals to two runs while striking out eight in seven innings. Bryce Harper contributed two hits while driving in two. Gio Gonzalez saw his National League leading ERA spike for Washington after having pitched six innings and surrendering six runs on seven hits and four walks.
Toronto Blue Jays (12-20) 4
Cleveland Indians (17-14) 2
TORONTO– Ryan Goins and Justin Smoak provided all of the offense to propel the Blue Jays over the Indians in an ALCS rematch. Marcus Stroman delivered Toronto six scoreless innings, allowing six hits and just two walks. In his first game back at the Rogers Centre as a member of the Indians, Edwin Encarnacion got a standing ovation and finished 2-for-3. Trevor Bauer tossed a career high 125 pitches en route to a six inning outing while giving up four runs.
Kansas City Royals (11-20) 7
Tampa Bay Rays (16-18) 3
ST. PETERSBURG– Eric Hosmer went 3-for-5 with a double and two stolen bases as the Royals tied their season high for runs scored. Kansas City's Nate Karns earned his second straight win, holding Tampa Bay to two runs while tying a career high ten strikeouts over six-and-one-third innings. Colby Rasmus went 2-for-4 with the Rays hitting a home run and a triple. For the tenth time in his past eleven outings, Blake Snell was unable to record an out in the sixth inning. Snell's final stat line included four runs allowed on ten hits in five innings pitched.
San Diego Padres (13-20) 5
Texas Rangers (13-20) 1
SAN DIEGO– The long ball played an instrumental role as Ryan Schimpf, Cody Spangenberg and Austin Hedges all went deep in the Padres' victory. Trevor Cahill stifled the Rangers' lineup allowing just a single hit in five-and-one-third innings while striking out seven and walking five. Driving in the lone run for Texas was Shin-Soo Choo who hit a home run in the seventh inning. Nick Martinez remains winless after going six innings and giving up four runs on eight hits and a walk.
Oakland Athletics (15-17) 3
Los Angeles Angels (16-18) 2
OAKLAND– Jed Lowrie hit two round trippers including one in the bottom of the eleventh inning to give the Athletics their third straight walk-off win. Kendall Graveman started for Oakland, striking out six and surrendering two runs in seven innings on the hill. Ricky Nolasco matched Graveman, by also going seven innings and allowing two runs but had ten strikeouts as well.
Los Angeles Dodgers (18-14) 12
Pittsburgh Pirates (14-18) 1
LOS ANGELES– Joc Pederson and Chris Taylor combined for six hits as well as six RBI in the Dodgers' win over the Pirates. Alex Wood gave Los Angeles five scoreless innings while striking out a season high eleven batters and limiting Pittsburgh to two hits. Pirates' starter, Trevor Williams, was knocked out after just three innings in which he was chased for eight runs (six earned) on seven hits and a walk. The Pirates tied a club for strike outs in a nine-inning game with 17. Called up earlier in the day, Rochester native Chris Bostick appeared in his first MLB game game as a defensive replacement in left field. Bostick finished the day 0-for-2.