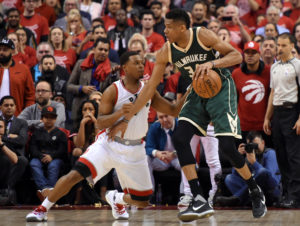 Toronto Raptors 106  Milwaukee Bucks 100
TORONTO – Kyle Lowry scored 22 points, grabbed four rebounds, handed out five assists and took away three steals as the Raptors tied the series at one apiece. DeMar DeRozan added 23 points, seven rebounds and three assists. Giannis Antetokounmpo recorded a double-double with 24 points and 13 rebounds for the Bucks. Khris Middleton dropped 20 points and collected five rebounds.
Chicago Bulls 111  Boston Celtics 97
BOSTON – Dwyane Wade and Jimmy Butler netted 22 points apiece as the Bulls went into Boston and took the first two games of the series. Butler added eight rebounds and eight assists. Isaiah Thomas scored 20 points and grabbed four rebounds for the Celtics.
Los Angeles Clippers 99  Utah Jazz 91
LOS ANGELES – Blake Griffin (24), Chris Paul (21) and DeAndre Jordan (18) combined for 63 points as the Clippers tied the series at one. Jordan added 15 rebounds and Paul dished out 10 assists. Gordon Hayward dropped 20 points and grabbed six rebounds for the Jazz.