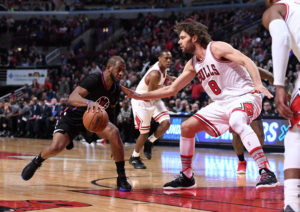 Los Angeles Clippers 101 Chicago Bulls 91
CHICAGO – Jamal Crawford scored 25 points and took over down the stretch to carry the Clippers (37-25) to a victory over the Bulls (31-31) on Saturday night. Chris Paul added 17 points and Blake Griffin finished with 16 points for the Clippers. Jimmy Butler led the Bulls in the scoring department with 16 points. He also recorded six assists, four rebounds, and three steals.
Detroit Pistons 136 Philadelphia 76ers 106
PHILADELPHIA – Kentavious Caldwell-Pope scored 26 points as the Pistons (30-32) set a season high for points in a victory over the Philadelphia 76ers (23-39) on Saturday. Thirteen of Caldwell's points came from the third quarter. Marcus Morris finished with 22 points and Andre Drummond records a double-double (14 points and 14 rebounds). Nik Stauskas led the 76ers with 24 points and Dario Saric contributed by adding 19 points.
Miami Heat 120 Cleveland Cavaliers 92
MIAMI – Goran Dragic scored 23 points, Hassan Whiteside had 20 points and 13 rebounds, and the Miami Heat (29-34) take down the Cleveland Cavaliers (42-19) on Saturday night. LeBron James and Kyrie Irving didn't play in this contest. Channing Frye led the Cavaliers with 21 points. Kyle Korver finished the night off with 15 points.
Milwaukee Bucks 101 Toronto Raptors 94
MILWAUKEE – Khris Middleton scored a season-high 24 points, "The Greek Freak" (Giannis Antetokounmpo) scored 21 as the Milwaukee Bucks (28-33) beat the Toronto Raptors (37-26) last night. Malcolm Brogdon contributed by recording 17 points, five rebounds, and three assists. Spencer Hawes came off the bench scoring 21 points and racked up eight rebounds for Milwaukee. Serge Ibaka led Toronto in the scoring department with 19 points. He also recorded five rebounds and two blocks. Toronto is currently in fourth place in the Eastern Conference Standings.
Portland Trail Blazers 130 Brooklyn Nets 116
PORTLAND – C.J. McCollum (Lehigh) led the Blazers (26-35) in the scoring department with 31 which led to a home victory over the Brooklyn Nets. Al-Farouq Aminu made five 3-pointers and finished with 23 points off the bench. He also tied for a team-high six rebounds for Portland, which won consecutive games for the first time since a three-game win streak from Jan. 21-27. The Blazers shot 64-percent for 3-pointers and 57-percent from the field overall. With its win and Denver's (28-34) loss to the Charlotte Hornets (27-35) on Saturday night, the Blazers moved within 1 1/2 games of the Nuggets for the final playoff spot in the Western Conference. Brook Lopez led the Nets (10-51) with 25 points.
Charlotte Hornets 112 Denver Nuggets 102
DENVER – Kemba Walker scored 27 points. Nicolas Batum had 21 points and eight assists, and the Charlotte Hornets (27-35) beat the Denver Nuggets (28-34) on Saturday night. Marvin Williams recorded a double-double (14 points and 12 rebounds). Nikola Jokic also recorded a double-double in this game (31 points and 14 rebounds), and Danilo Gallinari added 22 points for the Nuggets.
Houston Rockets 123 Memphis Grizzlies 108
HOUSTON – James Harden scored 33 points and Clint Capela added 24 to help the Houston Rockets (44-19) build a big lead in the third quarter and coast to a victory over the Memphis Grizzlies. Houston led by 15 to start the fourth quarter and was up 109-89 after an alley-oop dunk by Capela midway through the quarter. The Grizzlies decided to intentionally foul Capela soon after that, but he made 8 of his 10 attempts at the free-throw line before going to the bench with Houston up by 16 with about three and a half minutes left. Mike Conley led the Grizzlies in the scoring department with 23 points. He also recorded seven assists and six rebounds.
San Antonio Spurs 97 Minnesota Timberwolves 90 (OT)
SAN ANTONIO – Kawhi Leonard recorded a double-double (34 points and 10 rebounds) as the San Antonio Spurs (48-13) beat the Minnesota Timberwolves (25-37) in overtime Saturday night. LeMarcus Aldridge finished with 17 points and Pau Gasol finished with 16 points. This win clinches a playoff spot for the 20th consecutive year. Karl Anthony-Towns led the Timberwolves with 24 points. He also recorded fourteen rebounds on the night.