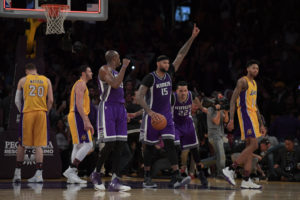 Sacramento Kings 97  Los Angeles Lakers 96
LOS ANGELES – DeMarcus Cousins registered a double-double with 40 points and 12 rebounds as the Kings (24-32) extended their winning streak to four games.
Lou Williams scored 29 points, handed out five assists and took away two steals, but the Lakers (19-38) lost for the fourth time out of their last six games.
The Lakers were down three, 96-93, with under a minute left in regulation. Williams drained a 25-foot three ball to tie the game with 30 seconds left. On the next possession, the Kings Darren Collison missed a three-point try, but DeMarcus Cousins picked up the offensive rebound and was fouled as he went up for the shot. Cousins knocked down one of two at the line to seal the game for the Kings.
Cleveland Cavaliers 116  Minnesota Timberwolves 108
MINNESOTA – LeBron James netted 25 points, dished out 14 assists and grabbed eight rebounds as the Cavaliers (38-16) improved to 6-1 in their last seven games. Kyrie Irving added 25 points and seven assists. Andrew Wiggings (41) and Karl-Anthony Towns (26) combined for 67 points, but the Timberwolves (21-35) lost for the sixth time out of their last eight games.
Chicago Bulls 105  Torontoa Raptors 94
CHICAGO – Jimmy Butler's double-double (19 points, 12 assists) helped the Bulls (27-29) snap a three-game losing streak. Doug McDermott added 20 points and five rebounds off the bench.  Kyle Lowry scored 22 points, handed out four assists and grabbed three rebounds, but the Raptors (32-24) lost their third straight.